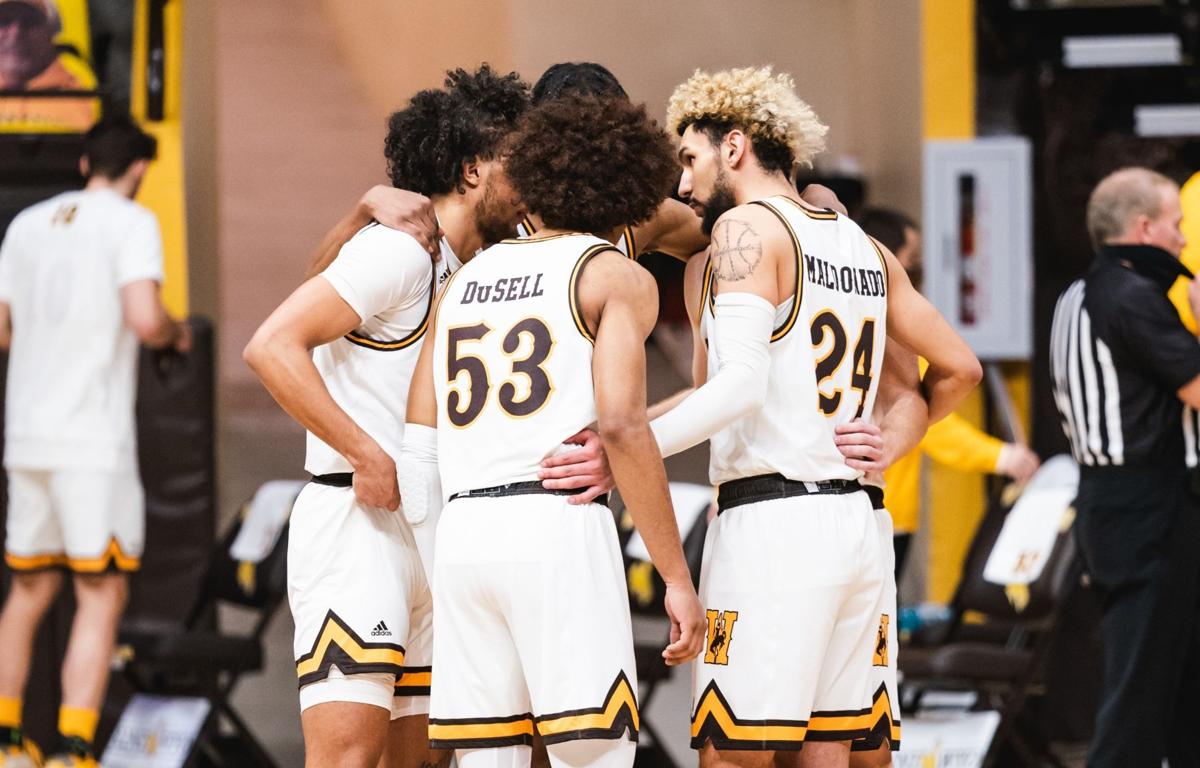 LARAMIE — The fluidity to men's college basketball rosters around the country is in full swing, and Wyoming certainly hasn't been immune.
The additions and subtractions have started for the Cowboys. And there could be more, particularly with the one-time transfer rule now official. As of Friday, more than 1,560 Division I players had entered their names into the NCAA transfer portal, according to verbalcommits.com.
Between current and incoming players, UW now has all 13 scholarships accounted for next season following the recent addition of junior college guard Deng Dut. Here's a breakdown of UW's roster movement since last season.
Who's leaving?
One of the youngest teams in Division I basketball didn't have one senior on the roster, so transfers have been the lone source of UW's attrition this offseason.
Joining Williams in the transfer portal so far are forward Drew LaMont and combo guard Kwane Marble II. LaMont, who transferred to UW from junior college, left the program months ago and remains in the portal.
Marble, the first UW player to enter the portal after the season, has signed with Loyola Marymount, where he will reunite with the coach that originally recruited him to UW, Allen Edwards, who's now an assistant at LMU. The 6-foot-6, 195-pound sophomore started 13 of the 23 games he played this season and averaged 9.1 points, but Marble combined for just seven points and two rebounds in the final two games he played for UW in the Mountain West Tournament.
Who's staying?
While the loss of Williams is a major hit to the Cowboys' backcourt, the highest-scoring team in the Mountain West, at least as of now, is returning four of its top six scorers.
The list is headlined by veteran combo guard Hunter Maldonado, who averaged 12.5 points last season and led UW in rebounding (6.8) and assists (4.6). Stretch forward Hunter Thompson is another veteran in line to return after the Pine Bluffs native averaged 7.0 points and shot 35.8% from 3-point range. The same goes for sophomore guard Kenny Foster, who was limited to 17 games because of a knee injury but averaged 9.1 points when he did play while shooting 41.9% from deep.
Drake Jeffries is also set to return to the backcourt after shooting 37% from 3-point territory in 22.5 minutes per game. The frontcourt should also get a boost from the return of sophomore big Eoin Nelson, who missed 17 games, including the entire regular-season conference schedule, with an Achilles injury. 
The rest of the Cowboys' prized freshman class has stayed put for the time being. Center Graham Ike finished as UW's third-leading scorer after bursting onto the collegiate scene midway through the season. The 6-9, 245-pounder gave the Cowboys the true post presence they had been lacking before his arrival, averaging 11.2 points and 5.4 boards while shooting better than 60% from the field in 12 games.
Meanwhile, Xavier DuSell morphed into UW's most dangerous long-range shooter by season's end. The 6-2 guard broke into the starting lineup in the latter part of the season and averaged 9.7 points while shooting a team-best 45.6% from beyond the arc. Wing Jeremiah Oden started the first 11 games but saw his role decrease as the season progressed, averaging 4.0 points and 2.7 rebounds in 13.7 minutes per game.
Walk-ons John Grigsby and Terrin Dickey were also freshmen last season.
Who's coming in?
Unless Linder planned to move Maldonado, DuSell or Foster on the ball (not their primary position) or have another incoming freshman, combo guard Ben Bowen, take over as the primary point guard as a true freshman, the Cowboys needed a replacement for Williams that wasn't already on the roster.
The Cowboys may have found it with a couple of late additions to their 2021 recruiting class.
On Friday, UW announced the signing of Dut, putting the Cowboys at the 13-scholarship limit for next season assuming no other scholarship players on the roster leave the program. Dut, an NJCAA first-team All-American in his only season at the College of Southern Idaho, averaged 14.7 points and 5.1 assists for the Golden Eagles this past season as a freshman.
Dut's signing comes on the heels of high school point guard Noah Reynolds. The 6-3 Reynolds, who played his prep ball at Peoria Notre Dame in Illinois, verbally committed on April 21 before eventually signing with the Cowboys.
I am very fortunate to announce my commitment to the University of Wyoming. I would like to thank Coach Linder, Coach Wicks, and the rest of the staff for believing in me and giving me an opportunity. More importantly, thank you Mom for supporting me. #GoPokes 🤠 pic.twitter.com/AqzKHA4PEa

— Noah Reynolds (@noahreynolds21) April 21, 2021
Reynolds averaged 16.8 points, 4.5 rebounds and 3.5 assists during a junior season in which he helped Notre Dame to a 30-1 record. He also shot 42% from 3-point range that season, according to the Chicago Tribune.
Dut and Reynolds joins two other 2021 high school signees that are adding more shooting and more size to the Cowboys' roster.
Bowen and 7-footer Nate Barnhart were the first two prep signees to officially join class in November. Bowen, the son of Denver Nuggets assistant coach Ryan Bowen, averaged more than 20 points, six assists and five rebounds this past season at Mountain Vista (Colorado) High and could play on or off the ball in college. Barnhart, ranked a three-star recruit by Rivals, has an offensive game that Linder has likened to the stretch-big abilities of Thompson. 
Wenzel, a former three-star recruit, signed with UTEP out of high school before getting out of his original National Letter of Intent. He averaged 24 points during his senior season at O'Connor (Texas) High.
This story will be updated throughout the offseason should any other roster movement occur.
Follow UW athletics beat writer Davis Potter on Twitter at @DavisEPotter.