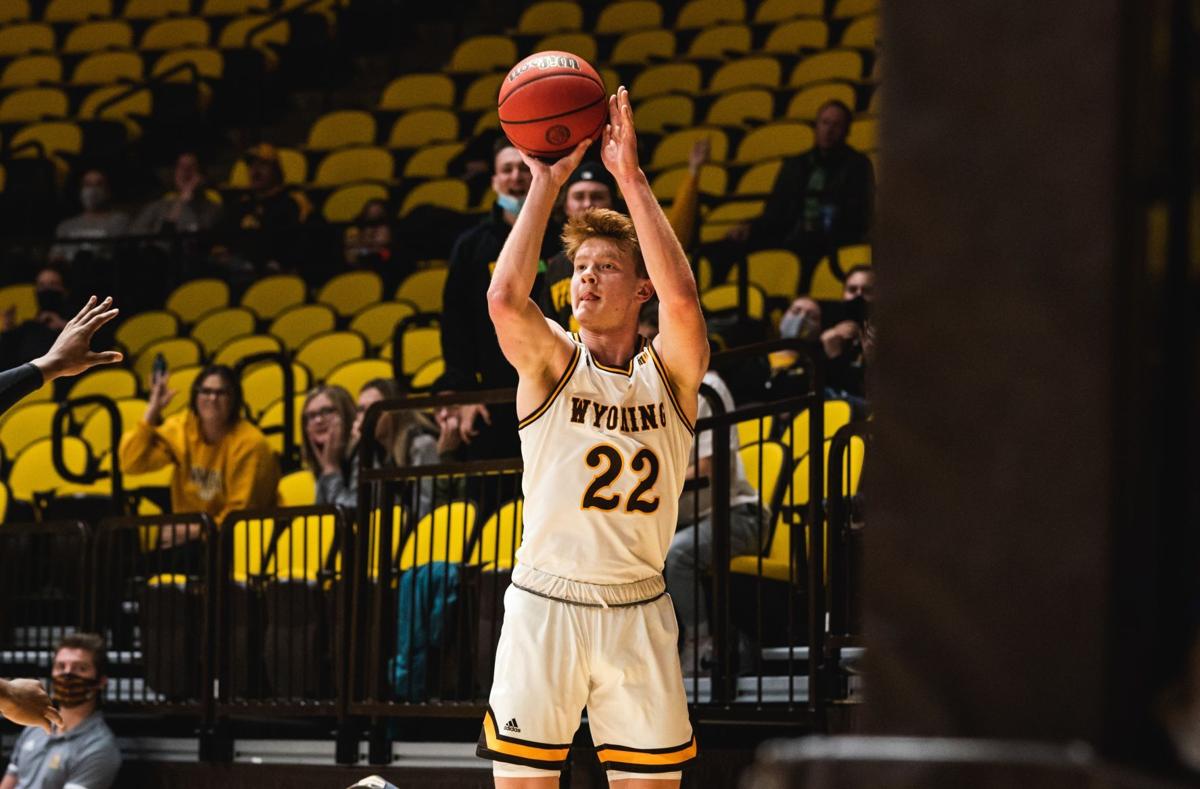 LARAMIE — It wasn't much, but for Wyoming's men's basketball team, it was more than it had been expecting.
Kenny Foster made a surprise return to the Cowboys' rotation during UW's loss at Utah State on Thursday. The sophomore guard attempted just two shots and finished with one rebound and an assist in nine minutes.
It was Foster's first action in more than a month, and it came two days after UW coach Jeff Linder voiced doubt that Foster would play again this season. Foster had missed six straight games after sustaining a knee injury in the Cowboys' series finale against Nevada on Jan. 24.
Linder told reporters Tuesday it was "highly unlikely" Foster and forward Eoin Nelson, who's missed the entire conference season with a lower leg injury, would play again this season, adding something would have to change for the better for them to return to the court.
"There's no reason right now to rush those guys back or get those guys back unless they're 110%, not 100," Linder said then.
But Foster dressed out and went through warmups ahead of Thursday's game, the first indication that he might be able to give it a go. He watched the first 11 minutes, 12 seconds from the bench before checking in with a light wrap on his left knee.
Neither Linder or any of UW's players were made available to the media after the game, so what changed over that 48-hour period isn't clear. But Foster's return could not only boost the Cowboys' depth — UW (12-10, 6-9 Mountain West) was down to eight scholarship players with Foster and Nelson both out — but also their scoring depending on how many minutes he plays in Saturday's regular-season finale against UNLV as well as next week's Mountain West Tournament.
Foster, who has started 11 of the 14 games he's played this season, was averaging 10.4 points and shooting 43% from 3-point range before the injury.
Cowboys get No. 8 seed
With Thursday's loss, UW is locked into the No. 8 seed for the conference tournament.
The Cowboys and UNLV, which sits in seventh place in the league standings, both have nine conference losses entering Saturday's game, but the Runnin' Rebels (11-13, 8-9) have played two more league games and have two more conference wins. As a result, UNLV will finish with a higher winning percentage in conference play — the tiebreaker used to determine tournament seeding this year — regardless of Saturday's outcome.
UW and San Jose State would be scheduled to meet in the tournament's opening game Wednesday in Las Vegas, though the Spartans have had their final three regular-season games, including a series against the Cowboys, canceled because of COVID-related issues within their program.
Follow UW athletics beat writer Davis Potter on Twitter at @DavisEPotter.