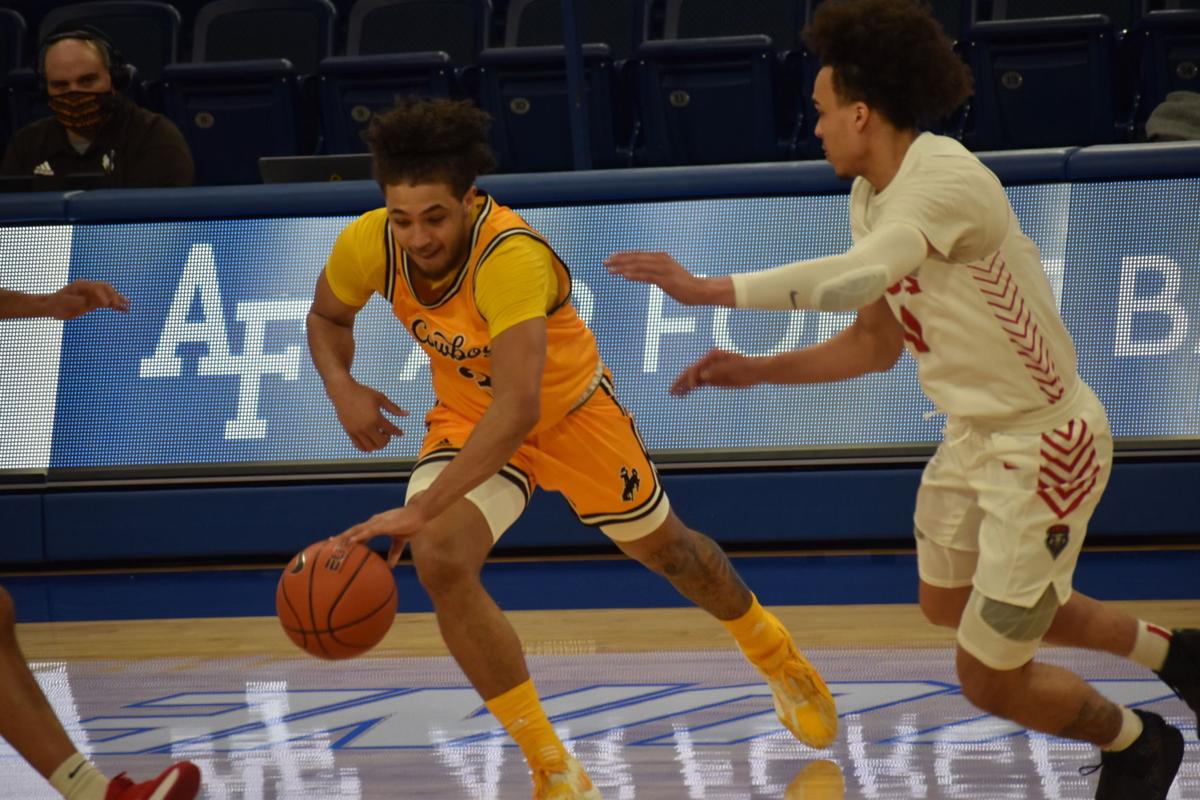 LARAMIE — It was nearly the biggest collapse by a Mountain West team this season.
Wyoming's men's basketball team was cooking early in its series finale against New Mexico on Friday night. The ball movement was crisp. The shots were falling. And for a while, even the defense was suffocating.
It added up to a 33-6 lead for the Cowboys at one point in the first half. But considering just how youthful UW's lineup is — three true freshmen are in the starting five — what happened next in the Cowboys' 79-67 win almost seemed inevitable.
"There's only 10 teams in the country younger than us," UW coach Jeff Linder said. "And you get in a situation like that where you get up that many points, you have a tendency to think it's going to be easy."
UNM quadrupled its point total the final 6 minutes, 55 seconds of the half to shrink UW's advantage to 41-24 at the break. The Lobos kept coming in the second half with the only formula that works — make shots and keep the Cowboys from doing the same.
Needing both in a hurry, the Lobos turned to their full-court press to try to keep UW from even getting shots up. It worked more often than not as UNM forced UW into a season-high 17 turnovers, 10 of them coming in the second half.
By the time Makuach Maluach drove the lane for a dunk with 9:03 remaining, the Lobos had cut the deficit to single digits. When the lead shrunk all the way to two on Javonte Johnson's jumper with 3:49 left, it was officially anyone's game.
"Now it's a fine line of do you attack when trying to beat the press? Do you pull it out?" Linder said. "They were pressuring so much knowing they didn't have anything to lose that it kind of got our guys a little bit on their heels."
Whether they're doing the leading or the rallying, the Cowboys have witnessed plenty of sizable advantages disappear during this rollercoaster season. UW led by double digits in the second half against Omaha and Nevada before holding on for single-digit wins. The Cowboys coughed up a 14-point lead in a series-opening loss at Air Force last month.
They also dug out of late 11-point holes against Incarnate Word and Oregon State to win those games and clawed back from an 18-point deficit against rival Colorado State earlier this month before eventually falling by nine.
Friday's game had shades of UW's first loss of the season when the Cowboys blew a 21-point lead in the second half at home to Texas Southern. UNM was threatening to pull off the largest comeback of the Mountain West season, a distinction that belongs to CSU, which rallied from 26 points down to beat San Diego State last month.
Thanks to some of UW's youngsters coming through in the clutch, the Rams still hold that title.
After Johnson's basket, freshman point guard Marcus Williams helped UW break the Lobos' press and got the ball to Hunter Maldonado, who had 14 points and a career-high 16 rebounds. This time, the Cowboys' junior guard dished out one of his six assists to sophomore guard Kwane Marble II, who was all alone near the corner.
Marble didn't hesitate to put up a 3-pointer that found the bottom of the net.
"His high school team pressed every single day and every single possession, and so he's a guy that usually doesn't get rattled when the other team presses," Linder said of Williams, who finished with 15 points and two assists.
Marble, who had eight of his 15 points in the second half, drove in for a layup on the Cowboys' next possession, and Williams followed with a pair of free throws to cap a 7-0 run in less than 2 minutes that pushed UW's lead back to three possessions. The Cowboys held UNM without a field goal over the final 3:48 to end the game on a 12-2 run.
"The beauty of this year — and thankfully for us we've been able to play a lot of games — is that we've been in a lot of close games," Linder said. "And probably pretty remarkable with such a young team that we've found a way to win a lot of close games."
The Cowboys would rather not make it that interesting after building that kind of cushion, but Linder knows it's also part of the maturation process that a young team in its first season under a new coach is still going through.
The way Linder sees it, it's just the latest learning experience that he expects to pay future dividends as he continues to work on his long-term goal of getting the Cowboys back among the Mountain West's upper half.
"That experience that we've gotten through the course of the season and what we experienced (Friday) is only going to help us moving forward," Linder said.
Follow UW athletics beat writer Davis Potter on Twitter at @DavisEPotter.