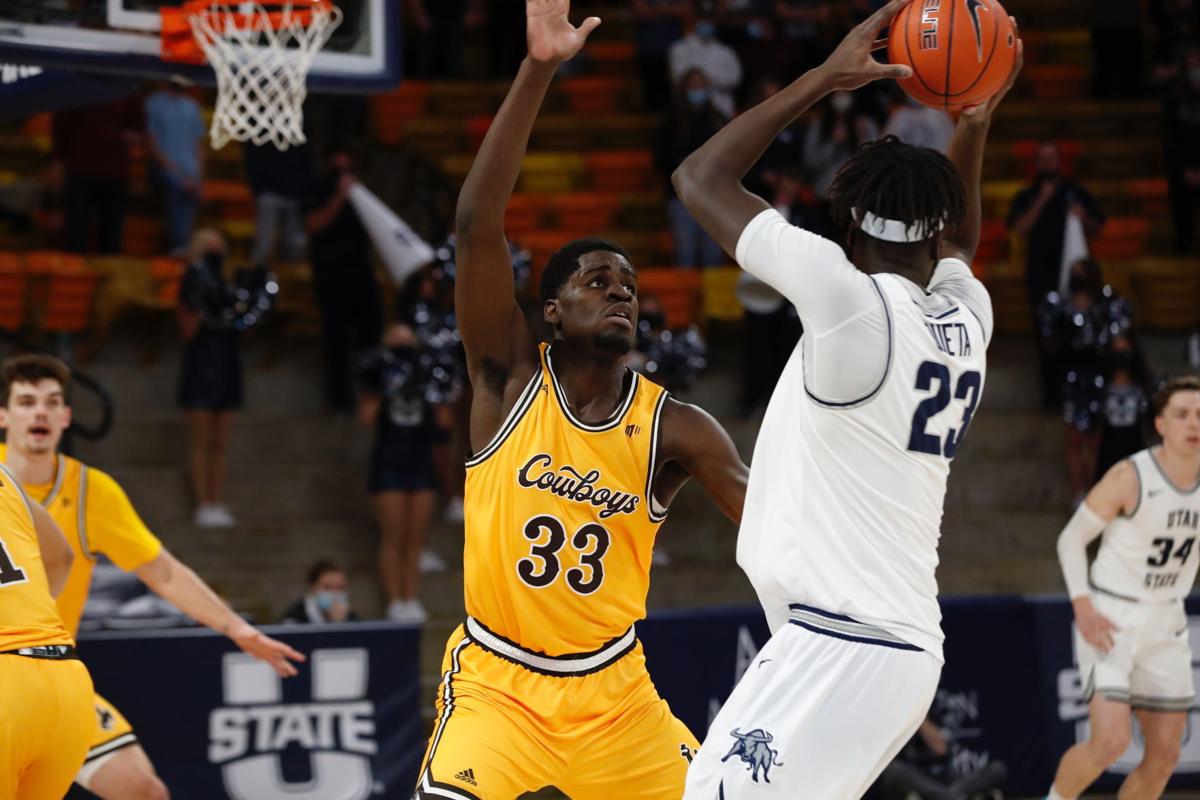 Wyoming's men's basketball team did everything it could to try to make someone other than Neemias Queta beat it.
For the first time all season, UW coach Jeff Linder started both of his bigs, Hunter Thompson and Graham Ike. Then the Cowboys spent most of the game throwing an extra defender or two at Utah State's 7-footer.
But Queta eventually proved just how hard it is to contain his proficiency around the basket while getting plenty of help from his supporting cast, and Wyoming didn't shoot it nearly well enough to keep up in its first game in 13 days. It all added up to a 72-59 loss to the Aggies on Thursday at the Dee Glen Smith Spectrum in Logan, Utah.
"I thought the plan was right and we did a good job of executing it for the most part, but it's a 40-minute game," Linder said on postgame radio. "And a team like that, with their experience, you could see the discipline and effort between juniors and seniors and freshmen and sophomores."
Hunter Maldonado paced the Cowboys with 14 points while Thompson finished with 11 points and a career-high 11 rebounds for his first double-double of the season. But UW shot just 28% from the floor in the second half as Utah State, which remains in the hunt for an at-large bid to the NCAA Tournament, turned a competitive game into a runaway victory down the stretch.
UW particularly struggled from deep, connecting on just one of its final 14 3-point shots and mustering just two buckets over a 7-minute span at one point in the second half. With Queta heating up, it doomed the Cowboys.
Queta, who came in averaging a double-double in conference play, scored 11 of his 14 points and grabbed six of his 13 rebounds in the second half en route to his 12th double-double of the season. The Mountain West's leading shot blocker also made life difficult for any Cowboys who tried to operate around the rim, recording all but one of his five blocks in the final 20 minutes.
Ike, the Cowboys' freshman center who often found himself matched up with Queta down low, finished with just two points on 1 of 6 shooting while UW's leading scorer, Marcus Williams, had a season-low four points -- 14 fewer than his season average. Kwane Marble II was the only other Cowboy to reach double figures with 12 points.
Utah State's Justin Bean led all scorers with 21 points while Steven Ashworth added 13 points off the bench for the Aggies, who shot 52.1% from 2-point range and outscored UW 38-22 in the paint.
"There's a reason why he's an elite defender and probably one of the best defenders in the country," Linder said of Queta. "I'm not sure there are too many in college basketball that have his ability to defend the paint and defend the rim."
Playing its first game since Feb. 19 because of COVID-related cancellations, UW trailed just 38-35 at the half, staying close behind the hot hands of Maldonado and Drake Jeffries, who combined for 19 first-half points. Maldonado made four of his first six shots while Jeffries came off the bench to sink three of the Cowboys' eight 3-pointers in the first 20 minutes.
UW made a point to try to limit the effectiveness of Queta, who had been averaging 26 points and 12.5 rebounds over his last four games. The Cowboys often allowed one of the Aggies' weaker shooters to operate freely around the perimeter in order to keep a second defender close by Utah State's all-conference center.
The strategy worked early. Queta finished the first half with just four points while Utah State shot just 13.3% (2 of 15) from 3-point range in the opening 20 minutes, before Queta eventually got going.
His fourth bucket of the second half -- a layup with 10:14 left -- gave Utah State its first double-digit lead at 58-48, igniting a 16-6 run for the Aggies over the next 7 minutes, 47 seconds that put the game out of reach. Twelve turnovers that Utah State converted into 11 points didn't help UW's cause either.
"In the second half, we knew they'd make some adjustments, but it just boiled down to we had some open looks you've got to make," Linder said. "But also against a team like that where we had them spaced out, you've got to be able to make plays and you've got to be able to make the right plays. You can't turn it over 12 times and give away that many empty possessions to those guys."