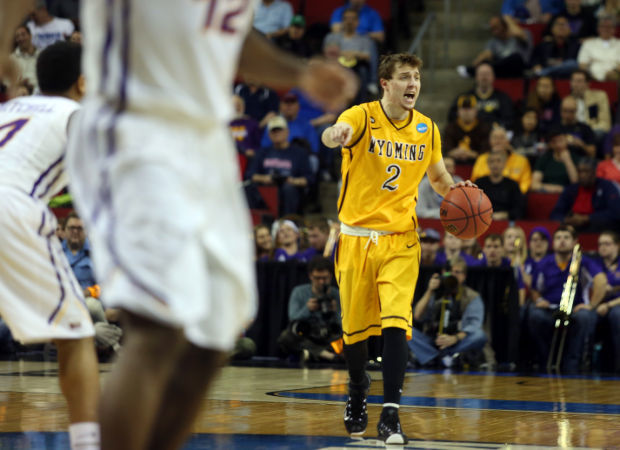 LARAMIE — A former Wyoming basketball player is returning to the program in a different capacity.
Riley Grabau will join Jeff Linder's staff as the Cowboys' director of recruiting, the school announced Friday. Grabau played for UW from 2011-15 and was a member of the Cowboys' most recent NCAA Tournament team five years ago.
"Riley is someone who knows what it takes to win at Wyoming," Linder said in a statement. "He lived it and saw what it looked like every day as a student-athlete playing for Coach (Larry) Shyatt. The hard work paid off with a degree from the University of Wyoming, a Mountain West championship trophy and an opportunity to play in the NCAA Tournament. To have him on the coaching staff to where he can share those experiences with our student-athletes is invaluable."
Grabau finished his career as one of the best shooters in UW history. He's the school's all-time leading free-throw shooter with a career percentage of 88.2 and also ranks fourth in made 3-pointers (171), sixth in attempted 3s (465), sixth in 3-point field-goal percentage (36.8), 15th in games played (120) and 11th in games started (97) in the modern era.
Grabau led the NCAA in free-throw percentage as a senior (93.9) in helping the Cowboys earn their most recent NCAA Tournament bid by winning the Mountain West Tournament in 2015. Grabau missed just six free throws that season and just 29 in his career.
"I'm very excited to return to the University of Wyoming," Grabau said in a statement. "Very few people get the opportunity to not only work at the Division I level but to do so at your alma mater. I'm excited to learn from Coach Linder and the staff and make an impact on student-athlete lives. Coach Linder and I have a great connection, and I'm looking forward to taking advantage of the opportunity he has given me. He has had great success at every place he has coached."A native of Boulder, Colorado, Grabau returns to UW after coaching his alma mater, Boulder High. Grabau was the interim coach during the 2018-19 season before having that tag removed this season. As a player, Grabau led the Panthers to the Class 5A championship game as a senior.
Grabau will help UW try to fill as many as five more scholarships during the spring signing period. The Cowboys got their first verbal commitment of the 2020 recruiting class earlier this week from Arizona shooting guard Xavier Dusell.
Follow UW athletics beat writer Davis Potter on Twitter at @DavisEPotter.
Be the first to know
Get local news delivered to your inbox!