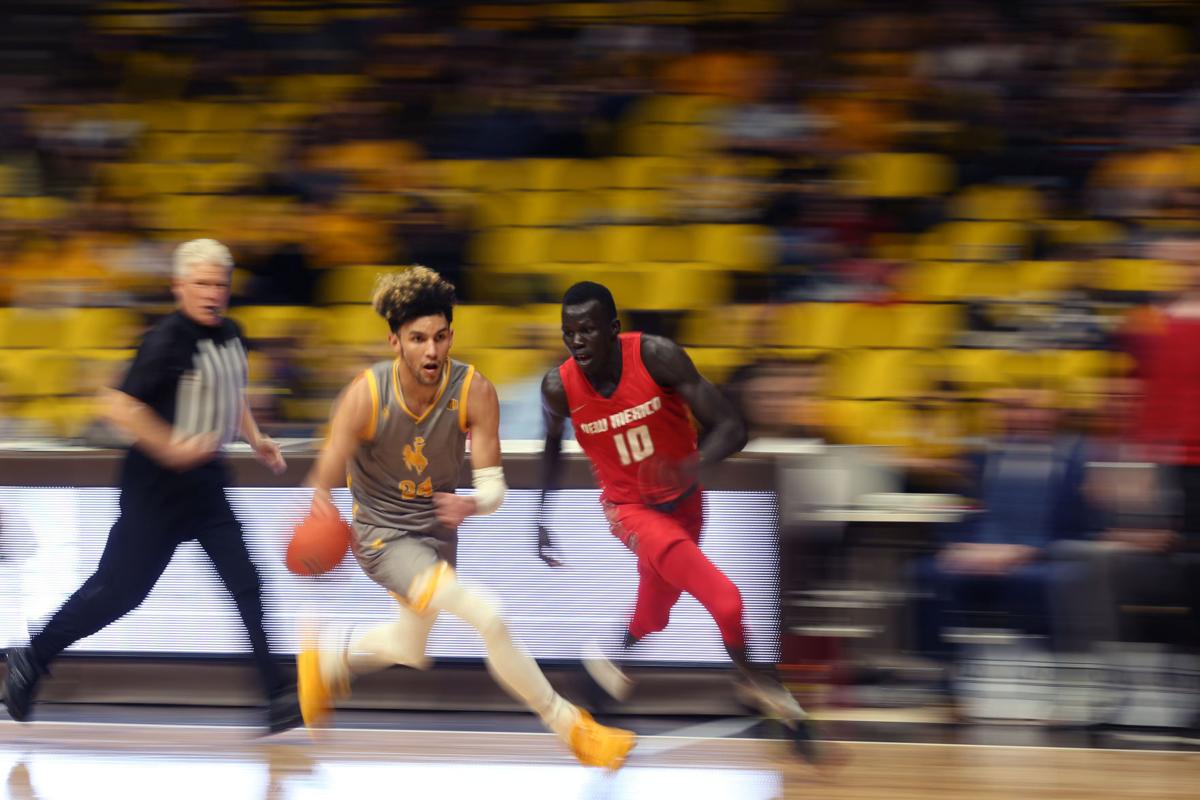 LARAMIE — Whether or not the games get played still remains to be seen, but Wyoming's men's basketball program has found teams to compete in the Wyoming Basketball Classic.
Three teams have been scheduled to join UW in the multi-team event, which is slated to be played Nov. 27-30 at the Arena-Auditorium, according to a copy of the tournament contract obtained by the Star-Tribune. UW coach Jeff Linder declined to reveal which teams those are, but he said the event won't be a round-robin format as originally scheduled.
"Pretty much what it ends up being is three games," Linder said. "We were able to get that filled, which I know was a challenge to say the least with everything that was going on. But as of right now, we do have that scheduled. We have those games."
Of course, everything involving scheduling is tentative amid the coronavirus pandemic, which has already forced a handful of Division I conferences, including the Mountain West, Pac-12 and Big Ten, to postpone fall sports indefinitely. Meanwhile, the NCAA is still deciding whether to start the college basketball season on time or postpone it to a later date — a decision the organization expects to make in mid-September.
UW is scheduled to open the season Nov. 10 at home against Colorado Christian.
The contract for the Classic is between UW and Basketball Promotions & Events LLC, which is organizing the event. The agreement contains a force majeure clause stating that neither UW nor the organizer would be liable for "any failure or delay in performing its obligations hereunder" if a failure or delay results from circumstances beyond its control, including but not limited to "embargo, strike, labor dispute or the intervention of any governmental authority as well as war, flooding, hurricane, tornado or other natural disaster."
Sitting on nine
With the addition of the three Classic games, UW now has nine non-conference games on its schedule.
Linder said the only non-conference game the Cowboys have lost at this point is a Nov. 20 trip to Arizona, which, for the time being, won't be playing a non-conference schedule following the Pac-12's decision to cancel all sports competitions for the rest of the year. Games against Duquesne, Jackson State, Southeastern Louisiana, Cal State Fullerton and Utah Valley State also are on the Cowboys' non-conference schedule.
Linder said UW could add up to two more games to its non-conference slate, but not knowing whether or not playing any kind of out-of-conference schedule will be feasible at this point is making further scheduling a gamble.
"Until we hear something from the NCAA regarding what the next step is going to be or what the timetable is going to be, I think that's why you don't see very many people releasing their schedule because we really don't know what our schedule is going to be," Linder said.
Safety first
UW has had four student-athletes knowingly test positive for COVID-19, but those don't include any men's basketball players or coaches, Linder said.
Linder said he has to keep that in mind when searching for games to potentially add to UW's schedule. He added that the Cowboys might not even travel to play teams already on their schedule if those teams aren't frequently testing their players and coaches. Cal State Fullerton and Utah Valley State are UW's only non-conference road games at this point.
"At the end of the day, I can't put our players in harm's way and put us in a position where we play against a team or a school that doesn't have the same testing protocols and then we play that game and we come back knowing we're going to need to be tested that week or twice that week," Linder said. "I just can't put our guys in that situation where one guy tests positive and now pretty much we're all shut down for 14 days. So those are just some of the things that we're going to have to adjust to."
Follow UW athletics beat writer Davis Potter on Twitter at @DavisEPotter.
Be the first to know
Get local news delivered to your inbox!