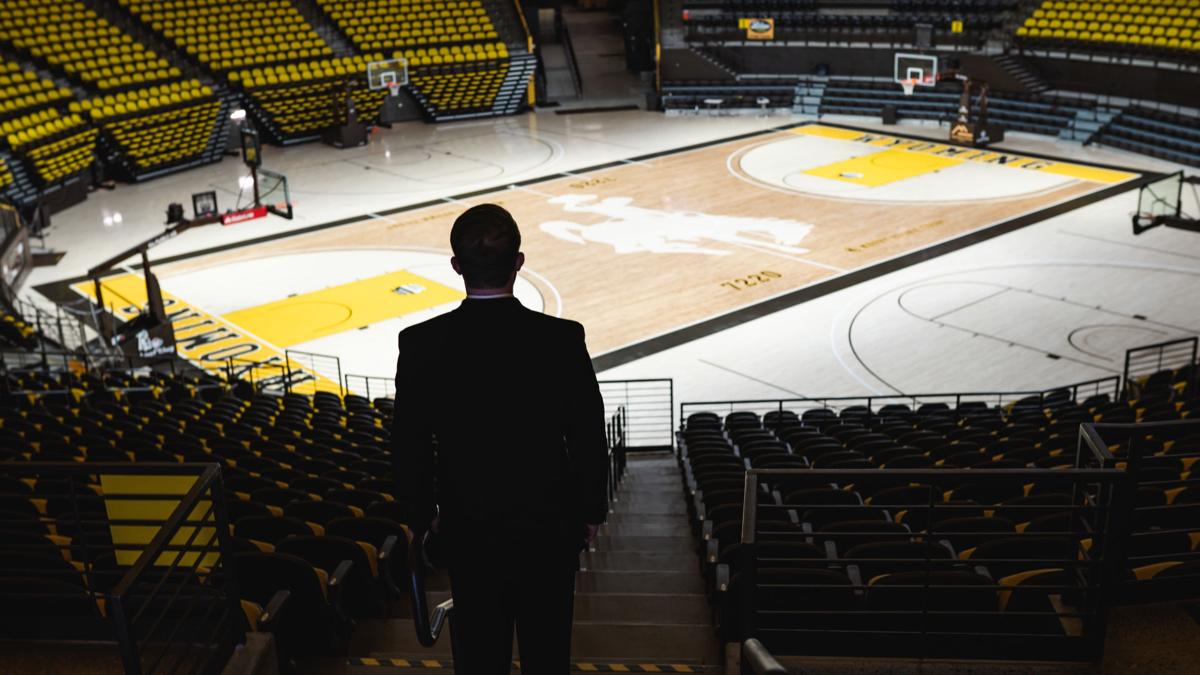 LARAMIE — Between its non-conference slate and the additional Mountain West games, Wyoming's men's basketball team will play 27 games this season.
At least that's the number on the Cowboys' schedule — one UW coach Jeff Linder admitted is wishful thinking.
In a not-so-surprising development, trying to play college sports amid the COVID-19 pandemic is proving to be a national mess. More than 50 college football games have been postponed or canceled because of coronavirus-related issues, which are already impacting games on the hardwood.
Miami's men's basketball opener against Stetson has been postponed after Stetson had a positive test within its program, making it the first game to be affected in a college hoops season that doesn't start until Nov. 25. Safe to say, it won't be the last.
Given those trends, Linder is hesitant to even ballpark the number of games UW might play this season. But the Cowboys' coach is fairly confident it won't be the number currently on their schedule.
"Your guess is as good as mine as to how it's all going to play out," Linder said. "The biggest thing with this year is just trying to play as many games as we possibly can. That's the ultimate goal. How many are we going to play? I have no idea. With the way this thing is kind of evolving right now, it doesn't look very good for a lot of games."
It's why the Mountain West changed this season's scheduling format for conference play, which Linder believes could be the Cowboys' saving grace.
Limiting exposure
Initially, the league stuck with its normal 18-game conference schedule that called for each team to play half of those games at home and half on the road. But earlier this week, the Mountain West moved to a 20-game conference slate that will significantly reduce travel in an attempt to limit each team's exposure to the virus.
Now teams are slated to make four fewer road trips than usual. That's because they will play each other in weekly two-game series at one location with a day in between each game. The revised format will give each team five home series and five road series once conference play starts in late December.
The 11-week league schedule is slated to run through the last week in February, which also allows time to possibly reschedule any games that have to be postponed before the Mountain West tournament begins March 10.
"I thought the first schedule that came out where it was pretty much what they've done in the past, having our guys go from here to there on airplanes, I just didn't see how it was going to work," Linder said. "I think the decision they made to go to two games in one location and having basically five home-and-away series, I just think that gives us a lot better chance to make sure we play as many games as possible."
Linder isn't the only one in favor of the change even if there's an understanding around the league that some teams won't have to play at the same road venues as others. The Mountain West has yet to release a new conference schedule.
"We're not saying it's going to be the right thing to do, but I do think when you look at it, Miami and Stetson, they just canceled their opening game and that's two weeks away," Nevada coach Steve Alford said. "In the state that we're in, I think we've been proactive in trying to figure out what's the best case to where our student-athletes are going to get to play games.
"It's not going to be equitable. I can't complain if I've got to go play two games here and they don't have to play two games here or one game here. It's not going to be an equitable year. We're not in a normal year. … How can our players get on the court and play games? That's what they want to do."
Staying home
UW also has seven non-conference games it's going to try to get in starting with its season opener against Mississippi Valley State, which is scheduled to be played Nov. 28 at the Arena-Auditorium. All but two of the Cowboys' non-conference games are at home, which Linder said was by design.
"The more that we don't have to get on a plane and the more we don't have to travel, the better off we're going to be," Linder said. "We feel like Laramie right now is one of the safer places to be. So if we can try to play as many games as we possibly can here, that's what we tried to do. And luckily we were able to do that."
The Cowboys will board a plane to Corvallis, Oregon, for their Dec. 6 game at Oregon State, but Linder said the team will avoid more airports than necessary by taking a direct charter flight instead of flying commercial. As for how UW will travel to its final road game at Utah Valley in mid-December, that's still being determined.
"Come December, trying to take a charter bus along (Interstate) 80 can provide a lot of challenges, and I'm not sure how safe that could be," Linder said. "I don't know what's worse from a safety standpoint: Being on the bus on I-80 or being on a Southwest flight headed over the mountains headed to Salt Lake City."
Of course, that's assuming all of those games remain on the schedule, which will be determined by each team's ability to steer clear of COVID-19 as much as possible. UW has already had to suspend team activities once after a player tested positive earlier this month, but the Cowboys resumed Wednesday with "most everyone" going through practice, Linder said.
"It's on (the players) once they leave the Double-A, leave the locker room and leave the training room," Linder said. "When they're on their own, they've got to be smart in terms of who they associate with and who they surround themselves with because we can't do anything about contact tracing."
It all has Linder and other coaches around the league holding their collective breath.
"Obviously this COVID-19 thing can strike at any moment," Colorado State coach Niko Medved said. "I think every team is going to have to deal with adjustments. You're going to have to deal with disappointment. And you just do the best you can."
Follow UW athletics beat writer Davis Potter on Twitter at @DavisEPotter.
Be the first to know
Get local news delivered to your inbox!