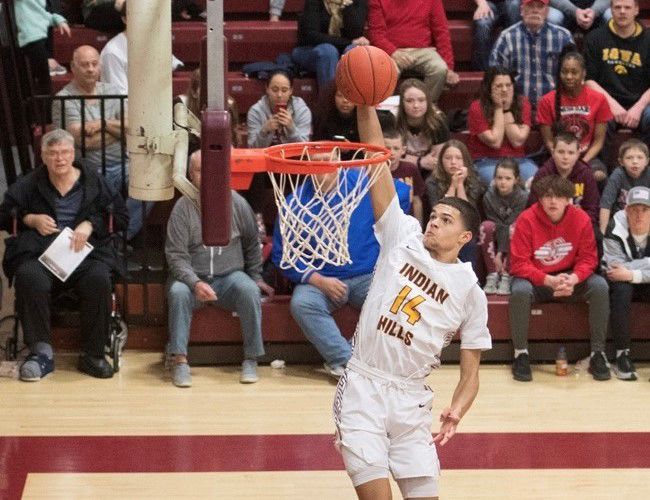 LARAMIE — Drake Jeffries describes himself as an athletic player that can do some different things on the basketball court.
The 6-foot-5, 185-pound guard out of Indian Hills Community College in Iowa can put the ball on the deck. He can get to the rim and finish, and he's continuing to work on his ball handling and defense.
But there's an overriding reason why Jeffries is now a member of Wyoming's 2020 recruiting class. The Cowboys desperately need perimeter shooters in first-year coach Jeff Linder's offense, and that's what Jeffries does best.
"That's definitely my strength is shooting the 3, especially at 6-foot-5," Jeffries said. "It helps being able to shoot over guys."
The match between UW and Jeffries took another step toward becoming official Saturday when Jeffries verbally committed to the Cowboys, joining Arizona guard Xavier Dusell as UW's lone commits in this year's recruiting cycle. Both commitments have come since Linder was hired on March 17.
Jeffries, who has two years of eligibility remaining, hadn't been recruited by Linder before then. Jeffries said assistant Ken DeWeese was the first UW coach to reach out to him through his connections with IHCC coach Hank Plona. Jeffries was looking for his third school in three years after starting his collegiate career at Minot State in North Dakota.
A native of Mattoon, Illinois, Jeffries has never been to Wyoming, but a shooter-friendly system like Linder's is one he was searching for during his latest recruiting process. Linder's teams at Northern Colorado attempted the second-most 3-pointers in the Big Sky Conference the last two seasons and finished 10th nationally in 3-point field-goal percentage this season.
Jeffries shot 44.8 percent from beyond the arc in his lone season at IHCC. He started 20 of the Warriors' 33 games and averaged 9.8 points and 2.9 rebounds while also shooting 83.3 percent from the free-throw line. Including his redshirt freshman season at Minot State, Jeffries is shooting 43.4 percent from 3 for his career.
Meanwhile, UW has finished in the bottom half of the Mountain West in 3-point shooting each of the last three seasons. The Cowboys shot the third-lowest percentage from deep this season (32.1) and had just one player in the rotation, senior guard A.J. Banks (40.6), eclipse the 40-percent mark.
The fit convinced Jeffries to choose UW over offers from Drake, Indiana State, Wisconsin-Milwaukee and Arkansas State among others.
"(Linder) said, 'Our offense is predicated on shooting 3s and taking 3s away. That's what we do, and that's how I like to run things in my system,'" Jeffries said. "He said he really had a need for that, and I really felt like I can fill that void. That's kind of him taking a chance on me and really believing in me. I'm just super excited to get to play for him. This whole experience, I'm ready for it."
Jeffries said he also reached out to UW guard Hunter Maldonado while evaluating his options. Maldonado has already announced he'll be returning to the program after leading the Cowboys in scoring and rebounding this season, which Jeffries said was a "huge key" both to his decision and UW's hopes of a turnaround after combining for just 17 wins the last two seasons.
"I told him I'd just committed, and then he gave me his number and we started texting," Jeffries said. "He didn't really have to say much, but we both want to come in, work hard and really want to win. Competing for championships, that's the main goal here. With him being a redshirt junior and myself being a redshirt junior, two years left. So the main goal now is just to win."
For now, Jeffries is still living on campus at IHCC and dividing his time among his online coursework, workouts and getting in the gym to hone his shot when he can amid the coronavirus outbreak. He said he plans to sign with UW on April 15 — the first day of the spring signing period — with hopes of reporting to campus sometime this summer.
"I put it out there on Twitter," Jeffries said of his commitment. "I think my junior college coach has reached out to (other schools) that were recruiting me, and I reached out to them as well and told them I was definitely going to go to Wyoming."
With Jeffries' commitment, UW has three more scholarships available for the 2020 class. That number could increase by one should TJ Taylor, who's in the transfer portal, ultimately decide to leave the program.
Follow UW athletics beat writer Davis Potter on Twitter at @DavisEPotter.
Be the first to know
Get local news delivered to your inbox!