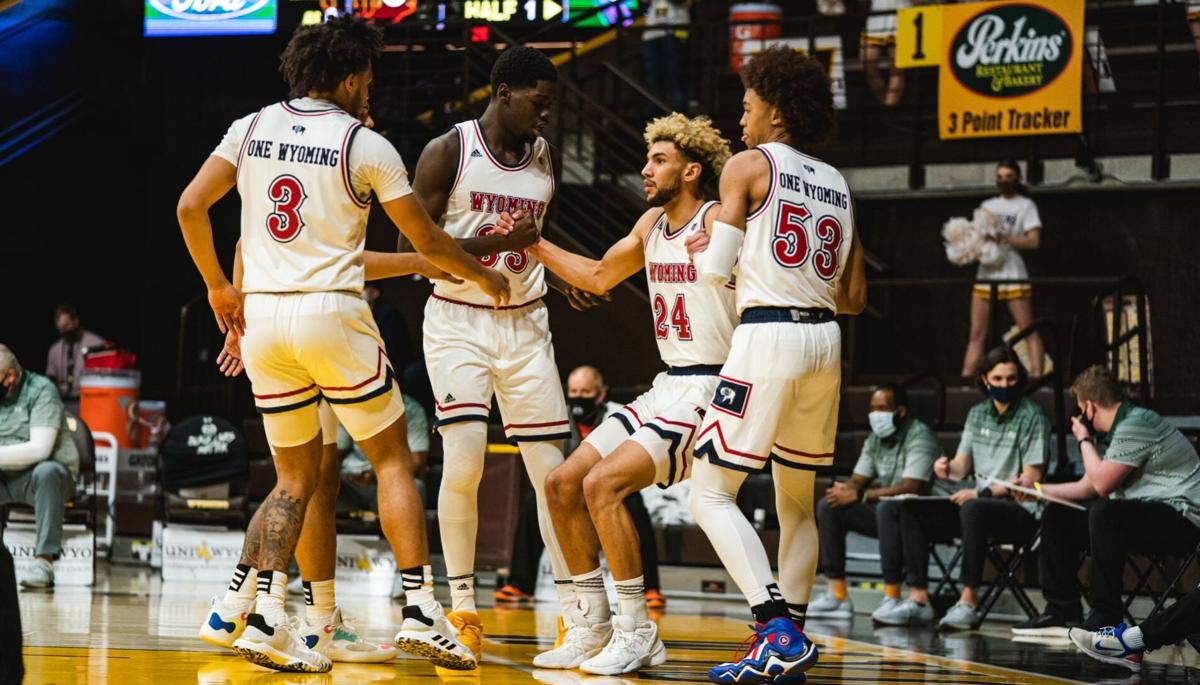 LARAMIE — While Wyoming's men's basketball team has had to wait a little more than a week to play a game, the Cowboys haven't had to practice nearly as much patience as their next opponent.
That goes for everybody else in the Mountain West, too.
Every Division I team has felt the impact of the coronavirus pandemic to some extent this college basketball season, but New Mexico has had to deal with a unique set of circumstances. The only team in the conference that can't play true home games because of public health orders in New Mexico preventing UNM from doing so, the Lobos have had to relocate out of state.
And even that's been a moving target.
UNM (5-11, 1-11 Mountain West) has played "home" games in two different cities in Texas (Lubbock and Houston) as well as St. George, Utah. The Lobos are scheduled to "host" UW (10-9, 4-8) in a two-game series beginning Wednesday. As of Tuesday night, the series was still on, though it's slated to be played at Clune Arena on the campus of the Air Force Academy in Colorado Springs, Colorado.
"It's hard when we're sleeping in our own beds, playing in our own gym and practicing in our own gym," UW coach Jeff Linder said. "I can only imagine when you're having to be at somebody else's gym, having to live out of a hotel and having to eat food out of boxes all the time. It's credit to (UNM coach Paul Weir) and his staff for keeping those guys going."
Not surprisingly, things haven't gone well for UNM this season. The Lobos entered the week at the bottom of the Mountain West standings with just one conference win. Some players have opted out of the season, and UNM was considering canceling the rest of the season earlier this month given the dip in the number of available players, according to the Albuquerque Journal.
That hasn't happened, but the Lobos haven't played a game since Jan. 30 because of COVID-related issues in their program. After having to cancel its series against San Diego State, it looked like UNM might get back on the court last week at Colorado State. But the opening game was called off just minutes before tip, and the entire series was eventually postponed out of an abundance of caution after it was determined UNM assistant coach Scott Padgett came in close contact with someone who had tested positive for COVID-19.
"Everything is good on our end," Linder said Tuesday when asked if UW's series against UNM is still a go. A UNM team spokeswoman told the Star-Tribune the Lobos, minus Padgett, departed for Colorado Springs on Tuesday.
Linder said his team spent most of its prolonged practice time working on itself before eventually implementing a game plan for UNM, which, despite its record, is a matchup concern for UW given the collective size the Lobos have with their available roster and how much of an unknown they are on the defensive end of the floor, Linder said.
Senior wing Makuach Maluach is the only UNM player scoring in double figures (14.0 points per game), but it's off of misses where the Lobos' size and athleticism can really show up. UNM is next to last in the league in scoring and field-goal percentage but has the best offensive rebounding team in the Mountain West (14.2 per game) and ranks fourth in rebounding margin (plus-4.4).
UW has won the rebounding battle in just two of its 12 conference games. As for what to expect from the Lobos' defense, Linder said the Cowboys have to be ready for anything.
"They look like an NBA team, and you can't simulate how they're going to crash the offensive glass until they see it in the first couple of possessions," Linder said. "From there, you're going to have to adjust. And your guess is as good as mine as to what defense they're going to play.
"Whether they're going to play man and switch, whether they're going to play a 2-3 (zone), whether they're going to play a 1-3-1, whether they're going to play a 2-2-1 back to a 2-3. Who knows? And in the last two weeks since they haven't played, who knows what else they could throw in? At the end of the day, you can't overcomplicate it. You've just got to play your principles and concepts and let the chips fall where they may."
UW is looking to end a four-game losing streak. Assuming the teams actually make it to Wednesday's tip, Linder said the Cowboys are fortunate just to get back on the court this soon against a team that's had to endure more than most to get to this point.
"I can only imagine having to call my wife every single day from a different location whether that's in Lubbock or whether that's in St. George. Just all the different places," Linder said. "Where in the world is Carmen San Diego? It's like, where in the world is Paul Weir? For them to be doing what they're doing, it's quite remarkable. For them to have four months of not being around your family and your kids, I don't know how you really do it.
"In a lot of ways, it's not fair to them. I'm sure they're being judged on this year, which I don't think is fair at all based on the circumstances they have, but that's the reality where they live. I commend them for what they've done because, man, that is not easy.
Follow UW athletics beat writer Davis Potter on Twitter at @DavisEPotter.