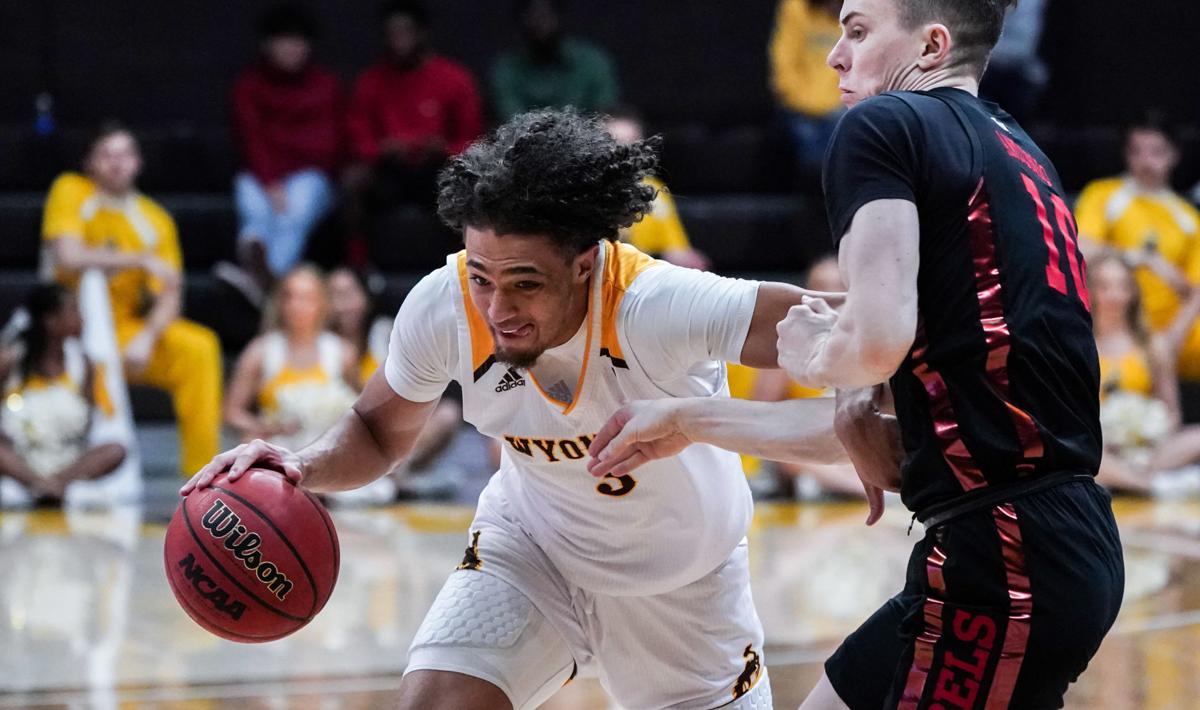 LARAMIE — Jake Hendricks walked into the media room inside the bowels of the Arena-Auditorium, plopped down in a chair behind the microphone and gazed forward as he slowly shook his head.
Wyoming's senior guard could hardly believe what had just happened -- a team-wide, self-destructing ending that kept the Cowboys' futility going as far as Mountain West competition goes.
"It was pretty tough," Hendricks said. "We've had a rough season, and I thought we played really, really well tonight. We kind of just gave them that win."
Wyoming lost a seven-point lead in the final 1 minute, 25 seconds of regulation before losing its fourth straight game with a 78-69 setback to UNLV in overtime Saturday. It's the seventh straight loss for the Cowboys against MW competition dating back to last season.
"(This loss) is more difficult than others because you're dealing with youth, and sometimes when you're dealing with youth, you need a bright spot," Wyoming coach Allen Edwards said. "This was an opportunity for that because they have been working hard."
True freshman Kwane Marble II paced Wyoming with a career-high 19 points in his most extended minutes of the season while Hendricks and Hunter Maldonado added 18 and 16, respectively, but the Runnin' Rebels outscored the Cowboys 15-6 in extra time and never trailed after regulation. Bryce Hamilton led UNLV with 19 points while Jonah Antonio chipped in 15 for the Runnin' Rebels, who shot 50 percent from the field in the second half and nearly 70 percent (23 of 33) from the free-throw line.
Hunter Thompson's free throw with 1:25 left in regulation gave Wyoming a 63-56 lead, but the Cowboys largely failed to execute the rest of the way. Wyoming left the door open for UNLV by missing its next five free throws, and Maldonado fouled Donnie Tillman with 1 second left on the shot clock on UNLV's final possession with the Cowboys clinging to a 63-61 lead.
You have free articles remaining.
Tillman sank both free throws with 12.6 seconds left to send the game to overtime, where UNLV kept its momentum going with back-to-back 3-pointers en route to handing Wyoming its 21st loss in its last 25 league games.
"The scouting report and the game plan with what we went in to play against them, I thought it fit," Edwards said. "You ask any coach in the country to be up seven with a minute and 20 (seconds) or whatever it was, I think anybody takes that. But we couldn't close it out, and free throws was a part of it."
Said Marble, "Tonight's game, it was our mess. Down the stretch, we just didn't go to the line and knock down our free throws like we should've. We basically just gave them the game."
For the first time in a conference game all season, Wyoming led at the half, 27-22, thanks to one of its stingiest defensive efforts of the season. UNLV had just two field goals through the first 14 minutes and shot just 21.7 percent from the field.
Hamilton led the Runnin' Rebels with 12 points at the break, but nine of UNLV's first-half points came from the free-throw line. It's the lowest first-half shooting percentage for a Wyoming opponent since Colorado State shot just 20 percent on Jan. 7, 2015.
"Honestly I think we were content with where were at (at halftime), and we just started to coast," said Marble, who went 4 of 4 from the field and 9 of 11 from the free-throw line in 30 minutes. "And we can't do that."
But the Cowboys shot just 33.3 percent from the field and 65.8 percent (25 of 38) from the charity stripe. UNLV nearly doubled up Wyoming on the boards with a 52-28 rebounding advantage, including 15 on the offensive end leading to 18 second-chance points for the Runnin' Rebels, who've won four straight and six of the last seven games in the series.
The latest will sting a little more for the Cowboys, who will again try for their first league win since March 6 of last year Tuesday when they travel to Nevada.
"Just got to make our free throws," Hendricks said. "I missed two. I've got to make them and we're not in this position. We've just got to finish a game, go up to the line with confidence and put them in."