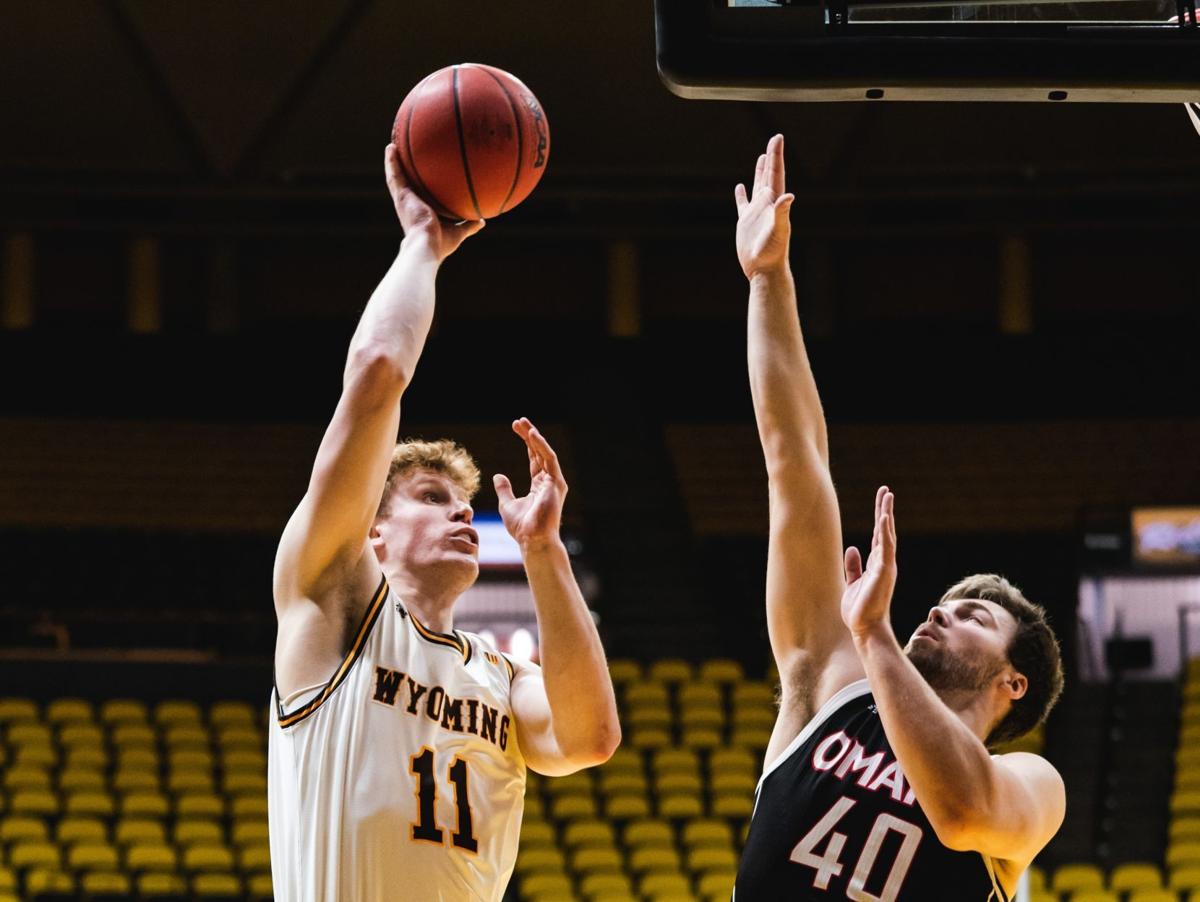 LARAMIE — Wyoming will be without one of its top frontcourt players for the second straight game Monday.
And it could end up being longer than that.
Eoin Nelson sustained a recent injury to his lower left leg that kept him out of the Cowboys' 78-74 win at Fresno State on Saturday. The sophomore forward suffered the injury during practice Friday, UW coach Jeff Linder said.
Nelson made the trip to Fresno but watched Saturday's game from the bench with a protective boot on his left leg/ankle. Linder confirmed Nelson won't play Monday when the teams wrap up their two-game series at the Save Mart Center.
"Being the fact that it happened at practice on New Year's, he wasn't able to get it evaluated," Linder said. "We brought him on the trip, and we'll wait to see on Tuesday when we get back the severity of it. We're not quite sure what it is yet. Hopefully it's not too bad."
Nelson, a junior college transfer, had played in all seven of the Cowboys' games before Saturday as one of UW's first players off the bench. He's averaging 3.6 points and 3.6 rebounds in 11.1 minutes per game.
His absence is another blow to a team that's doesn't have much of an inside presence at the moment. At 6-foot-10 and 225 pounds, Nelson is one of the few true post players on UW's roster. Stretch big Hunter Thompson (6-10, 235), who had 22 points in Saturday's win on 7 of 8 shooting from 3-point range, logs most of his minutes on the perimeter.
With Nelson out, the next tallest player on the roster is freshman wing Jeremiah Oden at 6-8. UW is also waiting for freshman big Graham Ike (ACL surgery) to be cleared for competition.
The lack of girth inside presents a challenge for UW against bigger teams, including Fresno, which sometimes played 7-footers Orlando Robinson and Braxton Meah simultaneously Saturday. The pair combined for 21 points and eight rebounds as the Bulldogs outscored UW 38-18 in the paint.
Once Thompson fouled out in the waning minutes, UW was forced to go small and finished the game with Oden at center. Offensively, the Cowboys' ability to spread the floor with shooters and pull Fresno's bigs away from the basket was an advantage as Robinson also fouled out late.
Thompson, Oden and junior guard Hunter Maldonado combined for 46 points. It's on the defensive end where the Cowboys will have to make the biggest adjustments with a lineup that's even smaller than usual for now.
"It definitely would've been nice to have (Nelson) going up against the big boys, but we did a good job of adjusting," Linder said. "And that's what we're going to have to figure out here depending on how long he's out until Graham gets back."
Follow UW athletics beat writer Davis Potter on Twitter at @DavisEPotter.