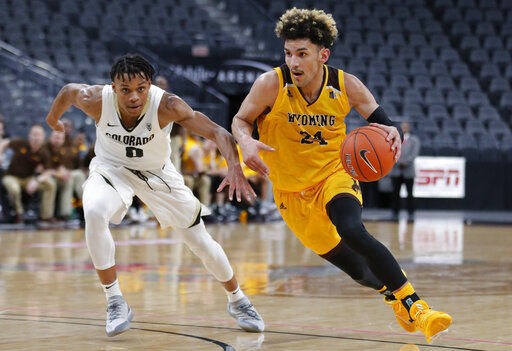 Wyoming's defense traveled. So did some of the Cowboys' shortcomings.
Wyoming held No. 23 Colorado to its lowest point total of the season, but the Cowboys never found an offensive rhythm Sunday in a 56-41 loss at T-Mobile Arena in Las Vegas as part of the MGM Resorts Main Event. Colorado outscored the Cowboys 41-26 in the second half to snap Wyoming's two-game winning streak.
Wyoming, which shot just 32 percent from the field, also committed a season-high 19 turnovers leading to 17 points for the Buffaloes and finished minus-16 (41-25) on the glass. Colorado scored 11 second-chance points on 13 offensive rebounds. The Cowboys, who were averaging 14 turnovers entering the day, have had double-digit turnovers in all seven games this season.
"One of the things we talked about going into the game was the battle of the defenses, and obviously early on, it was tough for both of us to score," Wyoming coach Allen Edwards said on post-game radio. "Them as a team, they were a little bit more aggressive. We did not do a good job of keeping them off the offensive glass and giving up second opportunities, and then we didn't take care of the basketball — two things I think if you don't do well, you put yourself at a disadvantage."
You have free articles remaining.
Hunter Maldonado led Wyoming with a game-high 14 points, but Colorado made its first four shots of the second half to create some separation in a game where offense was largely hard to come by for both teams. D'Shawn Schwartz paced Colorado with 12 points while Tyler Bey had 11 points and a game-high 19 rebounds for the Buffaloes, who started the half on a 13-0 run.
Wyoming answered with a 20-11 run capped by a 3-pointer from Jake Hendricks to get within two possessions at 39-35, but the Cowboys went the next 5 minutes and change without a basket as Colorado used a 13-1 spurt to open up a 16-point lead with 3:41 left.
The teams combined to shoot 24.4 percent (12 of 49) in the first half and went to the break tied at 15. It's the lowest point total in a half this season for Wyoming, which missed 11 of its first 12 shots from the field.
Wyoming, which came in third in the Mountain West in scoring defense (59.8 points per game) and field-goal percentage defense (38.1), held Colorado to 23 percent shooting in the first 20 minutes and took a 15-10 lead on Kenny Foster's 3-pointer, but Shane Gatling drew the Buffaloes even with a 3 in the waning seconds of the half before their momentum carried over into the second.
"Hats off," Edwards said. "(Colorado) coach (Tad) Boyle has a done a great job with that program. I thought they stayed the course and were able to impose their will a little bit on the glass and forcing some turnovers."
The Cowboys will face TCU on Tuesday. The Horned Frogs lost to Clemson 62-60 in overtime in Sunday's late game. Tip-off for the Wyoming-TCU game is 7 p.m.
Follow UW athletics beat writer Davis Potter on Twitter at @DavisEPotter.