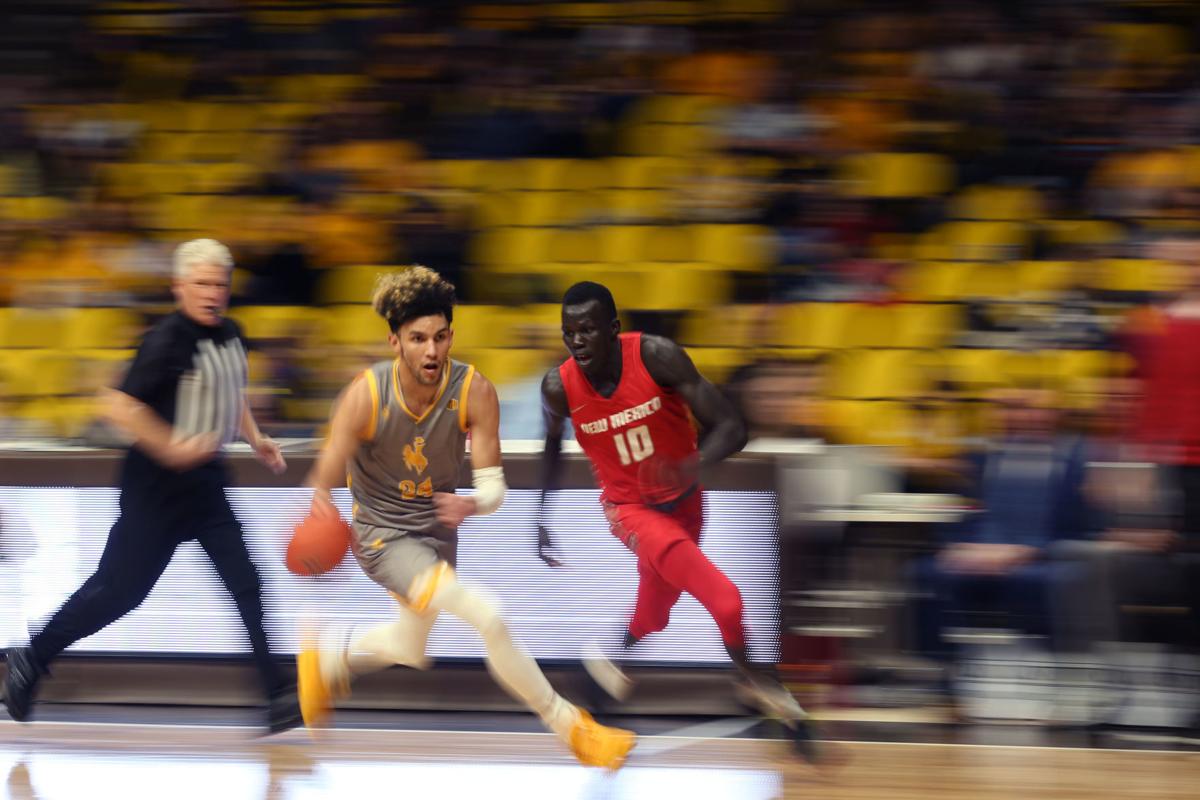 LARAMIE — For two years running, it's seemingly been one hit after another for Wyoming's men's basketball team.
The Cowboys have won just 13 games since the start of last season, and not many of them have come against Mountain West competition. Wyoming has lost 21 of its last 25 league games and seven straight dating back to last season, a skid it will once again try to end Tuesday at Nevada.
The Cowboys enter their second league road tilt of the season as the only MW team still without a conference win. Only lowly San Jose State kept the Cowboys (5-13, 0-6 MW) from finishing last in the MW standings last season, but the Spartans already have league wins over Nevada (10-7, 3-2) and New Mexico, teams closer to the top of the league standings with a combined 7-3 record in MW play to this point.
Fresno State has struggled out of the gate with a 1-4 conference record. But barring a turnaround, a Wyoming program that's just five years removed from a MW Tournament championship could be headed for a last-place finish in the league.
The Cowboys still have 12 games to go before this year's MW Tournament begins March 1.
"It's frustrating, but we've still got to come in and work every day," senior guard Jake Hendricks said. "I think that's what we do. We come in to practice and work our butts off every day wanting to get better and wanting to get wins. We do everything we can to get a win, and sometimes it just doesn't work out."
Whether it was injuries, suspensions or players leaving midway through the season, significant attrition played a part in last year's 8-24 record. The Cowboys don't really have that excuse this season. Injuries to forwards Austin Mueller (knee) and Tyler Morman (concussions) have cut into Wyoming's frontcourt depth, with Morman havoing played in just two games while neither is averaging more than 1.3 points and 2.5 rebounds per game.
Sophomore guard Hunter Maldonado continues to carry the load, ranking second in the MW in scoring (17.9 points per game) while also leading Wyoming in rebounding (5.8) and assists (3.6). Hendricks is the only other Wyoming player averaging double figures, though he is averaging 14.8 points over the last six games.
Wyoming is last in the league in scoring (60.4), highlighted by a lack of execution in a number of areas. The Cowboys also have the worst rebounding margin in the MW (minus-7.3) and rank in the bottom half in turnover margin (minus-0.94) and free-throw percentage (69.8), which made for a particularly painful setback to UNLV over the weekend.
The Cowboys looked prime to get off the schneid Saturday when they had a 63-56 lead on the Runnin' Rebels with 1 minute, 25 seconds left in regulation, but Hendricks, a 70-percent free-throw shooter, and forward Hunter Thompson combined to miss five freebies down the stretch.
You have free articles remaining.
"I think everybody on the team at 1:20 was feeling like, oh man, this is that win we needed to get or we wanted to get to kind of move forward," Wyoming coach Allen Edwards said. "One of the quotes I hit them with (Monday) was life is 10 percent what happens to you and 90 percent what you do afterward. We felt like that was one that really, really got away against a very good UNLV team, but how we respond to that continues to show what we are and who we are as a program."
The Cowboys' league losses have come by an average of 12.3 points, and things won't get any easier Tuesday inside the Lawlor Events Center, where Nevada has won its 27 of its last 29 conference home games. That includes 14 straight dating back to the 2017-18 season.
The Wolf Pack lost all five starters, including twins Cody and Caleb Martin and Jordan Caroline to the NBA, off a team that won three straight MW regular-season championships as well as coach Eric Musselman to Arkansas, but there hasn't been much of a dropoff offensively this season in Steve Alford's first season at the helm.
Nevada is averaging nearly 76 points a game behind an explosive backcourt that isn't shy about launching from deep. Guards Jalen Harris (18.6) and Jazz Johnson (17.1) rank second and fifth in the league in scoring, respectively, while fellow guard Lindsey Drew is also averaging double figures (12.4).
Johnson's 44.8-percent clip from 3-point range is tops in the conference. Nevada, which has attempted the third-most 3s in the MW (450), ranks second in the league in 3-point field-goal percentage (39.3), which will test a Wyoming defense that's limiting opponents to just 32.2 percent from beyond the arc.
"They just look different as a program," Edwards said. "And I was here as an assistant when Alford was the coach at New Mexico, so some of the actions they run are the same. But they're different in a sense of they're really, really guard heavy. This group, it's more Jazz, Jalen and Drew that really, really carry the load for them."
Edwards has shaken up the minutes distribution among Wyoming's rotation as of late, particularly with his freshmen. Guards Kenny Foster and Kwane Marble II have seen their playing time increase recently. Marble, who's logged double-digit minutes in each of the last three games, played a season-high 30 minutes against UNLV and responded with a team-high 19 points.
Edwards said part of the reason for Marble's increased playing time is better conditioning for the 6-foot-6 guard, who's down to 188 pounds after arriving on campus in excess of 200.
"I've been trusting the process, getting in the gym, getting extra work, going hard in practice every rep I get and really just following Coach E's instructions," Marble said.
Edwards said matchups and the flow of each game will determine how many minutes Marble and the rest of the Cowboys get moving forward. The Cowboys are trying to practice patience as they continue searching for a breakthrough.
"I think (the players) come with the right energy and the right mindset, and I don't think it'll be any different playing at home or playing on the road," Edwards said. "We understand the task at hand, and we understand that whether it be at home or on the road, we've still got to come out and play hard."
Follow UW athletics beat writer Davis Potter on Twitter at @DavisEPotter.