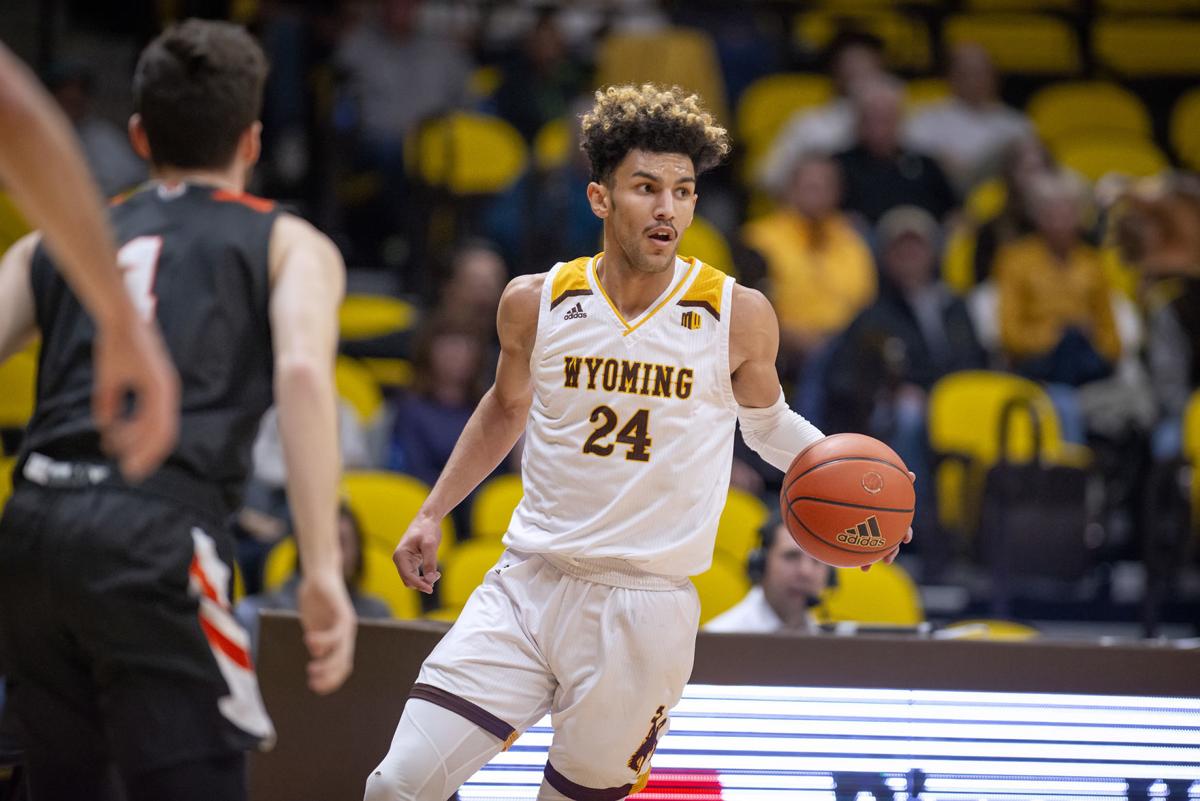 LARAMIE — Hunter Maldonado was a one-man wrecking crew in Wyoming's season opener.
After a quiet four-point first half against Idaho State, the Cowboys' sophomore guard erupted with 28 points in the second. Whether it was taking the Bengals off the dribble or operating out of the post, Maldonado made 10 of his 14 shots in the final 20 minutes, easily surpassing his previous career-high of 21 points in Wyoming's 54-40 win Tuesday.
Yet it was what Maldonado and his teammates did on the other end of the floor that dominated the postgame conversation.
"A lot of people will talk about his 32 (points), but I thought he did an even better job on the defensive end guarding their leading scorer and forcing him into some tough shots," Wyoming coach Allen Edwards said.
A.J. Banks was Wyoming's next-highest scorer with just six points, but on a night when Wyoming was as suffocating as it's been to start a season in decades, it didn't matter. The Cowboys held ISU to 31.9 percent shooting from the field and were even better defending the perimeter.
The Bengals made just one of their first 11 3-pointers and shot just 16.7 percent from deep in a game Wyoming led by as many as 15 once Maldonado heated up down the stretch. By the time it was over, the Cowboys had allowed their fewest points to a Division I opponent in a season opener since giving up just 39 to Montana State to begin the 1949-50 season.
"For us, I think just taking up our edge and everything on the defensive end made our offense work a little better," Maldonado said.
It's been a theme early on for the Cowboys, who held Northwest Nazarene to 56 points in an exhibition win last week. Wyoming has allowed just 37 field goals while holding teams to a 32.7-percent clip from the field in those two games. The Cowboys have also forced 28 turnovers.
Wyoming has stuck almost exclusively with man defense to this point. But Edwards said attention to detail, particularly against a smaller, more athletic team like ISU that doesn't have anybody taller than 6-foot-8, has been as instrumental as anything to the Cowboys' effectiveness on that end of the floor.
"I thought we did a great job with the scouting report and understanding personnel," Edwards said. "There were a few times when they had the five consecutive baskets and then the seven (in the second half), I thought it was more mental lapses. Even watching (forward Hunter) Thompson out there guarding a perimeter guy and understanding that he really didn't need to be up because he really didn't want to shoot the basketball."
It's still a minuscule sample size, and after seeing a Division II team in its exhibition and an ISU team that won just 11 games last season, there will be far more stiffer tests in the future. A trip to South Carolina, one of four high-major opponents on Wyoming's non-conference slate, awaits Sunday.
Edwards wants to see his team play a few more games to get a better gauge of exactly where Wyoming is defensively, but it's a good start for a team that finished in the bottom half nationally in points allowed (75.3 per game) and field-goal percentage defense (44.4) a season ago.
"That's what we've been working so hard while we've been here is to get a team that buys into that defensive mindset first," Maldonado said. "I think the guys do a great job of that. And everyone takes it personal."
Follow UW athletics beat writer Davis Potter on Twitter at @DavisEPotter.
Be the first to know
Get local news delivered to your inbox!