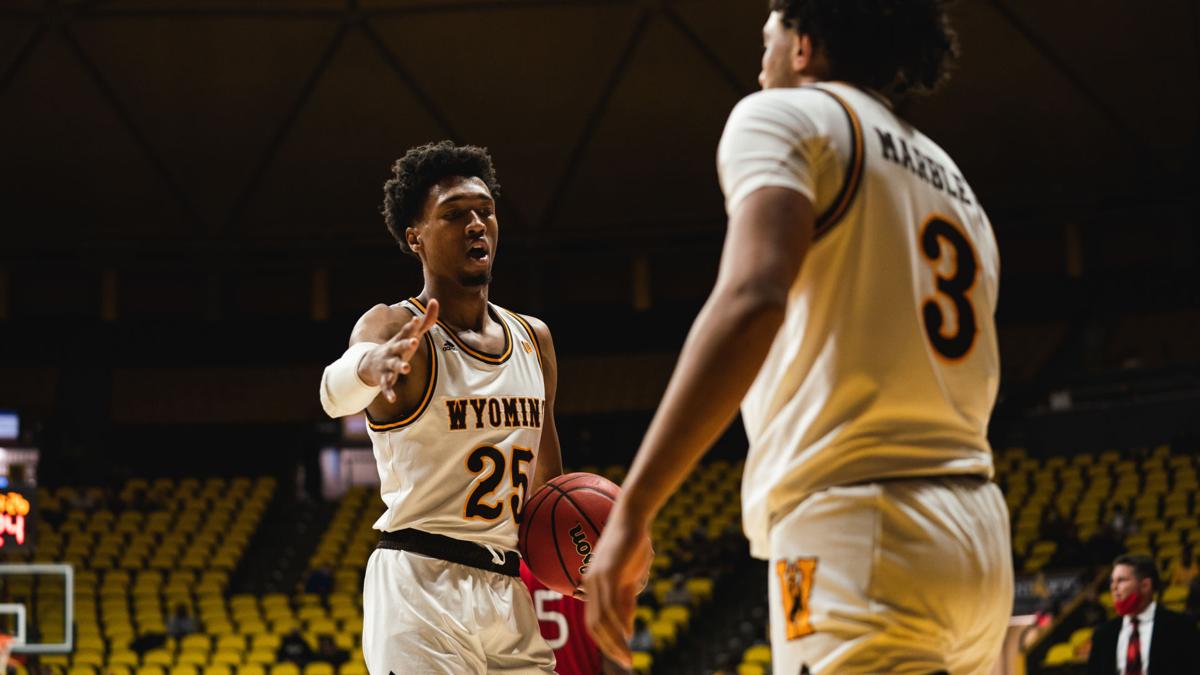 LARAMIE — It was deja vu for Wyoming's men's basketball team.
This time, UW coach Jeff Linder saw his young roster grow up a bit in a moment that overwhelmed it 48 hours earlier.
"There's no question," Linder said.
UW first erased an 11-point deficit in the final 6 minutes of regulation to force overtime. Then, with the help of what Linder called "winning plays," the Cowboys dominated the extra time, scoring 13 of the first 16 points in overtime en route to a 94-83 victory despite Incarnate Word shooting better than 50 percent from the field and from beyond the 3-point line.
Five Cowboys scored in double figures, but the most notable performance came from sophomore guard Kenny Foster, who led UW with a career-high 21 points in his season debut. Fresh off a 14-day quarantine as part of COVID-19 protocols, Foster was cleared to play just hours earlier and finished 6 of 8 shooting, but it wasn't just his offense that helped.
With UW clinging to an 85-81 lead with less than 3 minutes left in overtime, Hunter Thompson's 3-point shot went long. An Incarnate Word rebound would've given the Cardinals a chance to get the deficit back to one possession. Instead, Hunter Maldonado snatched the board and drove in for another shot, but this one was also trickling off the rim.
Foster soared in from the wing to grab the rebound over three Incarnate Word players and kicked the ball out to Thompson to save the possession before falling out of bounds. Foster got the ball back after relocating to the corner and splashed a 3 that gave UW a three-possession lead.
"First off, it was like please don't step out of bounds because I saw (Foster) flying pretty fast," Maldonado said. "And then once he kicked it to Thompson, I was looking at Thompson and telling him to swing it right back to Kenny because I knew the defenders weren't going to follow him out there.
"Once he swung it, I was like, 'Yeah, that's going in.' I've seen Kenny in practice hit a ton of those shots. So I had all the confidence in him."
Freshman guard Xavier DuSell, who finished with 11 points for his first game in double figures, sank a 3 on UW's ensuing possession to give the Cowboys their first double-digit lead. But UW may not have even forced overtime without its defense tightening up in the waning minutes of regulation.
Incarnate Word hit shot after shot to seemingly squash any kind of run UW tried to start through the first 35 minutes of the game, holding its largest lead at 68-57 with 5:56 left. But with the help of a full-court press the Cowboys showed for the first time this season, UW pressured the Cardinals into a handful of late turnovers and finished regulation on a 21-10 spurt.
"All the talk (among the players) was just defense, staying calm, staying level-headed and just sticking together," Foster said.
Linder singled out the defensive effort by freshman guard Marcus Williams, who got a crash course in that department in between games. The 6-foot-2 Texan, who's leading all Mountain West freshman in scoring at 19.5 points per game, scored 20 more points Wednesday and has an assist-to-turnover ratio of nearly 3-to-1 (18 assists, 7 turnovers), but he and the rest of the Cowboys had a hard time keeping Texas Southern's more experienced guards out of the lane Monday when the Tigers scored 48 of their 76 points in the paint.
Not only did Williams get a look at his breakdowns on the game tape, but Linder said assistant coach Sundance Wicks showed the youngster clips from Tuesday's Duke-Michigan State game to give him an idea of the intensity needed consistently on the defensive end of the floor.
It seemed to resonate for Williams and his teammates. Incarnate Word scored less than 41% of its points in the paint, and Williams had three of UW's eight steals — a season-high for him. The Cowboys scored 19 points off 15 turnovers.
"I thought Marcus did a tremendous job tonight when he was challenged about his ability to guard there in the Texas Southern game," Linder said. "You could tell he was ready to go. … He did a good job of helping off. He got some steals. He made some big blocks. He just made some tremendous plays on the defensive end."
Maldonado, one of just four players back from last year's team and the Cowboys' self-proclaimed leader, said he made a more concerted effort to remind UW's younger players that a comeback wasn't going to be possible without stringing together stops. UW's junior guard is also of the opinion Monday's collapse was enough of a wake-up call.
"I think I saw them grow up Monday when we lost," Maldonado said. "Using that pain and then coming into Tuesday, watching film and going to practice, all the guys used that energy and what we did wrong to learn. We came in (to practice) Tuesday ready to go and ready to work, and I think that showed."
UW will need to take another step in its maturation process in a hurry. The level of competition will significantly increase this weekend when the Cowboys hit the road for the first time for a Sunday matchup with Oregon State, the lone high-major opponent on their non-conference slate.