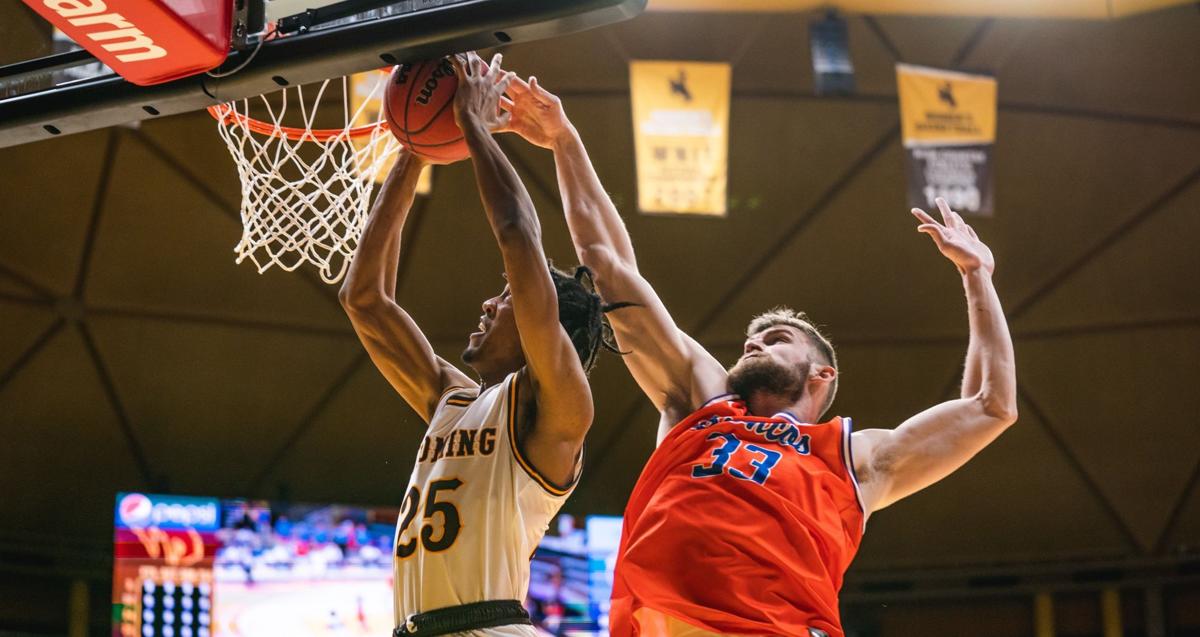 LARAMIE -- The final score may not have been indicative of it. But having to play a rotation that was even smaller than usual, Wyoming men's basketball coach Jeff Linder didn't hate his team's effort Wednesday night.
Wyoming dropped its third straight game with a 90-70 loss to Boise State at the Arena-Auditorium. Hunter Maldonado led four Cowboys in double figures with 17 points, but it wasn't nearly enough to overcome more attrition against the hottest team in the Mountain West.
Already without bigs Eoin Nelson and Graham Ike because of injuries, UW didn't have stretch forward Hunter Thompson, who rolled an ankle two nights earlier in the series opener. Freshman guard Xavier DuSell joined fellow guard Kwane Marble II in the starting five as the Cowboys went with a four-guard lineup for the duration of Wednesday's game, which only put the Cowboys at more of a size disadvantage against Boise State's length and athleticism.
"I was proud of the fact, there was a stretch in the last game where we talk about those grab-the-wall segments where you're waiting for that dead ball or timeout, and we got obliterated in those segments on Monday night," UW coach Jeff Linder said. "And I thought in the second half (Wednesday), we won those segments. Those are the small battles you have to win to ultimately win the war in the war."
On Monday, the Cowboys played the Broncos to a five-point game in the final 9 minutes before Boise State surged in the waning minutes for a 23-point win. But down another significant frontcourt player, UW never kept the rematch that close after a slow start. The Cowboys trailed by as many as 23 points in the first half and never got closer than 17 in the second.
Marcus Williams, who came off the bench for the first time this season, added 13 points for UW while Marble and Jeremiah Oden chipped in 10 apiece. Devonaire Doutrive led six Boise State players in double figures with 17 points while Abu Kigab scored 15 for the Broncos, who've won 12 straight games.
Whether it was blocking or altering the Cowboys' shots at the rim or getting their own easy looks close to the basket, the Broncos made a living in the paint. Boise State outscored UW 52-36 there and shot nine more free throws than UW, finishing 21 of 23 from the charity stripe.
UW put up more of a fight on the glass after getting outrebounded by 24 in Monday's game, finishing minus-4 on the boards Wednesday. The Cowboys also held Boise State to 26.3% shooting from 3-point range (5 of 19), but the Broncos' advantage on the interior still allowed them to shoot 54.2% overall thanks to a 67.5% clip from 2-point range.
"It was definitely harder to contain their post players and their paint presence without Thompson and without Eoin," Oden said. "Eventually we'll have those guys back. Until then, it's just next man up."
And the Cowboys didn't have their usual touch from deep to overcome it. UW, the third-best 3-point shooting team in the Mountain West, went just 7 of 25 from beyond the arc and hasn't shot better than 32% from 3 during its losing streak.
The Cowboys will try to end the skid Saturday when they start a two-game series at Air Force.
"It's on the scout that these guys can shoot 3s now -- Kenny (Foster), Drake (Jeffries) and Thompson -- so those guys are becoming more points of emphasis to fan out, get out there and not let them get a shot off," Maldonado said. "I think as we continue to push through this conference and get into these next couple of games, we'll find ways to get these guys shots. They'll find ways to get their own shots, and we'll be able to get those 3s back up."
The Broncos knocked down 10 of their first 13 shots and continued to feast on the interior. Boise State shot nearly 61% from the field in the first half despite going just 4 of 13 from 3-point range and didn't miss a shot inside the 3-point line until the 8-minute, 35-second mark of the half.
Frustration for UW boiled over late in the half when the Broncos grabbed back-to-back offensive rebounds and eventually got a putback from Kigab. Linder pleaded his case with officials that Maldonado got pushed from behind and was hit with a technical foul.
By that point, the Broncos led 43-26. Marcus Shaver Jr. knocked down both technical free throws, and Boise State followed those with back-to-back buckets for their first 20-plus point lead. The Broncos eventually pushed their advantage to as many as 23 in the opening 20 minutes before taking a 55-33 lead into the break.
"They've got to know we're in a fight, and I'm in there with him," Linder said. "To be honest with you, I thought there were two calls where we made winning plays and we didn't get rewarded for it."
UW held Boise State to 46.2% shooting after halftime and won the second half 37-35, a moral victory for UW. Linder isn't all that into those, but the Cowboys will take it given what they had available as they move on from what may very well be the stiffest and most experienced competition they face all season.
"Boise State, I'm not sure anybody else in the league has as many weapons as they have, so they'll be right there (competing for the Mountain West championship)," Linder said. "We don't want to get used to losing, but sometimes you have to lose against teams like that to make your way forward. If we can make our way into practice here leading up for the next couple of months, take that, and know, 'Hey, when coach says it's not good enough, we now know what he's talking about.' Now we've got a chance to really start building."
Follow UW athletics beat writer Davis Potter on Twitter at @DavisEPotter.