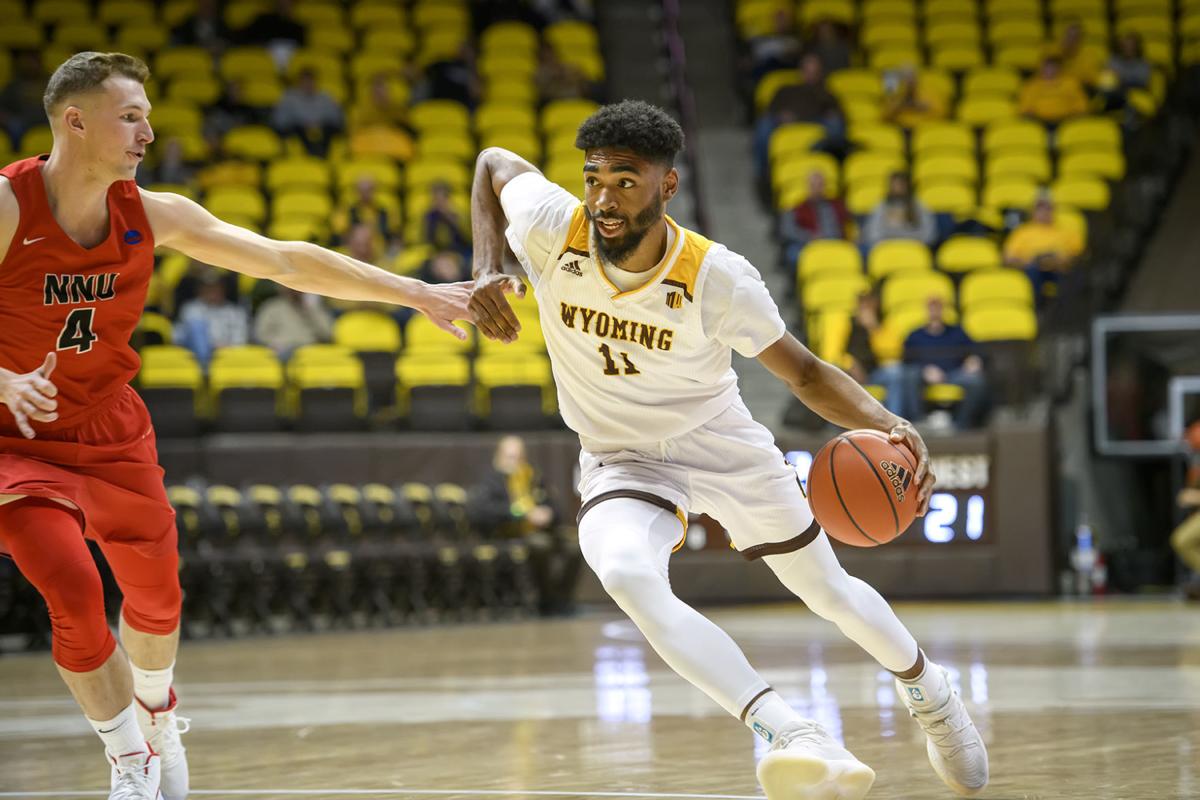 LARAMIE — In case anyone was still wondering as to what the identity of Wyoming's men's basketball team will be this season, Allen Edwards cleared it up.
"At the end of the day, this is not a high-powered offensive team," Wyoming's fourth-year coach said. "This is a team that's going to hang its hat on the defensive end of the floor and rebounding."
The Cowboys have limited opponents to 38 percent shooting from the field and just 29.3 percent from 3-point range through the first two weeks of the season. Their 55.3 points allowed per game rank in the top 30 nationally and is in stark contrast to the 75.3 points they yielded a season ago.
Yet Wyoming has dropped two of its first three games in large part because it's scoring the sixth-fewest points among Division I teams. The Cowboys had their lowest point total of the Edwards era in a 66-32 loss at South Carolina last weekend before mustering just 53 in a loss to Cal State Fullerton on Wednesday to begin their four-game homestand.
Turnovers continue to be a factor. Wyoming, which has averaged at least 13.2 turnovers in each of the previous three seasons, is coughing up 14 possessions per game so far this season. Nine came in the second half against Fullerton, including six in the first 6:14 of the half when Wyoming went without a basket.
"I don't know for sure, but I would guess we had quite a few turnovers with that scoring drought," senior guard Jake Hendricks said.
But the Cowboys aren't getting much scoring outside of Hunter Maldonado when they do hold on to the ball. Maldonado hasn't missed much of a beat since coming back from the back and knee injuries that limited him to eight games last season, reaching double figures in every game this season. That includes a career-high 32 points in Wyoming's season-opening win over Idaho State.
Maldonado has accounted for more than 41 percent of Wyoming's points. The next-highest scorer for Wyoming is Hendricks, whose 6.3 points per game are down from the 10.8 he averaged last season. The Cowboys' top threat from beyond the arc is also off to a 33.3-percent start from 3-point range (4 of 12).
Hendricks has gotten up just 19 shots so far, which is due in large part to the scouting report. Teams focus their defensive game plan toward trying to take away Maldonado and Hendricks, who shot a team-high 41 percent from 3-point range last season. When that happens, it's up to the Cowboys' supporting cast to be more aggressive in helping out.
"That's what coach always tells us," sophomore TJ Taylor said. "When we have great shooters like Jake, Maldo and (Hunter) Thompson, it always opens up the lane for guys like me and the rest of my teammates. It definitely creates opportunities, but at the same time, you've got to be smart while you're attacking."
Taylor is a candidate to give Wyoming some additional scoring. He showed potential last season as one of three true freshmen thrown into a rotation that was depleted by injuries and other attrition, shooting nearly 44 percent from the floor and averaging 6.4 points in 22 starts. The 6-foot-6 wing had been relatively quiet through Wyoming's first two games (four points on 1 of 5 shooting) but was active early against Fullerton with seven points and six rebounds in the first half on his way to a 10-point, nine-board night.
"I think that's the missing piece for me right now is consistency," Taylor said. "I think when I'm playing hard and doing the little things and what I need to do, it shows. And when I'm not, I lose focus and things like that, I think that's when it hurts the team."
You have free articles remaining.
True freshman Kenny Foster is another one. A 6-6 combo guard, Foster was viewed as a newcomer who could provide the Cowboys with instant offense after averaging 27.1 points during his senior season at Smoky Hill (Colorado) High, and that's still the expectation for the reigning Colorado Gatorade Player of the Year.
A concussion forced Foster to miss the exhibition and the opener before he made his Wyoming debut against South Carolina. He went scoreless in 27 minutes against the Gamecocks but finished with five points on 2 of 4 shooting against Fullerton.
"TJ and Kenny Foster are going to have to help us in that department," Edwards said. "Granted, this was only Kenny's second collegiate basketball game, and if you watch him out there, I thought he did a good job. But TJ — and I've said this to him and I've said it to him in front of the team — because of his understanding of the game, he has to find ways whether it's something called for him or within what we're doing to get to the foul line or score baskets for us to where we don't have to heavily lean on Maldonado or Jake making shots.
"More 18, 16, 15, 12 or 10 (points) from different positions and personnel, I think that helps us long-term."
But as big a boost as any to the Cowboys' offensive efforts would be getting Thompson going. It's been a slow start for the 6-10 stretch forward, who finished last season as the Cowboys' third-leading available scorer (8.8 points per game) and shot 37.5 percent from 3-point range.
Despite playing the second-most minutes of anybody on the roster to this point, Thompson is shooting just 20 percent from the floor and has connected on just two of his first 12 shots from deep after going 1-for-9 from the field against Fullerton.
Six of those attempts were from 3-point range. Edwards said Thompson has to be careful to not always settle for the 3 and use his mobility to drive past defenders when they extend out on the perimeter, but nobody wants the Pine Bluffs native to become timid with his shot either.
"He's got to be able to make more of those plays as well rather than just being a guy that can pick and pop and shoot 3s," Edwards said. "Then has to be a presence for us in the paint for post touches, especially until (forward Tyler) Morman gets back (from injury). … I don't think he's pressing to be honest with you. I think he's just trying to do right at the end of the day."
Said Hendricks, "Every shooter goes in a slump every once in a while. He's just got to keep shooting, keep getting in the gym on his own time and just keep letting it fly when he's open."
Things don't get any easier for Wyoming with another high-major opponent, Oregon State, coming to town Saturday night. The Beavers are averaging 78.7 points through their first three games and dropped 83 on Wyoming in a 19-point win last season.
So while the Cowboys have been stingy with their defense, they will need to start getting more involved on the other end of the floor for it to matter.
"It's a process with that," Edwards said. "And with this group and the more games some of these newer guys get under their belt, the better we'll be."
Follow UW athletics beat writer Davis Potter on Twitter at @DavisEPotter.