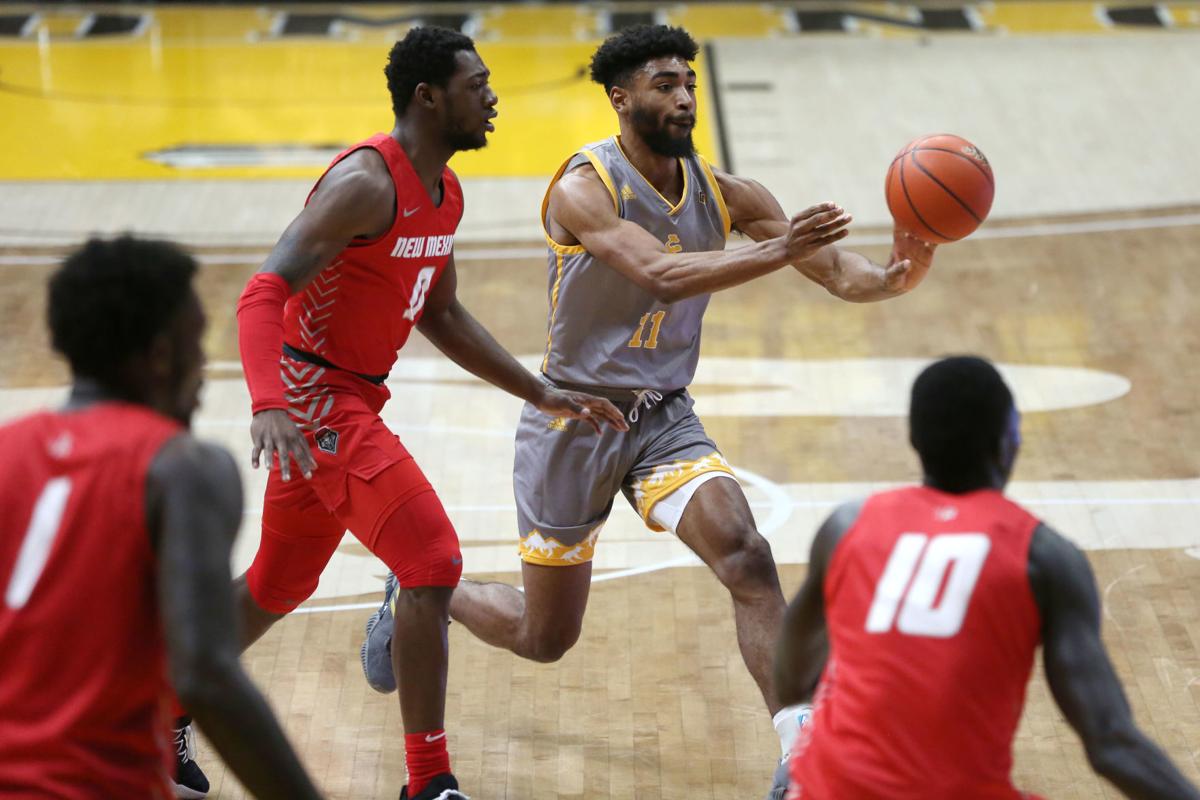 LARAMIE — Wyoming's men's basketball team has a different look to it.
No, the Cowboys haven't done any more winning. UW has lost two straight games since notching its lone Mountain West victory on Feb. 1 against San Jose State and sits in the cellar of the league standings with five games left before the MW Tournament.
Hunter Thompson continues to deal with a bout of mononucleosis that's forced the Pine Bluffs native to miss the last two games. The 6-foot-10, 235-pounder is tied for second on the team in rebounding (3.3 per game) and is fourth in scoring (8.1 points per game), but UW coach Allen Edwards said in the middle of the week he's not putting any sort of timetable on Thompson's return.
"I can't give a specific return date," Edwards said. "Obviously how he progresses with the mono I think makes a difference, and then how he feels also will let us know if he's ready to come back."
So the Cowboys (6-19, 1-12 MW) will be left with a smaller-than-usual lineup Saturday if Thompson once again is unable to go against UW's archrival, Colorado State, at the Arena-Auditorium. UW was starting four guards even before Thompson became ill, but sophomore T.J. Taylor, the tallest player left in the Cowboys' rotation at 6-6, has taken over as UW's de-facto big.
It's not the best set of circumstances for UW considering the task it's about to face. Picked in the preseason to finish ninth in the 11-team MW, CSU (17-9, 8-5) enters this weekend's Border War rematch as the surprise of the league.
You have free articles remaining.
The Rams, who took the first meeting between the teams, 72-61, on Jan. 4 at Moby Arena, are a half-game back of second place in the conference standings after winning three of their last four games and eight of their last 10. CSU is led in scoring by freshman guard Isaiah Stevens (13.6 points per game) and have two of the league's top 3-point shooters in Adam Thistlewood (42 percent) and Kendle Moore (41.3).
They complement what's still one of the MW's most formidable frontcourts led by Nico Carvacho, the league's all-time leader in rebounds and double-doubles. The 6-11 Carvacho is averaging 12.5 points and 10.8 boards on the season, but he's not the only threat along the front line. David Roddy has emerged as a freshman, averaging 12.2 points and 5.8 rebounds while shooting better than 47 percent from the field.
Roddy had 19 points and 13 rebounds in 33 minutes in the first meeting with UW, combining with Carvacho for 28 points and 25 boards in a game CSU led by as many as 23 points. And that was with Thompson in the lineup.
"They've really come into their own in a sense of balance," Edwards said. "It doesn't seem like anybody cares about who scores. And then I think they just play hard on defense. I don't think they're great at executing, but they play hard. But they really share the basketball offensively."
UW will counter with the league's fourth-leading scorer in Hunter Maldonado (17.0 points per game). Freshman guard Kwane Marble II has given the Cowboys a consistent secondary scoring option, reaching double figures in seven of his last eight games. He's averaged 13.3 points since entering the starting lineup three games ago.
But the primary objective for the undersized Cowboys is trying to find a way to contain the Rams on the interior. UW is last in the conference by a wide margin in rebounding margin (minus-7.8), and things won't get any easier against a team that outrebounded the Cowboys by 16 and doubled them up in points in the paint (32-16) the first time around.
Taylor has been serviceable playing out of position in Thompson's absence. He's pulled down at least six rebounds in each of the last three games and scored 10 points in UW's last outing against New Mexico — his first game in double figures since scoring 16 against Denver back on Dec. 21.
But it's going to have to be a team effort on defense and on the glass against Carvacho, Roddy and company, Edwards said, if the Cowboys want to give themselves a realistic chance of splitting the season series with their most bitter rival.
"I thought TJ did a great job (against New Mexico)," Edwards said. "The problem is he can't do it by himself.
"With the group that we're going against and Carvacho, it's not about attacking him from a one-on-one standpoint. And I think Roddy is just as much of a problem as Carvacho is because of his girth. So with us being a smaller lineup, and to be quite frank, even if we weren't undermanned, it's still our concept that those things have to be done with a team concept."
Follow UW athletics beat writer Davis Potter on Twitter at @DavisEPotter.