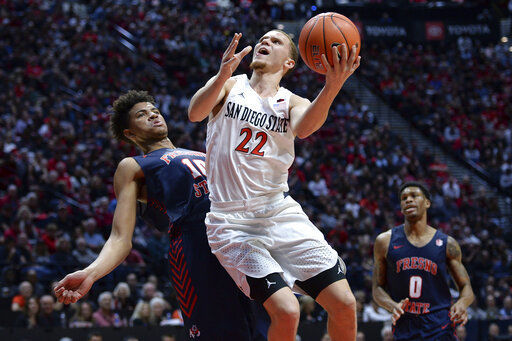 LARAMIE — Wyoming has yet to pass a test against Mountain West competition this season.
Now the Cowboys are about to take their toughest one yet.
Another rough season for Wyoming includes what's been an empty start to league play. The Cowboys remained the only winless team in MW play with its double-digit loss at Colorado State over the weekend, and trying to break out of their funk won't get any easier Wednesday.
No. 7 San Diego State will bring one of the hottest teams in the nation into the Arena-Auditorium. One of two unbeatens left in college basketball, the Aztecs are starting to hear chatter as to whether they could enter the NCAA Tournament with an unblemished record.
That's because SDSU (15-0, 4-0 MW) just passed what many perceive to be their toughest test in league play all season with a 77-68 win at preseason favorite Utah State on Saturday that vaulted the Aztecs into the top 10 of The Associated Press poll for the first time since 2014. SDSU, the No. 1-ranked team in the NET (NCAA evaluation tool) rankings, already has four top-50 wins over BYU, Creighton, Iowa and Utah and has just one game left on its schedule against a team in the top 80.
Wyoming (5-11, 0-4), meanwhile, is looking for any sort of positive. The Cowboys have lost eight of their last 10 games and 19 of their last 23 against league foes dating back to last season, including five straight.
"Obviously a top-15 team in the country, and watching them, there's a reason why," Wyoming coach Allen Edwards said. "I think it comes back to what they're doing on the defensive end of the floor. I think they're very connected as a group. You can see there's some good buy-in on that end of the floor, and I think they're very unselfish on the offensive end."
You have free articles remaining.
It's the second top-10 team to pay a visit to Wyoming's home arena in as many seasons. Nevada, ranked No. 6 at the time, beat the Cowboys 82-49 last February, but Wyoming has had just as much trouble with SDSU recently. The Aztecs have won the last two meetings in the series, including an 84-54 victory in the team's lone matchup last season.
SDSU enters Wednesday's meeting allowing the fifth-fewest points in the country (56.8 per game). The Aztecs also lead the MW in field-goal percentage defense and 3-point field-goal percentage defense while ranking third in rebounding margin (plus-6.4).
But the Aztecs' unblemished start has been aided by a more prolific offense than usual paced by point guard Malachi Flynn. The Washington State transfer is seventh in the MW in scoring at 15.9 points per game but has been just as effective as a distributor in running the Aztecs' offense. He's second in the league in assists (5.1 per game) and has been as good as anyone at protecting the ball with a league-leading 3.3 assist-to-turnover ratio.
"He has the ability to score the basketball, but I also think he has an ability to make his teammates better," Edwards said of Flynn. "When you're playing with a guy that's capable of scoring and know that he can score the basketball but is just as willing to pass the basketball, if I'm a teammate, then I want to play with that guy.
"What I've seen of him — and I saw a little bit at Washington State — with him in the league right now and how San Diego State is playing, he's got to be mentioned for player of the year in our conference."
Flynn has plenty of complementary pieces. Fellow guards Matt Mitchell (11.7 points per game) and Jordan Schakel (10.2) along with 6-foot-10 forward Yanni Wetzell (10.7) are also averaging double figures for an SDSU team that's third in the MW in both overall field-goal percentage and 3-point field-goal percentage.
SDSU is also tops in the league in turnover margin (plus-4.2). Meanwhile, Wyoming is last in scoring (60.4 points per game) and rebounding margin (minus-6.5) and ranks eighth in turnover margin (minus-1.44).
But what the Cowboys have usually been able to rely on is their defense. Wyoming is in the top half of the league in field-goal percentage (42.3) and points allowed (66.1). The Cowboys didn't show it the last time out when CSU shot 51 percent from the field Saturday, but they'll need to be stingy against perhaps the most complete team they've seen all season Wednesday to have any chance to get off the schneid.
"We have to play good basketball," Edwards said. "We have to play our brand of basketball, and we have to be able to do some of the things to stop them from having a good game."
Follow UW athletics beat writer Davis Potter on Twitter at @DavisEPotter.