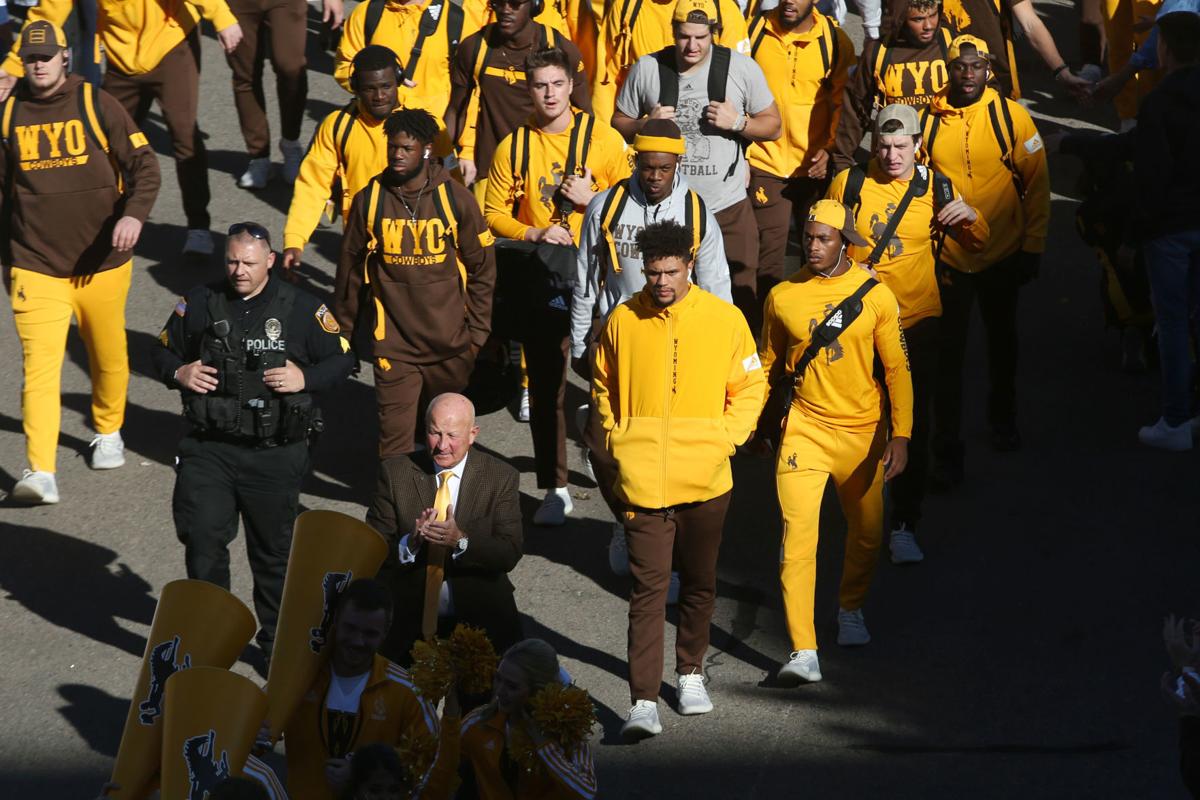 LARAMIE — Craig Thompson may have best summed up the current state of college athletics with a single phrase.
"Everybody wants tomorrow's answers today," Thompson said.
Yet even during a time when college sports have few answers to a number of questions that continue to mount amid the coronavirus pandemic, there's one answer that was easy for the Mountain West's commissioner to provide.
As for who will be deciding when campuses open again, Thompson said that will be left to university presidents, medical professionals, health officials and all levels of government.
"Arguably right now there's maybe 20 to 30 potential states that could have somewhat of a rolling opening, so they may be possibly ready to resume whatever normal is," Thompson said. "But those who aren't, it's going to take a combination of several sources to make the determination of is it safe to reopen and get 30,000 students co-mingling on a campus?"
With all spring sports canceled, the most pressing concern for the MW is whether or not there will be a football season this fall given the significant revenue it produces for conferences nationwide and their member institutions. One of the largest sources of that revenue is the media rights agreement the MW has with CBS and ESPN to televise football and men's basketball games.
Deferred or reduced payments if the season is impacted isn't a topic that's been discussed yet with the networks, Thompson said. He added it's too early to know whether each team will be able to play a 12-game schedule if there's a season at all.
"We just gave CBS, by contractual rights, the first seven picks (for football season), so they're looking at those games now," Thompson said. "We're kind of business as usual with the eye knowing that it may change tomorrow."
***
Thompson said he's heard from coaches who've told him their teams would need six to eight weeks to adequately prepare for the season once players are cleared to return to campus. Others have said they'd need just four weeks, though Thompson said those coaches are in the minority.
Given that timeline, a decision would need to be made in early July as to whether most teams would be able to start their seasons on Labor Day weekend as scheduled, though Thompson confirmed contingency plans have already been discussed if that's not possible. They include postponing the season until October or playing the season next spring.
"Can you play a football game in March in Colorado?" Thompson said. "Then lastly and certainly, how does that blend into the academic calendar? And what does that do up against a number of professional sports that are played at the same time? … If they're all being played generally on top of each other, what challenges does that create?"
***
Even when student-athletes are cleared to return to their respective campuses, there's a good chance not all of them will do so simultaneously. Thompson cited Wyoming as one of the few states that still doesn't have a stay-at-home order in place in an effort to prevent the spread of the virus, so some schools may be able to get their athletes back on campus and start practicing sooner than others.
Figuring out that competitive balance, Thompson said, is just one of the many decisions that will be weighed in the coming months.
"Do we have to wait until all 50 (states) are open because you can understand the clamor there would be if certain coaches are saying, 'Well, they can practice in seven of the Mountain West states, but we can't in the eighth, so none of you can practice until we can practice and open up our campus,'" Thompson said.
Here are more notes from Thompson's interview.
He said the budget for next season's College Football Playoff was approved this week and that it was down 16 to 20 percent from usual. As for the MW, Thompson said the league is looking at a cut of 15 to 20 percent to its operating budget "as is everybody."
The MW is looking into budget cuts to make up for the lost revenue, including possibly having virtual football and men's basketball media days instead of traveling to Las Vegas, where those events are annually held. Thompson said the league has already canceled a CFP meeting in Dallas, a joint council meeting in Phoenix and a board meeting.
Thompson confirmed each member school will miss out on a cut of more than $1 million in TV revenue with the cancellation of this year's NCAA men's basketball tournament — a loss Burman said last month UW was expecting — but the conference did fill its own media obligation by completing its men's and women's basketball tournaments before sporting events nationwide began getting canceled. Thompson said he's optimistic the league will still be able to fulfill "97 to 98 percent" of its proposed revenue distribution to the membership.
The construction of California's SoFi Stadium, which will play host to the L.A. Bowl that's taking the place of the Las Vegas Bowl in the MW's annual bowl lineup, has not yet been completed. The game, which will pit the MW champion against a team from the Pac-12, is scheduled to debut in December. Thompson said "there's a presumption" the stadium will be open by August, but "these are some of the unknowns we're dealing with."
Follow UW athletics beat writer Davis Potter on Twitter at @DavisEPotter.
Concerned about COVID-19?
Sign up now to get the most recent coronavirus headlines and other important local and national news sent to your email inbox daily.