LARAMIE — To Scotia Mullin, the 1998 murder of Matthew Shepard is not an indictment of Wyoming.
"I think that it's unfortunate that it's a part of Wyoming's past," Mullin said. "But I think that if you dig into anywhere they will have an unfortunate past."
Mullin is a sophomore diver at the University of Wyoming. He is the first Cowboy ever to earn two all-American honors in diving, the second to receive consecutive invites to the NCAA diving championships.
He has been since he was 16 years old, and he was openly bisexual two years before that. Last month, though, he told his story to a larger audience when he wrote an essay for Outsports about his experience as an openly gay athlete in Laramie, the town that received national attention when Shepard, a college student there, was beaten and left to die. Shepard was gay, and his murder is considered one of the most infamous hate crimes of the era.
But Mullin's experience in Laramie has been a positive one. In fact, he said there haven't been "any negative aspects" to it. Considering the blemish Shepard's death left on this town and the preconceived notions many have about tolerance in Wyoming, Mullin's example offers a convenient counternarrative.
But Mullin isn't interested in being reduced to a poster boy. He just wants to be himself.
You've got to run through a laundry list of traits that set Mullin apart as a student-athlete before ever getting to his sexuality. He was born in Glasgow, Scotland, and moved to Melbourne, Australia when he was 7. He is majoring in both anthropology and geography and hopes to one day work to eradicate HIV. He speaks with an enunciated elegance that would command attention even if it weren't delivered in a thick accent. He is a two-time Western Athletic Conference Diver of the Year.
Mullin first entertained the idea of coming to Wyoming when a club teammate of his, Keely Bishop, departed Australia for the UW swimming and diving team.
"She left three years before me and was like, 'Oh, I'll see you in Wyoming,'" Mullin said. "We both laughed about it."
Mullin turned Wyoming down at one point, but after Kyle Bogner was hired as the diving coach, Mullin had a change of heart, choosing Wyoming over Virginia and Grand Canyon.
"I felt like I really vibed with him," Mullin said of Bogner. "We both had really similar goals, and we both had a really similar outlook on training and life. It was important that I had a coach that wanted me to flourish as an individual, as well as as an athlete, and that was one of the really big pull factors that brought me to Wyoming."
Laramie offered the blue skies his friend Bishop had promised and the feet of snow she had failed to mention. Mullin thrived as a freshman, posting top-five marks in school history in the 1-meter, 3-meter and platform dives. He broke WAC records at the conference championship, won the 1-meter WAC title, finished 14th in the platform at the NCAA Championships and was named the male athlete of the year at Wyoming athletics' annual WESPYS award show.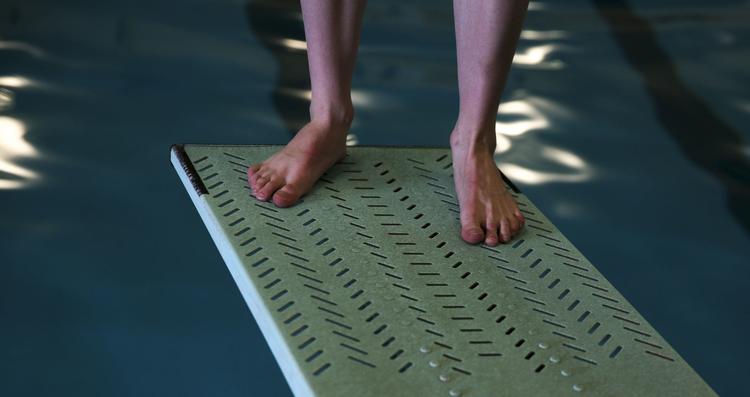 "He has an elite mentality," said Bogner, now in his third year as head diving coach, "which I appreciate and makes it easier to work with."
Mullin's sophomore season handed him the added challenge of a back injury. About a year ago, he noticed some soreness that he didn't give much thought to over the summer.
"And then I came back, and it got to the day before the competition, and I couldn't jump," Mullin said.
He had a stress reaction in his L5 vertebrae. He wouldn't begin training and jumping again for another three months and yet was able to win two individual WAC titles, finish second once again at the NCAA Zone E Championships and take 16th at the NCAAs, making school history.
"That was a huge honor," Mullin said. "And I think it's a credit both to my ability as well as the athletic team managing me, and the doctors and our athletic trainer and my coach being able to identify what's important and what we should prioritize for the season. So it was a lot more strategy than I thought. And that wasn't really me. My job was to dive, and everybody else worked out the strategy. So it was really a team effort."
In his essay, Mullin wanted to avoid the idea that his open sexuality is what has made him an all-American diver.
"I didn't want it to be, 'Oh, he's so successful because he's gay,'" he said of his piece on Outsports, an SB Nation website that focuses on LGBT issues in sports.
That sentiment is far from the truth, teammate Ryan Russi said.
"He puts in a lot of work," Russi said. "He is very talented, and I think that's the true reason why he's been so successful — and with the family support that he has in all aspects of his life, just the support that everyone's been giving him throughout the years, prior to and at Wyoming."
However, Mullin does have the benefit of participating in a sport where, for better or worse, it's not a huge surprise when a competitor is gay.
"Diving is one of those sports that unfortunately is stereotyped, and I mean it's stereotyped correctly in a lot of places," Mullin said. "There are a lot of gay athletes, and those gay athletes seem to be incredibly successful, which sometimes overshadows that there are other athletes that are straight."
As Mullin wrote in his essay: "I credit coming out as a catalyst for making me a better athlete."
He makes no attempts to hide who he is, and that extends to the diving board.
"I always have thrived on the fact that I'm different," he said. "I think that it's good to be unique. It's good to be able to express yourself, and diving was a way that I could express myself. And part of my femininity makes me a quite pretty diver, which is something that you don't see from a lot of male athletes. A lot of them are very bulky and things like that, so I think that in my younger years, that helped me to win the pretty points rather than the pure strength, because I wasn't built the same. I couldn't jump the same way that they could jump.
"… I think being able to be myself and express myself as well as have confidence in myself has just emanated into my sport."
Mullin is not an outlier on his team. He has a number of gay teammates at Wyoming, including Russi.
"A lot of people think when you come out, it's like that's what sets you to yourself," Russi said. "All you are is just you're just like 'Ryan Russi, the gay kid' or 'Scotia, the gay kid.' Versus when we came here, it's just like, 'Oh, Ryan's a team member. He's one of my best friends. He just happens to be gay.'
"So I think it's just that kind of environment. A continued support in all aspects of life is what this team has kind of created for us. It's like a big family, both the coaches and the athletes that are on this team."
Bogner said that the sexuality of his divers has not been a point of discussion.
"We encourage everybody to be themselves and become the best version of themselves," he said. "So, that's how we approach it. I think you can talk to the other coaches, but that's kind of how we all come from it. If we're talking about personal issues, no matter what they do, and that's what we're talking about all the time on the pool deck, we're not getting better at what we're doing. That's not a topic of conversation during practice."
Mullin said the strong connection he had with Bogner during his recruitment has continued into his Wyoming career.
"He's been incredibly supportive and accepting of my sexuality," Mullin said. "I am very proud of being gay. I am at times very feminine, and there's never been an issue with my personality. I've never been told to tone it down. I've never been told that I have to change anything about myself, and I think that that's absolutely fantastic.
"I think that he supports me a lot emotionally, because I do get quite overwhelmed at competitions. He's very good at stating the facts and making reasonable decisions and strategic decisions. It's really been a big relationship on trust, and I'm really glad that I've found a coach that I can trust and that I do trust and that sees me for more than six dives."
Mullin hasn't been alone in finding success at UW, either. In February, Wyoming men's swimming and diving won the WAC team championship in Houston, beating second-place UNLV by more than 70 points to win a conference title for the first time since taking the Mountain States Conference title in 1959. In addition to Mullin's two individual titles and second WAC Diver of the Year honor, Wade Nelson won an individual championship in the 400 medley, Bogner earned his second straight WAC Diving Coach of the Year award, and UW head coach Dave Denniston was named WAC Coach of the Year.
"Every year since I've been here, it's been like third place, second place, second place," Russi said. "So this year, finally ending up on top and knowing that me, Scotia and the rest of the divers ... were able to contribute a lot of those points to end up winning was pretty, pretty exciting. Jumping in the pool at the end with the trophy was pretty awesome."
The team had talked at the beginning of the year about what it would take to reach their goals by the end of the season. It took a team effort.
"That's one that everybody showed up to," Bogner said of the WAC Championship. "Really, honestly, the whole team did. Swimming won swimming, diving won diving, and we both won together.
"... Everybody showed up. And not just kind of. Everybody dove to their potential or better. That was the big story is they showed up as a team."
When the UW men's team made its victorious return from Texas, the women's team, which competes in the Mountain West, welcomed them off the bus with signs congratulating each competitor. They arrived at a Wyoming that is not the same state that it was in 1998. Three years ago, gay marriage was legalized nationwide. That same year, the Laramie City Council passed the state's first LGBT anti-discrimination ordinance. Earlier this year, the city council in Casper — where Shepard grew up — passed an anti-discrimination resolution in support of the LGBT community, and that same city's pride celebration received national coverage from MTV News last year.
Mullin didn't have many expectations for Laramie when he committed to the Cowboys, other than the fact he would be living in a much smaller town than Melbourne.
"But it's been really good," he said. "I have a lot of close LGBT friends. I'm in a fraternity, which is completely accepting, and I have a boyfriend, and things are going very, very well. I think that it's not as small as I thought it was going to be, and that's really exciting. That's something that I think is really important. There are people in this town that have similar emotions or similar intellect or similar interests or things like that, which is really, really good."
However, anti-gay beliefs do persist in the Equality State. Just recently, a Riverton radio host criticized a high school there for "promoting" what he called the "very destructive lifestyle" of homosexuality. Two years ago, a Gillette man died by apparent suicide after having been harassed and assaulted for being gay.
That hasn't been Mullin's experience, though, and that is why he chose to write his essay when Outsports reached out to him.
"I think that it's really important that people see the aspect that Wyoming is accepting no matter what," Mullin said. "I mean, we have black individuals on our team. We have individuals who are Asian. We have individuals who are gay. We have individuals who are bisexual. Right across all of the sports. We have people who are in the closet and people who are out of the closet, and it's totally embraced, and I think that that's fantastic.
"I think that a lot of people will hold opinions just because Wyoming is so red, and I think that that's really, really unfortunate, but it does take a long time for opinions to change. And hopefully this is the start of some sort of change. But I think that there's a lot more to do. I think there's a lot more openness to do. I think there's a lot more other issues that need to be addressed as well, within the Wyoming psyche and within the American society."
Russi, his openly gay teammate, said that coming out stories like Mullin's are "what needs to happen" for acceptance to become more prevalent.
"I think creating visibility right now in all aspects of media is important, to create that sense of normalcy with other people," he said. "Because someone's going to be able to identify with you. There could be another athlete in the middle of Australia that's wanting to come to the United States that could be struggling with this. And seeing something exactly like Scotia could be the driving force to him or her feeling comfortable with themselves."
Mullin admits that some might find motivation in his example.
"I think that if there's people out there that see it and read it and can resonate with it and assimilate with it and identify with it, then that's really important," he said. "I have no problems with that."
But, true to his sport, he's not necessarily trying to make a splash.
"I think that it's really important I don't have the notion or the idea of being a role model or being a pin-up boy, because that's not what it's about," Mullin said. "I think that there are a lot of other people that are more suited to the role. And I certainly don't want to be placed on a podium, just because I'm gay."
Considering his first two seasons at UW, he is bound to be there for other reasons.