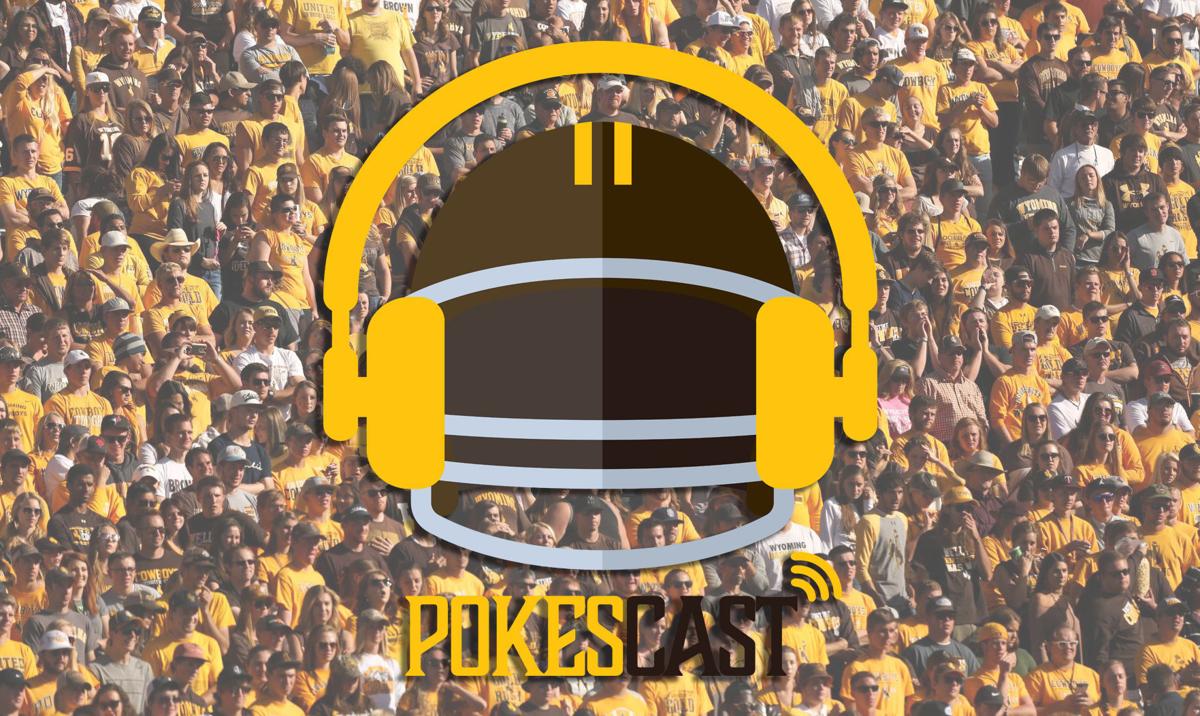 Join us each week for the Pokescast, a podcast about University of Wyoming athletics brought to you by the Star-Tribune.
Episode 81: Sugar, we're goin' down swingin'
Davis reflects on Wyoming's surprise run in the Mountain West men's basketball tournament and wonders whether it means anything as it pertains to Allen Edwards' future as the Cowboys' coach. College hoops blogger Eli Boettger then joins the show to further discuss the state of Wyoming's program and look ahead to the NCAA Tournament with Selection Sunday less than a week away.
Episode 80: Local flavor
Davis discusses Wyoming's previous and upcoming games in the Mountain West basketball tournaments and recaps Logan Wilson's on-field workout at the NFL Scouting Combine. The former UW linebacker and Casper native then joins the show to assess his performance in his own words and talk more about the full combine experience and the pre-draft process.
Episode 79: Going to the Xtreme
Davis returns to discuss Wyoming hoops and the release of Wyoming's 2020 football schedule before offering some final thoughts on Casper native Logan Wilson heading into his on-field workout Saturday at the NFL Scouting Combine. Former Wyoming defensive back and Houston Roughnecks safety Marqueston Huff also joins the show to talk about life in the XFL.
Episode 78: The hot seat
Davis goes solo in discussing Clemson backing out of its game with Wyoming in 2021. He then pivots to recent comments made by UW men's basketball coach Allen Edwards regarding his job status with just three regular-season games left in another lost season.
Episode 77: Hiring and signing
Davis and Brady reconvene to discuss the finishing touches Wyoming put on its 2020 football recruiting class and Craig Bohl's new hires, including defensive coordinator Jay Sawvel. They finish the episode reminiscing about the late Kobe Bryant in the wake of the NBA legend's shocking death.
Episode 76: Back to the future
In the first episode of the new year, Davis and Brady reconvene to recap the end of Wyoming's football season and look ahead to an offseason that's as important for the offense as it promising for the Cowboys. The conversation then pivots to the state of the men's basketball program as Wyoming remains the only winless team in Mountain West play.
Episode 75: Talking Arizona and making picks
In this abbreviated bowl-centric episode, Davis dives into Wyoming's Arizona Bowl matchup with Georgia State (not Buffalo), runs through the rest of the Mountain West's bowl lineup, gives his thoughts on the College Football Playoff semifinal matchups and predicts his national champion.
Episode 74: Waiting to bowl
Davis and Brady reconvene to discuss Wyoming's season-ending loss to Air Force that followed a familiar pattern for the Cowboys down the stretch. Davis then gives his best guess as to where Wyoming will go for its bowl game before the conversation pivots to basketball ahead of the Cowboys' Mountain West opener against Air Force.
Episode 73: On the offensive
Davis and Brady reconvene to discuss Wyoming's last two nail-biting losses and look ahead to the all-important Border War on Friday. The conversation then shifts to a slow start for the Cowboys on the hardwood, particularly on one end of the floor.
Episode 72: Battle on the blue
Davis and Brady reconvene to briefly talk Wyoming basketball's season-opening win before shifting the conversation to the Cowboys' trip to No. 21 Boise State for a massive Mountain West showdown Saturday. Boise State beat writer B.J. Rains also joins the show to further preview the matchup and discuss the MW football season so far.
Episode 71: The road ahead
During this bye-week episode, Davis and Brady briefly discuss the November gauntlet awaiting Wyoming before Davis ranks the degree of difficulty of each game left on the Cowboys' schedule. The conversation then shifts to men's basketball ahead of Wyoming's exhibition Wednesday night.
Episode 70: Now and later
Davis and Brady reconvene to briefly recap Wyoming's last two games and look ahead to the Cowboys' tilt with Nevada. They also discuss how the Mountain West bowl picture could be impacted by Boise State's loss and why it makes Wyoming's game against the Wolf Pack all the more important.
Episode 69: California talkin'
Davis and Brady reconvene to preview Wyoming's game at San Diego State. They then discuss where Group of Five teams are ranked in this week's AP poll and their early jockeying for a New Year's Six bowl berth (at the least).
Episode 68: Takin' a breather
Davis and Brady return during Wyoming's bye week to discuss the Cowboys' 4-1 start following their convincing win over UNLV. The conversation then shifts to the Fair Pay to Play Act recently signed into law in California and how it could affect Wyoming athletics.
Episode 67: Tigers by the tail
With Wyoming's upset of Missouri less than 24 hours old, Davis and Brady reconvene for a special weekend episode to break it all down and discuss what it means for the Cowboys' season moving forward. 
Episode 66: Cowboys and Tigers
Davis and Brady go in-depth to preview Wyoming's season-opening tilt against Missouri. PowerMizzou.com publisher Gabe DeArmond then joins the show to give some additional insight into the Tigers heading into the season.
Episode 65: Let the games begin
With the college football season just days away, Davis and Brady reconvene to further discuss fall camp at Wyoming and the impact Ravontae Holt's loss will have on the Cowboys up front. They then take a look at the Week 0 games and make some predictions.
Episode 64: Talkin' ball
Davis and Brady reconvene to discuss the first week of fall camp at Wyoming. Davis runs through his biggest takeaways through eight practices and then answers (as best he can) listeners' Twitter questions.
Episode 63: Camping out
Davis and Brady reconvene to discuss the start of fall camp at Wyoming and the questions the Cowboys need to (try to) answer over the next month. And with the college football season less than a month away, they also revisit the UCF debate in light of a recent scheduling decision.
Episode 62: Final word
Davis and Brady return from their summer hiatus to discuss former Wyoming football player Carl Granderson's six-month jail sentence stemming from his sexual battery case. They then touch on Justin James' NBA Summer League performance after being drafted by the Sacramento Kings last month.
Episode 61: Change of scenery
Davis and Brady join each other in the Star-Tribune studio for the first time to discuss more players transferring out of Wyoming's football program and the updated salary pool for the Cowboys' assistant coaches. Davis then shares his recent American Airlines horror story.
Episode 60: On the surface
Heading into the summer, Davis and Brady reconvene to skim over Wyoming's football schedule and give their early takes on each of the Cowboys' matchups next season. They then touch on a Texas high school's decision to hire disgraced former Baylor coach Art Briles.
Episode 59: Hey Coach
Davis and Brady reconvene to discuss the hires of Wyoming assistants Willie Mack Garza and Matt Wise. Davis also takes issue with recent comments made by Minnesota's P.J. Fleck and Notre Dame's Mike Brey and the hypocrisy of it all.
Episode 58: Thinking out loud
Davis and Brady reconvene to discuss the promotion of women's basketball coach Gerald Mattinson and the loss of perhaps the program's top recruiter. The coaching change also makes them ponder the difficulty of hiring coaches at Wyoming.
Episode 57: Going primetime
Davis and Brady reconvene to discuss next season's Border War being moved to a primetime Friday slot and the reasons behind it. They then review the NFL Draft, Wyoming's spring football and the Cowboys' post-spring depth chart released Thursday.
Episode 56: End of an era
Davis and Brady reconvene to discuss Joe Legerski's retirement and the legacy the former Wyoming women's basketball coach leaves behind. They then pivot the conversation to the NFL Draft and predict where Wyoming's draft hopefuls will be taken before the weekend is over.
Episode 55: Double take
Davis and Brady reconvene to discuss Davis' takeaways from Wyoming's first spring scrimmage and how much if any stock should be put in it. The conversation then turns to what the Cowboys have done and are still trying to do during college basketball's spring signing period.
Episode 54: Halfway there
Davis reconvenes with Brady to asses what he's seen from the first half of Wyoming's spring football drills. They then put a cap on college basketball season by briefly hitting on an entertaining -- and controversial? -- Final Four.
Episode 53: Spring gleaning
Davis and Brady reconvene to discuss the top storylines on both sides of the ball as Wyoming gets set to begin spring football practice.
Episode 52: End games
In this hoops-centric episode, Davis and Brady reconvene to discuss the end of Wyoming men's basketball's trying season and the start of a crucial offseason as it pertains to the future of the program and Allen Edwards. They then give their takes on the NCAA Tournament and make some picks.
Episode 51: Tournament talk
Davis, on site in Las Vegas, reconvenes with Brady to briefly recap Wyoming's pro day before diving into Wyoming's upcoming week in the Mountain West basketball tournaments. Mountain West Wire lead college basketball writer Eli Boettger also joins the show to preview the men's tournament and the league's outlook for the NCAA Tournament.
Episode 50: Put to the test
With the NFL scouting combine starting this week, Davis and Brady reconvene to discuss the two former Wyoming players set to participate in the annual pre-draft event. And hear from one of them, Andrew Wingard, who discusses his preparation for the combine and the most important part as it pertains to his draft stock.
Episode 49: Going streaking
Davis and Brady reconvene to discuss Wyoming's surging women's basketball team that finds itself in a familiar position in the Mountain West race. They then talk about Wyoming coach Allen Edwards' message to fans amid the men's trying season.
Episode 48: What's the call?
Davis and Brady reconvene to briefly hit on the final touches to Wyoming's signing class before discussing the sexual assault charge recently filed against Wyoming draft prospect Carl Granderson and how the school should handle it. They then pivot to the Cowboys' matchup with No. 7 Nevada on the hardwood and if they have a prayer of pulling off the stunner.
Episode 47: Little bit of everything
Davis and Brady reconvene to talk hoops and Craig Bohl's decision to promote Jake Dickert as Wyoming's defensive coordinator before pondering if the Mountain West is destined to be a one-bid league in this year's NCAA Tournament. They wrap it up with a discussion about more selective enforcement from the NCAA related to another infractions case.
Episode 46: Ch-ch-changes
Davis and Brady reconvene to discuss the shakeup to Wyoming football's coaching staff, including Craig Bohl's search for a new defensive coordinator. They then hit on basketball ending its skid with its first Division I win in nearly two months.
Episode 45: Hey now, you're an all-star
Davis and Brady dive into the upcoming college football all-star games featuring Wyoming's top draft prospects and ponder what Nico Evans, Andrew Wingard and Carl Granderson can do to make themselves more appealing to NFL teams. They then offer theories (not counting all the attrition) as to why Wyoming basketball is struggling to be competitive in the Mountain West at this point.
Episode 44: Falling on hard times
Davis and Brady reconvene for a lengthy discussion on Wyoming basketball's downward spiral and what, if anything, the Cowboys can do to turn it around. The conversation then turns to football and the tweaks that could be coming to Wyoming's offense next season with Sean Chambers (probably) under center.
Episode 43: Home for the holidays
Davis (in Mississippi) and Brady (in Nebraska) reconvene to talk about the week that was in Wyoming football recruiting and basketball, which is dealing with yet another injury. The rainy conversation then turns to their favorites when it comes to the Christmas season.
Episode 42: Talkin' 'crootin'
Davis and Brady reconvene to discuss Wyoming's recruiting heading into Wednesday's early signing period. They then talk about the latest hits for Wyoming on the hardwood and a deeper issue that's contributing to the Cowboys' struggles.
Episode 41: Jumpin' through hoops
In this basketball-heavy episode, Davis and Brady reconvene to discuss Wyoming's best win to this point and the minutes that are piling up for Justin James and the Cowboys' other top scorers. They then dive into the ugly showing for the Mountain West so far before wrapping up with some quick hits.
Episode 40: That sounds about right
Davis and Brady react to Wyoming expectedly being left out of a bowl game despite being bowl-eligible for the third straight season. They then hit on the final College Football Playoff rankings, debate the unsurprising omission of a certain Group of Five team, and discuss options that might one day give the little guy a realistic chance to play for it all.
Episode 39: 'Tis the season
Davis and Brady return from the Thanksgiving break to discuss Wyoming football's waiting season with bowl announcements looming and two notable hires officially signaling the start to college football's silly season. They also hit on a big addition for Wyoming basketball fresh off the Cowboys' split at the Fort Myers Tip-Off.
Episode 38: Sticking (mostly) to sports
In a fired-up edition of the Pokescast, Davis and Brady discuss Wyoming's upcoming matchup with Air Force on the gridiron as well as the undersized rotation the Cowboys' basketball team is having to deal with early in the season. They finish up with strong opinions on the #sticktosports crowd and why it's the worst.
Episode 37: Back in the saddle
The Pokescast returns with Wyoming beat writer Davis Potter's debut. He and Brady weigh in on the football team's turnaround on the field and the ongoing legal situation off of it. Also, two very different starts to the basketball season are discussed.
Episode 36: Mullin it over
Brandon and Brady debate the ever-growing legacy of Larry Nance Jr.'s teammate and discuss the effects transfer rule changes could have on college sports. Plus, hear from the subject of the Star-Tribune's Sunday feature, Wyoming diver Scotia Mullin.
Episode 35: Buffalo Wild Week
Brady and Brandon discuss and dissect the NFL Draft, where Wyoming quarterback Josh Allen, despite a controversy surrounding old tweets, became the highest drafted Cowboy of all time and Natrona County grad Taven Bryan went 29th overall to Jacksonville.
Episode 34: Swaggin' Wheel
Brandon and Brady catch up on the latest news in Wyoming men's basketball and recap the UW football team's spring game.
Episode 33: Josh Allen Cold Takes
In a very special Pokescast, Brandon and Brady run through every imaginable hot take regarding former Wyoming quarterback Josh Allen and defend each and every one of them, regardless of if they agree.
Episode 32: Spring fever
Brandon and Brady discuss Wyoming football's spring camp. Also, Brandon eats carrots while Brady talks about wrestling.
Episode 31: Pros and gones
Brady and Brandon run though the Wyoming men's basketball team's recent spate of departures and discuss Wyoming football's Pro Day.
Subscribe to the Pokescast on iTunes or Google Play to make sure you don't miss an episode. 
Be the first to know
Get local news delivered to your inbox!