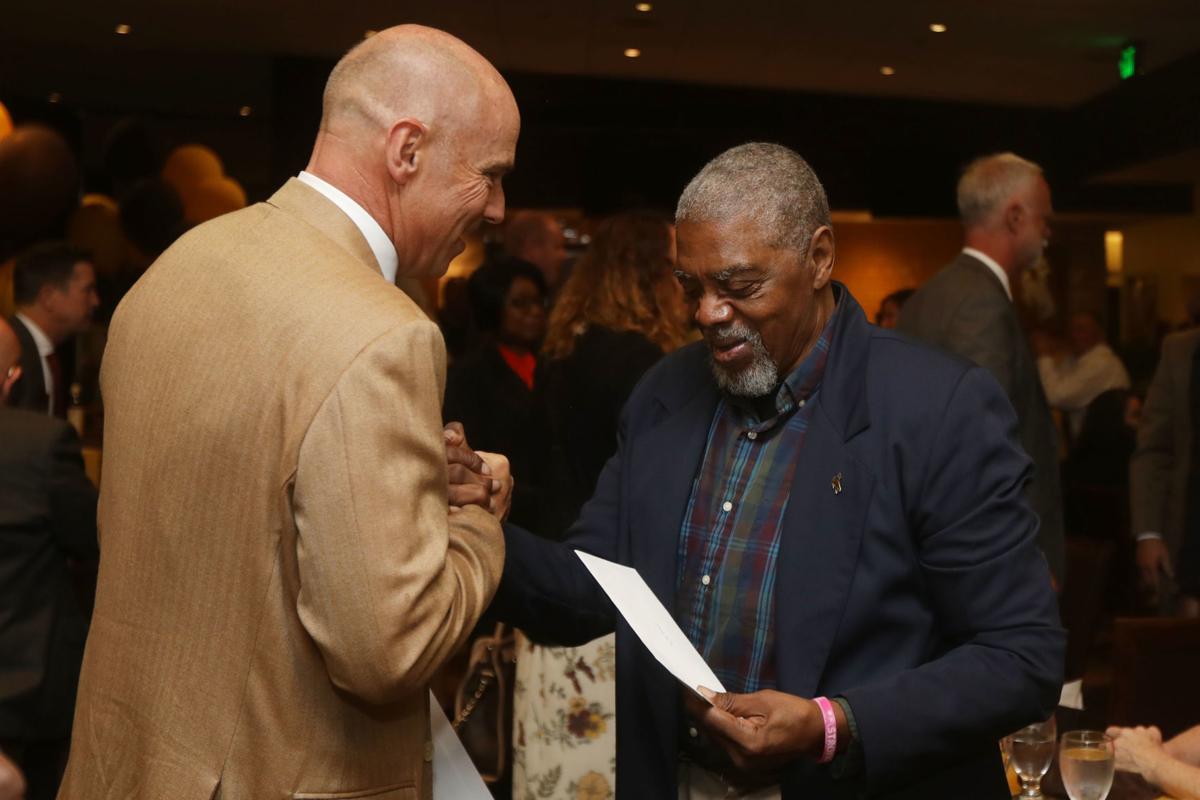 LARAMIE — Since Oct. 17, 1969 — the day 14 black football players were dismissed from the University of Wyoming's football team for wanting to protest racial injustice — no one has publicly apologized on behalf of the school for the incident that altered the lives of a group more commonly known as the Black 14.
That changed Friday night.
The Black 14 received a formal apology from the university during a dinner in the Wildcatter Stadium Club and Suites at War Memorial Stadium. Eight of the 11 living members are back on Wyoming's campus as part of a weeklong 50th-year commemoration of the event ahead of the Cowboys' game Saturday against Idaho, where the group will be honored at halftime.
A plaque on the southeast side of War Memorial Stadium honoring the Black 14 was unveiled Friday afternoon. But the most substantial part of the recognition for the members may have happened Friday night when Wyoming athletic director Tom Burman read a letter to the group that he and former UW President Laurie Nichols signed.
Burman and Nichols said they believed the university has learned from what the Black 14 endured after the institution "deprived" them of the totality of their college experience.
"Not to be heard, to be shunned, and to have your collegiate careers derailed as both students and athletes is a tragedy," they wrote. "Unfortunately it continued beyond your time here."
Burman and Nichols also praised the group's "immense character and integrity" during a time when "it would have been easy to attack the university that turned its back on you."
"Please accept this sincere apology from the University of Wyoming for the unfair way you were treated and for the hardships that treatment created for you," the letter ended. "We want to welcome you home as valued members of this institution and hope you accept our old Wyoming saying, 'once a Cowboy, always a Cowboy.'"
The letter was drafted in May when Nichols was still the president. Nichols was not in attendance Friday night, but interim UW President Neil Theobald was. Burman told the Star-Tribune he wanted to surprise the Black 14 with the apology after helping plan this week's commemoration events for the better part of three years.
"That's all I ever wanted was an apology," Black 14 member Tony Gibson said. "That's it."
Burman gave each of them a copy of the letter afterward.
"Frame it and put it in my china closet," Lionel Grimes said with a laugh.
Gibson, John Griffin, Guillermo Hysaw, Tony McGee, Ron Hill, Grimes and Ted Williams were all in the room to hear it. Another Black 14 member, Mel Hamilton, is in town but didn't feel well enough to attend the dinner, athletics administrator Kevin McKinney said. It's the largest known Black 14 contingent back on campus since their dismissal.
"I had no idea," Hysaw said. "So far I wanted evidence of the commitment. Evidence of an apology, and I hadn't seen it. I know what we asked for, and I said that I hope before the week is over — and we had two days left — that it would happen. I'm telling you man, it exceeded my expectations."
It came eight months after six Black 14 members were on campus as part of the school's Days of Dialogue event in celebration of Black History Month. They were invited back by the Office of Diversity, Equity and Inclusion.
Ivie Moore, Gibson, Griffin, Hysaw, McGee and Hamilton said then they were still trying to dispel what they referred to as myths about what happened the day before the BYU game during that 1969 season. That day, all 14 of them approached Wyoming head coach Lloyd Eaton in the field house with the intention of asking for permission to wear black armbands in protest of The Church of Jesus Christ of Latter-day Saints' policy then of barring African-Americans from pursuing the priesthood.
BYU is still owned and operated by the Mormon church. Some Black 14 members said they wanted to protest the racial slurs and cheap shots they said they endured during the game at BYU the previous year.
"We had decided before in a meeting that if he did not agree with what we wanted to do, we were just going to play the game," Gibson said then. "If he had said, 'No way you're wearing those arm bands,' that's fine."
Before the group could ask the question, Eaton told them they were no longer members of the football team — an account that was consistent among the six.
"We hear (Eaton) on an interview saying they refused to play in the game because they couldn't wear the black armbands," Hysaw said then. "What? Really? What guys were those? It wasn't us. We were given no choice."
Wyoming, which had started the 1969 season 4-0 and risen to as high as No. 12 in the national rankings, beat BYU without the 14 black players but lost four of its final five games that season. Eaton was fired after a 1-9 season the following year, and the Cowboys had just one winning season over the next decade.
For some, Friday night brought closure to it all.
"I almost cried," Williams said. "That was so great that they did that for us. I keep saying I'm surprised that they didn't because it was one person that started the whole mess, but they've welcomed us back with open arms."
Said Grimes, "It's just overwhelming. Mind-boggling. I don't know what the word is to put it as. I never thought I'd see that happen at the University of Wyoming."