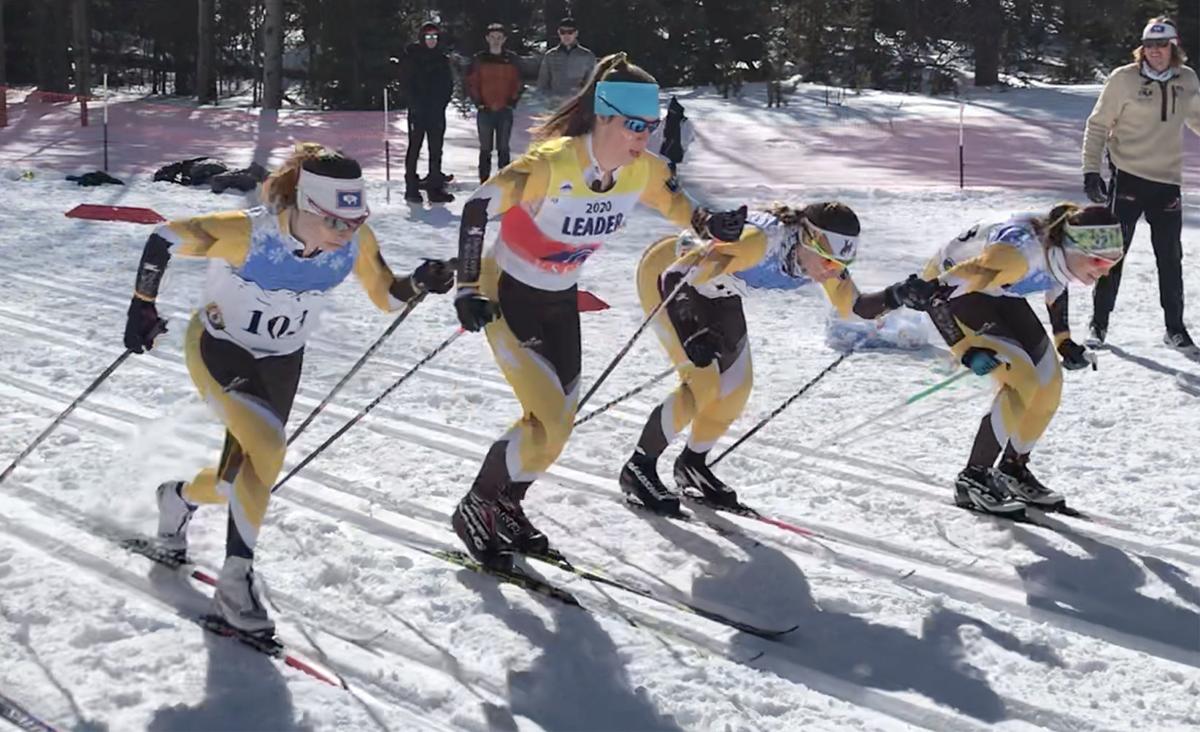 The University of Wyoming women's club nordic ski team finished second at the 2020 U.S. Collegiate Ski & Snowboarding National Championships in Lake Placid, New York, on Friday, placing just 7 points outside of a national championship.
Wyoming was just 4 points off the top of the podium after winning Thursday's classic sprint. The Cowgirls finished second to national champion Castleton University (59 points) in Friday's 15km classic to cement their placement in the standings with 66 total points. Saturday's freestyle team sprint was canceled by the USCSA as a safety precaution amid the coronavirus pandemic. The Cowboys' nordic ski team finished fifth in the standings with 120 points.
"They all were amazing to place second on the day, just three points behind Castleton. The goal at the beginning of the week was to be close enough to Castleton to win the championship with the team sprint," co-head coach Christi Boggs stated in a release. "They did their job being only seven points behind. Relay places are worth nine points, so it was an incredible day of skiing in the pouring rain and 45 mph wind gusts. It was truly insane, but we are extremely happy and lucky we got three races done."
Natrona County graduate Madison Tinker (fifth), Laramie native Ella DeWolf (sixth) and Natrona County graduate Kit-Kat Gruner (seventh) all tallied top-10 finishes in the classic sprint to lead the Cowgirls' charge towards the top on Wednesday. DeWolf finished the national runner-up in Friday's 15km classic by finishing in 1:04.57.9. Gruner finished sixth and Tinker was 13th in that competition. DeWolf had already earned national runner-up honors in Tuesday's 7.5km freestyle. Gruner finished fifth in that event.
DeWolf finished third and Gruner was fourth in the individual combined standings with 10 and 18 points, respectively.
"We had a very good day today, but we were hoping the women were able to compete in the team sprint on Saturday, their best event," Boggs said. "Despite that, we had a great day."
Cancellation of Saturday's events left the Cowgirls without a final chance to win their seventh national championship overall and first since 2014, according to communications director Chad Baldwin. Instead, the Cowgirls finished second for the fourth time under co-head coaches Boggs and Rachel Watson.
The abbreviated schedule came amid national movements to restrict or cancel events. New York Governor Andrew Cuomo announced on Thursday a mass gathering restriction within the state, ordering any gathering of 500 or more people after 5 p.m. on Friday to be canceled or postponed. The USCSA conformed the next day and canceled the final day's events.
"After careful consideration, as well as new guidance issued by the State of New York and Centers for Disease Control and Prevention, it is in the best interest of the athletes, fans and coaches to cancel the Saturday, March 14 events at the 2020 U.S. Collegiate Ski & Snowboard National Championships," the statement read. Daily awards and final awards banquets were canceled while the USCSA stated accomplishments would be recognized at a later time.
Lander native Silas Goetz finished 10th with a 56-minute, 22.3-second 15km classic on Friday to lead the Cowboys. Buffalo native Nathan Kessler finished 14th in that event to aid the Cowboys' charge to sixth in the 15km classic team standings. Goetz finished fifth in Wednesday's classic sprint while Kessler came in 13th. Jackson native Matthew Williams finished 12th in that competition.
Goetz finished sixth in the individual combined standings.
Follow sports reporter Brady Oltmans on Twitter @BradyOltmans
Be the first to know
Get local news delivered to your inbox!