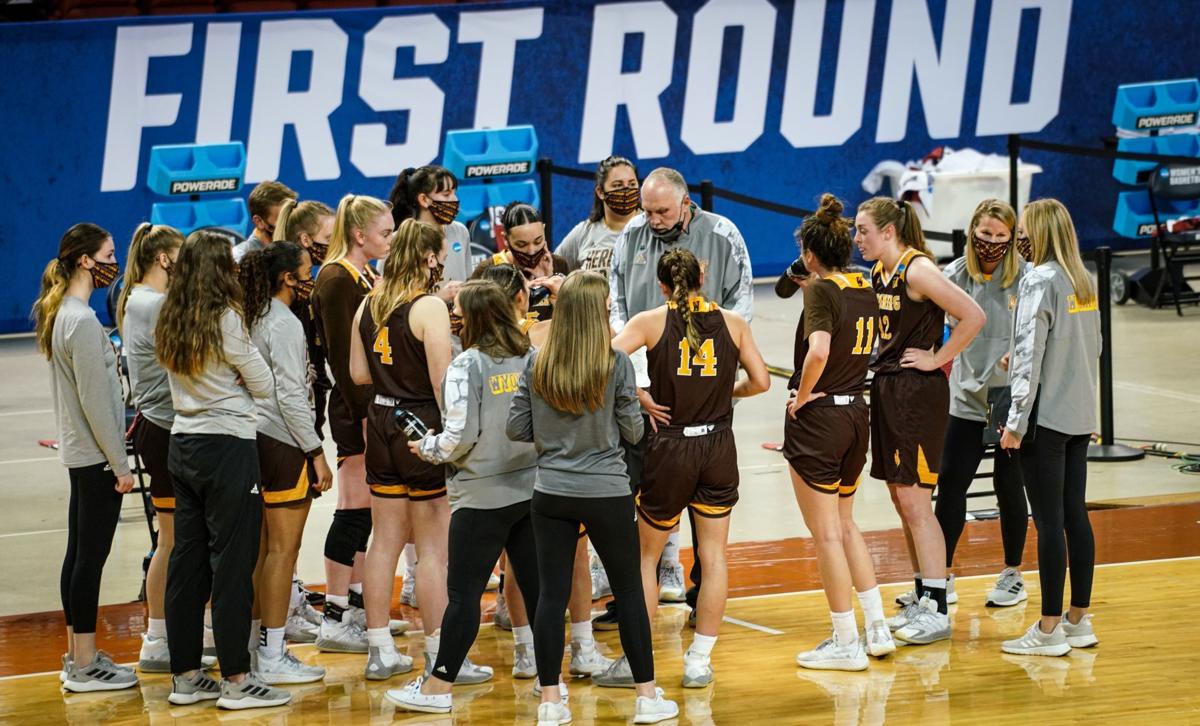 LARAMIE — When Gerald Mattinson took over as Wyoming's head women's basketball coach in 2019, he signed a three-year contract that he plans to honor to the fullest.
As for Mattinson's future with the program beyond next season, that's far more fluid.
Mattinson will return to the Cowgirls' bench for the 2021-22 season, UW athletic Tom Burman told the Star-Tribune. It will be the final year of Mattinson's contract, which pays him $220,000 in annual base salary.
"He's got a really good team, so he's definitely coaching next year," Burman said.
Mattinson has led the Cowgirls to a 31-22 record in his first two seasons at the helm, including a 20-14 mark in Mountain West play during the regular season. This past season, UW finished 14-10 and won six straight games to return to the sport's biggest stage.
UW ended its 12-year NCAA Tournament drought by capturing the first Mountain West women's basketball tournament title in school history before getting bounced by UCLA in the first round, but Mattinson hasn't received a contract extension. When Mattinson was promoted following the retirement of the program's all-time winningest coach, Joe Legerski, he told Burman he wanted a three-year contract because he couldn't promise him the five years that new coaches usually get at UW, according to the Wyoming Tribune Eagle.
Burman said Mattinson hasn't made a decision regarding his future beyond next season, but Mattinson will be 63 years old once the 2021-22 season ends, or two years older than Legerski was when he walked away two springs ago. Between his time as an assistant and head coach, Mattinson has spent 18 seasons on the Cowgirls' bench. The Rock Springs native has been coaching for three decades.
"It'll be up to him," Burman said. "We'll sit down, talk about it and see what he wants to do. There's no doubt in my mind he's not here for a long stretch."
Burman said those conversations will likely happen sometime this fall, but Mattinson has at least one more season at UW in which he will try to help the Cowgirls build on last season's magical run. One thing working in Mattinson's favor is a seasoned roster that's set to return the bulk of its significant contributors from a team that went from an 8-9 record late last season to becoming the lowest seed (No. 7) to ever capture the Mountain West women's tournament crown.
Seniors Dagny Davidsdottir, Jaye Johnson and Emily Buchanan are all moving on from the program after electing not to use the extra year of eligibility granted to winter-sport athletes by the NCAA amid the coronavirus pandemic, but the Cowgirls are in line to return three of their five starters and four of their top five scorers. Their top two scorers, McKinley Bradshaw (11.7 points per game) and conference tournament MVP Quinn Weidemann (11.0), as well as leading rebounder Alba Sanchez Ramos (10.3 points, 6.3 rebounds) are all set to return.
Once it's over, Mattinson could coach the team on a year-to-year basis. Or Burman could be tasked with hiring yet another head women's basketball coach should Mattinson decide to hang it up.
"It wouldn't surprise me if Gerald was the kind of guy that went on a year-to-year contract for a while," Burman said. "He's a veteran. He doesn't need to do this, but he's loving it. He's having a really good time."
Follow UW athletics beat writer Davis Potter on Twitter at @DavisEPotter.