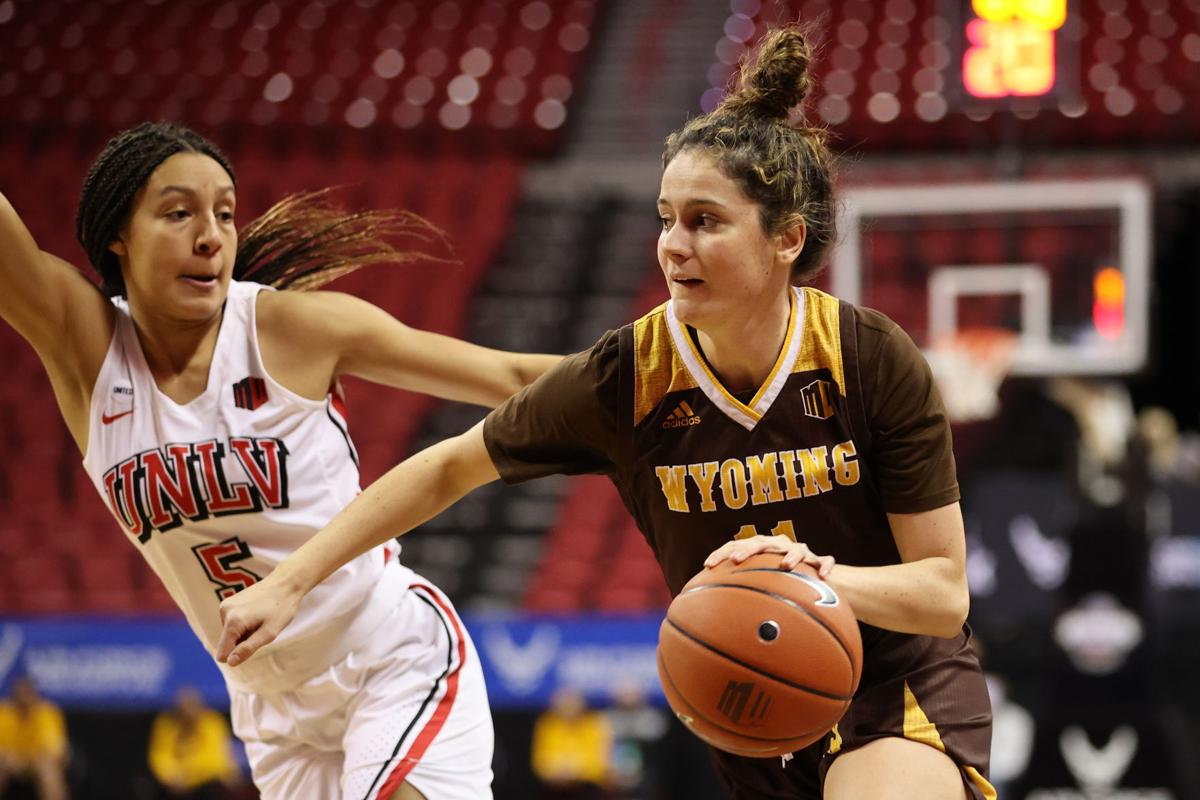 LARAMIE — When it comes to being adequately prepared for their teams' matchup in the NCAA Tournament, Wyoming coach Gerald Mattinson doesn't feel quite as good as UCLA's Cori Close.
No, it doesn't have anything to do with practice time or film review. There have been plenty of hours of the latter, and the Cowgirls have been on the court just as often as the Bruins over the last few days. After a required 48-hour quarantine at its team hotel after arriving in the greater San Antonio area Tuesday, UW practiced Thursday and every day since leading up to Monday night's first-round tilt at the Frank C. Erwin Center on the campus of the University of Texas.
It has everything to do with UCLA (16-5) being unlike any offensive threat UW (14-9) has had to deal with this season. Despite being one of the nation's hotter teams coming into the tournament — UW has won six straight games and eight of its last 10 — the 14th-seeded Cowgirls are considered heavy underdogs against a UCLA team that's advanced to the Sweet Sixteen in each of the last four NCAA Tournaments.
"The tough thing is that, in our league, what we don't see is they have five-plus players that can all score," Mattinson said. "When you're a team defense like us, we've got to try to push a couple of main scorers and make them do something a little bit different than they want to. We can help, but we're going to have a hard time finding someone who can help or scheme something with this team just because they're all capable of scoring and they're all capable of shooting 3s."
Led by All-American Michaela Onyenwere (18.7 points per game), the Bruins have three players averaging double figures while four of their five starters are shooting at least 35.9% from 3-point range. UCLA ranks in the top 70 nationally in scoring offense (72 points a game) and scoring defense. The Bruins are yielding 58.1 points a game — just 0.8 more on average than the Cowgirls, who held teams to 31% shooting during their four Mountain West tournament games.
UW has also been better offensively down the stretch, a good sign heading into a game where the Cowgirls will likely need to score more than usual in order to give themselves a real chance.
UW has averaged 66.6 points during its winning streak, nearly five more than its season average. McKinley Bradshaw paces the Cowgirls at 11.7 points per game, but UW has gotten a recent boost from Quinn Weidemann, who averaged 13.5 points and shot 55% from 3-point range (12 of 22) on her way to Mountain West tournament MVP honors in Las Vegas.
Close, who's in her 10th season as UCLA's head coach, said she believes the Bruins' conference slate has benefited them in their preparation for UW's motion offense, which features constant movement, spacing, cutting and screening that's similar to what UCLA has seen from Colorado, Utah and other Pac-12 teams over the years.
"I remember we used the correlation with Utah: Every time they make 10 3s or more, they win, so we really tried to limit Utah's touches," said Close, who's 6-0 in first-round games during her time as the Bruins' coach. "So we just try to draw those parallels so there's a sense of familiarity, but I've watched a lot of film on Wyoming. They're really talented.
"We're going to have to be really locked in mentally to be able to perform at our best, and I do think the Pac-12 has allowed us to feel very confident in our ability to lock in at that mental level."
Mattinson said UCLA has "got to guard us also," but the Cowgirls know giving the Bruins a game will have to start with what's been their strength all season.
"Basically just hold teams to under their average and hold their main scorers to way less points than they usually get," senior wing Jaye Johnson said. "It's basically all on our defense. And if our offense follows, then it follows."
Point guard Tommi Olson averaged more than four steals during the Mountain West Tournament and could pester UCLA's guards with her quickness, but Mattinson said the two primary concerns for his team are being able to keep the Bruins out of transition and keeping up on the glass. UCLA's plus-5.4 rebounding margin ranks 39th nationally. UW (minus-0.8) is 190th in that category.
"We've got clips of their (center) rebounding and pushing the ball down in transition," Mattinson said. "They're going to present things that we just haven't seen this year. We haven't played nobody all year where the five leads the break, so that sometimes can cause you some problems. They're physical, and they're very, very aggressive on the offensive boards."
None of it means the Cowgirls think they aren't capable of making more history this postseason. An upset would not only give UW its first-ever NCAA tournament win. It would also be the first time a 14 seed has ever won a tournament game if the Cowgirls can pull it off.
But to say it will require UW's best performance of the season would be an understatement.
"You've got to respect them, but you can't fear them," Mattinson said. "You've got to step up, and you have to understand that I've just got to be me and we've just got to be us. And if you do that, go out and compete, the rest just takes care of itself. But if you fear them, then it's going to be a long night for us."
Follow UW athletics beat writer Davis Potter on Twitter at @DavisEPotter.