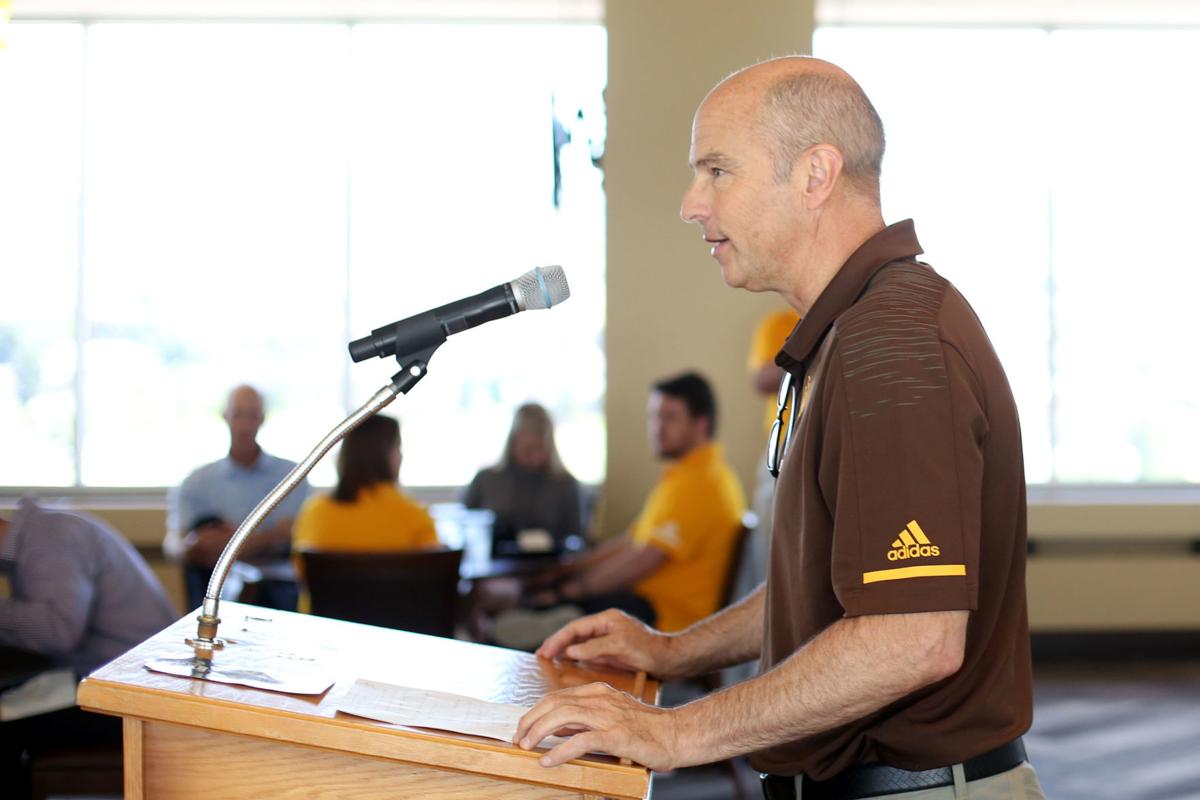 LARAMIE — In response to the financial impact the coronavirus pandemic is having on college sports, athletic departments across the country are turning to pay cuts as the most immediate course of action to try to make up for lost revenue.
For example, Iowa State is expecting a $5 million shortfall to its athletic department's annual budget. So athletic director Jamie Pollard announced earlier this week that all coaches and certain additional staff members would have their salaries reduced for one year as well as a one-year suspension of coaches' bonuses and incentives.
At Wyoming, the trimming is starting at the top.
"I've been thinking about it for a couple of weeks," Burman said. "For me, it just came down to, as a leader, you've got to lead by example. My choice, rather than make a donation, it was easier for me to just reduce my salary."
It's possible coaches or other staffers could follow Burman's lead to help UW's athletic department absorb the financial blow that's coming as a result of the cancellation of spring sports and the NCAA men's basketball tournament. Burman didn't identify the coaches but said he's already had discussions with some about taking pay cuts, which Burman said he's not requiring them to at this point.
"I guess there's always a chance (they take a pay cut), but anything anybody wants to do is voluntary," Burman said.
UW's revenue loss won't be as steep as that of Power Five programs like Iowa State that have bigger budgets, and it won't be as severe as some of its peers in the Mountain West that offer more sports. Track and field, men's and women's golf and women's tennis are the only spring sports at UW, and none of them generate revenue. Burman said the department is actually saving money in those sports since there are no travel expenses this spring.
"For schools like San Jose State, which has baseball, softball, water polo, outdoor track, men's and women's tennis, it is an extremely expensive deal," Burman said. "Probably a couple hundred thousand (dollars), and with the cut in the NCAA money, everybody is trying to figure out how to put this back together."
But UW is already approximately $1 million in the hole when it comes to its budget, which usually operates at roughly $40 million annually, because of the cancellation of the NCAA Tournament, which is the NCAA's largest revenue stream thanks to its media rights agreement with CBS and Turner Sports. The NCAA had budgeted $600 million to distribute among all Division I schools this year, but with no basketball tournament, it announced it will only be able to divvy out $225 million.
UW's usual cut is roughly $1.7 million, but Burman said the smaller distribution pool means the school is on track to lose slightly more than $1 million of that revenue this year. The NCAA also recently granted an additional year of eligibility to student-athletes in spring sports who had their seasons canceled, which created another expense for schools in the process by putting the onus on them to fund the additional scholarships.
UW is only paying for another year of scholarships for any seniors who choose to return for another season of competition next spring. Those scholarships alone will amount to roughly $70,000, Burman said.
Burman said he wouldn't be surprised if other coaches agree to make a donation or shed some salary at some point, though whether the latter remains voluntary or becomes mandatory may depend on where the extent of the department's losses stand once the amount of money saved on spring sports and Burman's pay cut are tallied. There's also the growing uncertainty surrounding the upcoming football season, which is the primary source of revenue for most athletic departments.
"A couple of them have talked with me about (possibly taking pay cuts), but I wanted to say, 'Right now, this is your decision, and I'm not going to try to influence it one way or another,'" Burman said. "The reality is the longer this lasts and the longer it goes, the more likely that we have to do some sort of cuts."
Follow UW athletics beat writer Davis Potter on Twitter at @DavisEPotter.