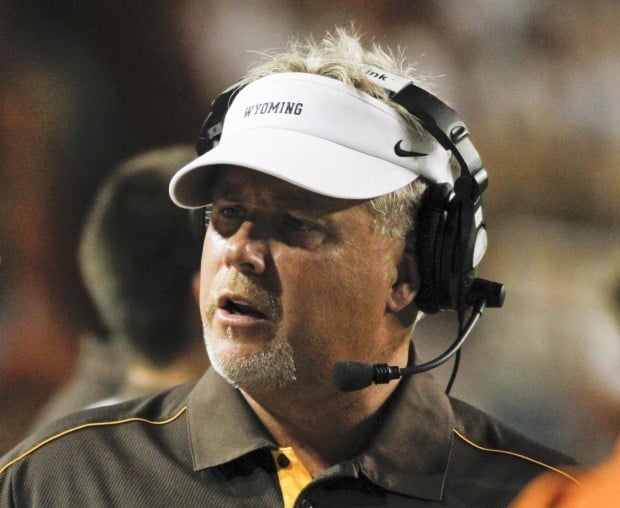 Wyoming Athletics Director Tom Burman suspended football coach Dave Christensen this week and fined him $50,000 for his profanity-laced outburst after the Air Force game on Oct. 13.
"After a long and difficult week of consideration, I believed it was in the best interest of the university and our athletics department to take this action," Burman read from a prepared statement. "The reputation of our university and our athletics program is of the utmost importance. Over the past week, I have reviewed the contract situation with our university legal department. I have spoken numerous times with (University of Wyoming) President (Tom) Buchanan and have consulted with other individuals in college athletics whom I respect.
"The other factor that was a very important consideration of mine was the well being of the young men in our football program. I think it is important to send the right message to them in terms of taking responsibility for your actions. This has been a difficult time for those young men."
Assistant Pete Kaligis will coach the 1-6 (0-3 Mountain West Conference) Cowboys this week; Christensen will not attend practices or be in the team's facilities leading to Saturday's game against No. 21 Boise State in Laramie.
"The program Christensen has installed is a fine-oiled machine," Kaligis said. "It rolls."
Burman added that Christensen will be the head coach at UW next year. When asked if Christensen's job was in jeopardy, Burman replied, "Not today."
A video of Christensen's exchange with Air Force coach Troy Calhoun was posted online on Thursday. As of Monday afternoon, the video had more than 105,000 views.
The video starts with Christensen cursing in the direction of the Air Force team before meeting Calhoun for the post-game handshake. He accuses Calhoun of having quarterback Connor Dietz fake an injury to buy the Air Force staff extra time before the go-ahead touchdown. Christensen then continues his tirade by personally attacking Calhoun.
"I'd be f------ scared to death if I had a f----- like you defending me," Christensen told Calhoun.
After being pulled away by his daughter toward the Wyoming locker room, Christensen finished by saying:
"Go get in your f------ press conference, fly boy."
The comments came on Wyoming's "Military Appreciation Day."
Christensen apologized to the school, fans and players the day after the Oct. 13 game and was reprimanded by the Mountain West Conference last week.
Burman, who reviewed video of the incident on Oct. 15, said the suspension's postponed timing was not tied to the fact that the same video he saw during his review recently appeared on YouTube. That clip, posted Thursday, now has more than 100,000 views.
"I didn't want to make a hasty decision," Burman said. There was no new evidence presented to me between Monday (Oct. 14) night to today, other than I needed time to reflect on it."
Burman said he made the decision Monday, then informed Christensen shortly after.
"He was devastated," Burman said. "Crushed. He took it in a fashion that, if you know Coach Christensen very well, you would expect."
The suspension brings added pressure on Christensen, whose fourth year at UW has turned from high expectations to a 1-6 start. In January, Christensen signed a five-year contract extension that includes a base salary of $190,008 and total compensation of up to $1.2 million per year through Dec. 31, 2016.
Burman said Monday the coach's job is not on the line.
"Not today," Burman said. "He will be evaluated at the end of the year, just like we do with every coach. But I can tell you that he is going to the head coach at Wyoming next year.
"I still feel confident Coach Christensen can build us a program that is what we expect," Burman continued. "He's been to two bowl games in the last three years. I would be misleading you if I said his actions against Air Force didn't damage him a little bit, both internally and externally, but I have confidence he can overcome it. He's a very driven guy. He is focused on what he wants to accomplish, which is a very good football program at Wyoming. He's created a hurdle, but I believe he can overcome it."
Burman said he is not yet sure where the money from Christensen's $50,000 fine will go.
Two Wyoming players attended the announcement. A UW spokesman said no other players will be available for interviews the rest of the week.
"The university did what it thought what was right," Wyoming senior center Nick Carlson said. "There are a lot of people that care about the Steamboat, about the University of Wyoming, and the image that we portray."
"We're trying to stay focused," Carlson added. "Obviously it is another distraction for our team."
Shortly after the conclusion of Burman's announcement, Buchanan issued a release that said he stood behind the decision to suspend and fine Christensen.
"I fully support Athletics Director Tom Burman's decision to suspend and fine our head football coach, Dave Christensen, as a result of Christensen's unacceptable and inappropriate behavior following our Homecoming game against the Air Force Academy. Such action does not reflect the values and the integrity of our athletics program or of the University of Wyoming."
Read more about this story in Tuesday's Star-Tribune.
Be the first to know
Get local news delivered to your inbox!