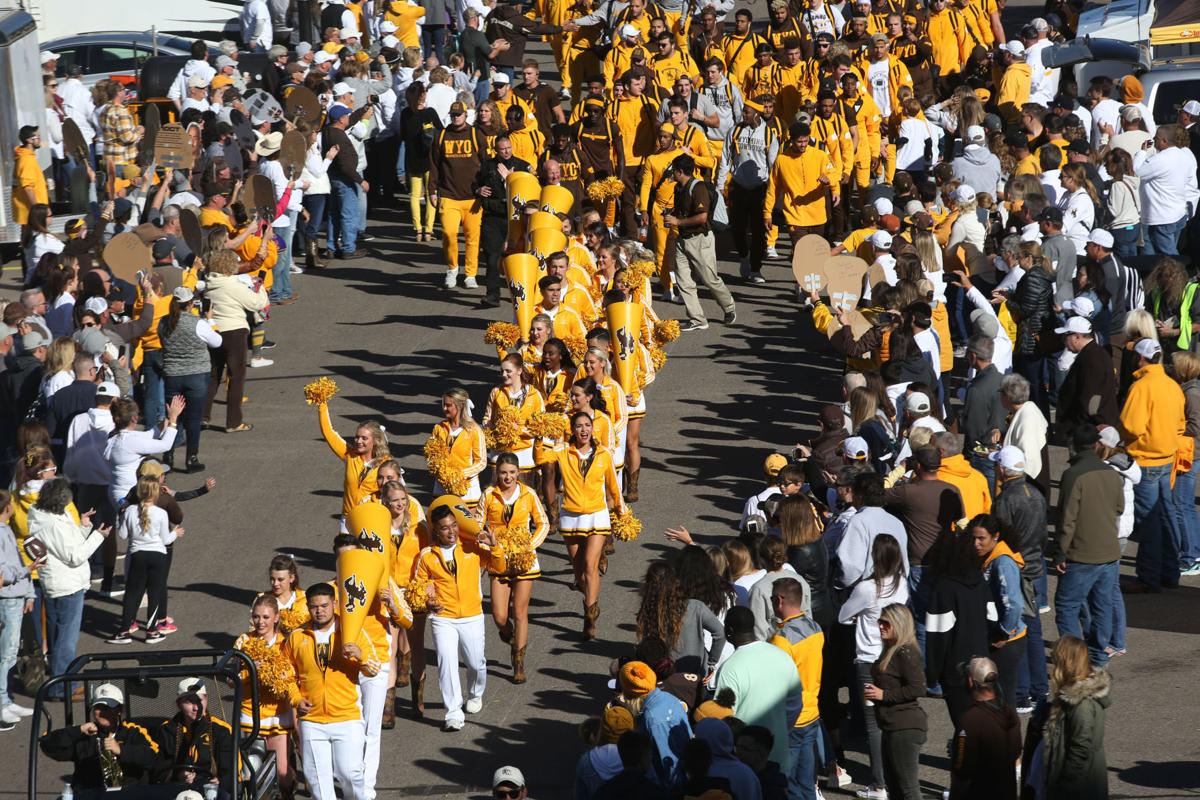 LARAMIE — In an effort to soften the financial blow for which the University of Wyoming is bracing, the athletic department has launched a new fundraising campaign — one the school is hoping will reach seven figures.
UW athletics has announced the WHYoming Now initiative to raise money amid the coronavirus pandemic, which will cost UW much more than a football season. The Mountain West's recent decision to postpone fall sports competitions will set the athletic department back at least $8 million in revenue tethered to the football season, UW athletic director Tom Burman said.
The loss in football revenue, which funds many of UW's other sponsored sports, could be as much as $15 million if there's no spring season either. The athletic department won't be able to recoup all of the lost revenue at once, but the objective of the WHYoming Now campaign is to raise $1 million by the end of the calendar year, said Randy Welniak, UW's senior associate athletic director for development and revenue enhancement.
"We know it's a lofty goal, but we feel like there's an opportunity there that if fans want to help, they can," Welniak told the Star-Tribune in a phone interview. "We feel really good about it."
The campaign was unveiled to season ticket holders last week, Welniak said, before the school publicly announced it Wednesday. Donations made by members of the Cowboy Joe Club, UW athletics' official booster organization, will net members three priority points for every $100 donated, but anyone can donate. All donations are tax-deductible.
UW is allowing football season ticket holders to either request a refund of their ticket purchase or use it as a credit toward a future football season or the upcoming basketball season. For any season ticket holders who decide to allow the school to keep their payment as a donation, that money will also be applied to the campaign.
As of Friday, the campaign had raised more than $184,000 from more than 145 donations, according to the campaign's website. The money from the campaign will be used to fund the various needs of UW's student-athletes, including meals, sports medicine and academic services, Welniak said. The money could also be used to fund additional scholarships following the NCAA Division I Board of Directors' decision to grant an extra year of eligibility to all fall-sport athletes.
"You're going to get that initial surge just from the emotional aspect of it right now, but it's going to be our challenge — and we're looking forward to it — to keep this campaign on the forefront of people's minds," Welniak said. "We're going to do some different things over the next two months to remind people this is still going and we still need your support. There are different, unique ways to help, and we're going to provide those opportunities for our prospective donors."
Welniak said part of that plan is to reach out to alumni nationwide and perhaps even globally to gauge their interest in donating.
"We have alums all over the world. They're everywhere," Welniak said. "Social media is going to be a really important part of this marketing campaign and some traditional advertising as well. But we're hoping it'll reach a significant number of folks around the country and around the world."
Follow UW athletics beat writer Davis Potter on Twitter at @DavisEPotter.
Be the first to know
Get local news delivered to your inbox!