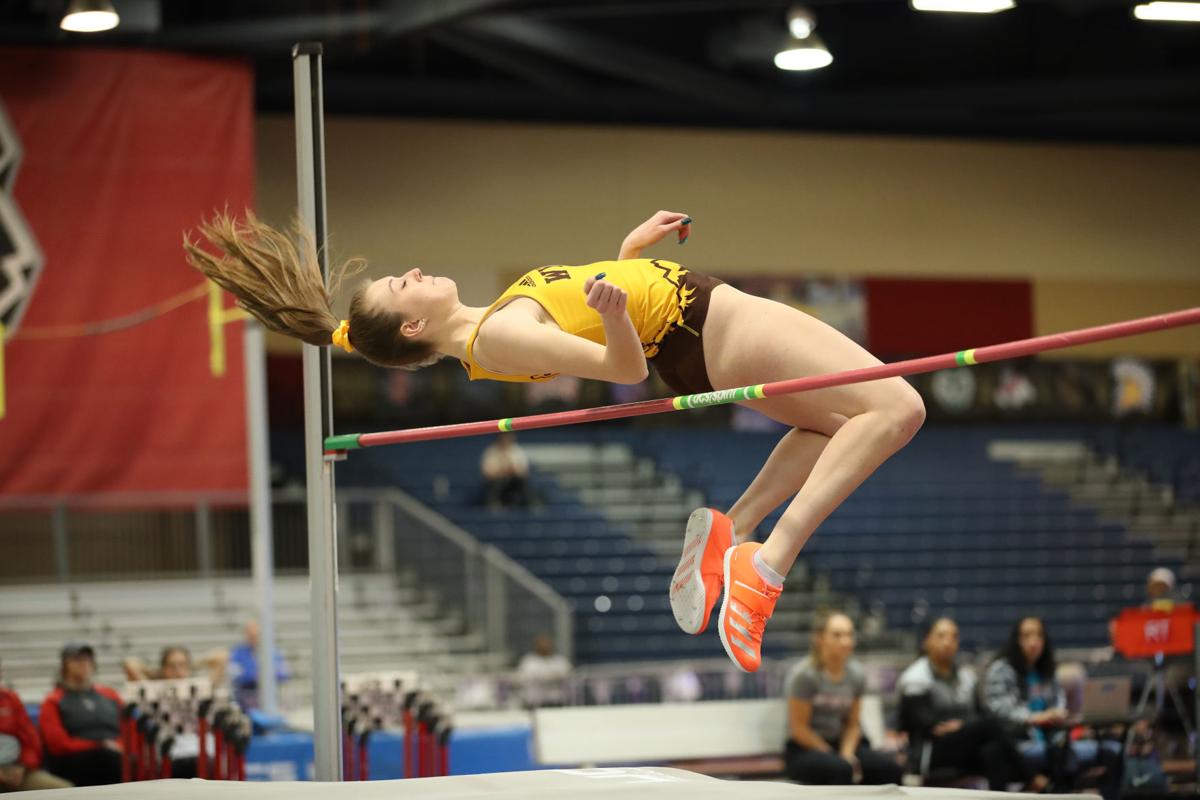 LARAMIE — Anissa Warner is a legacy at the University of Wyoming. Even if she's still chasing part of it.
Warner is a high jumper for the school's track and field team just like her mother, Chris Lazz Warner, was in the early 1990s. During that time, Chris cleared 5 feet, 7 ¼ inches, a jump that's still tied for sixth-best in UW women's indoor history.
Anissa has yet to reach that height in her four years of competition since arriving at UW after winning a state title while competing for Cody High School's indoor team as a senior. The Powell native will only be competing during the spring next season, so if Anissa is going to beat her mom's best collegiate jump, she'll have to do it during the outdoor season.
But Warner is far more concerned about the number than the season.
"She is ranked in the top 10, and I would like to beat her," Warner said.
Of course, Warner wouldn't have another crack at it if not for the NCAA's decision to extend the eligibility of student-athletes in spring sports. A senior, Warner was preparing to go through what she thought would be her final season of outdoor competition at UW in March before the coronavirus outbreak forced the association to cancel it.
"My initial reaction was just to be devastated," Warner said. "My dad had sent me an article that said everything was canceled, and that was the first thing I heard. So I can't even think of a way to describe it."
Warner initially feared it meant the end of her career as a student-athlete, but since UW didn't get any competitions in before the season was canceled, she said she was hopeful the NCAA would give her a chance to return to school for a senior season that never happened. Warner said she likely would've returned even if it meant she couldn't remain on scholarship.
"My initial reaction was that either way, I was going to come back," Warner said.
The NCAA wasn't going to fund those extra scholarships, leaving it up to each school to find a way to do so. But head football coach Craig Bohl picked up the tab for Warner and the rest of UW's returning spring-sport seniors when he and his wife, Leia, made a $100,000 donation to the athletic department.
"That is just incredibly generous by him, and I think all of us are so, so thankful that he did that," Warner said. "I know that there's a bunch of us that probably would've still come back without scholarships, but that's just a really amazing extra help that he gave."
That along with her relationship with UW jumps coach Quincy Howe and her personal motivation made the decision to return for one last season of competition an easy one.
"(Howe) has just been incredible," Warner said. "He always preaches that there's a four-year plan and everything is going to come together eventually. I just felt that we were finally starting to mesh and understand each other, and we were starting to get into a really good position where we could finally do the things we'd wanted to do. It was just really horrible to think that maybe I might not get that opportunity to put those things into place."
Warner is majoring in business management, but she has decided to add a minor in communications so that she can remain at UW. She's on track to graduate in May 2021.
Warner has lived in Wyoming her entire life and said she'd like to move to another state once she's done with college, but that's about as far as she has let her mind wander beyond next spring. Now that she knows she's got another shot, it's still largely fixated on surpassing her mom's accomplishment three decades ago — one that's at least within reach.
Warner tied her indoor personal best of 5-5 ¼ at the Texas Tech Shootout last year. Her personal best during the outdoor season is 5-3 ¼, but Warner cleared 5-6 to claim that indoor championship while competing for Cody in 2016.
"I'm really excited to train for an entire year and then come back and attempt to do that," Warner said.
Follow UW athletics beat writer Davis Potter on Twitter at @DavisEPotter.
Be the first to know
Get local news delivered to your inbox!