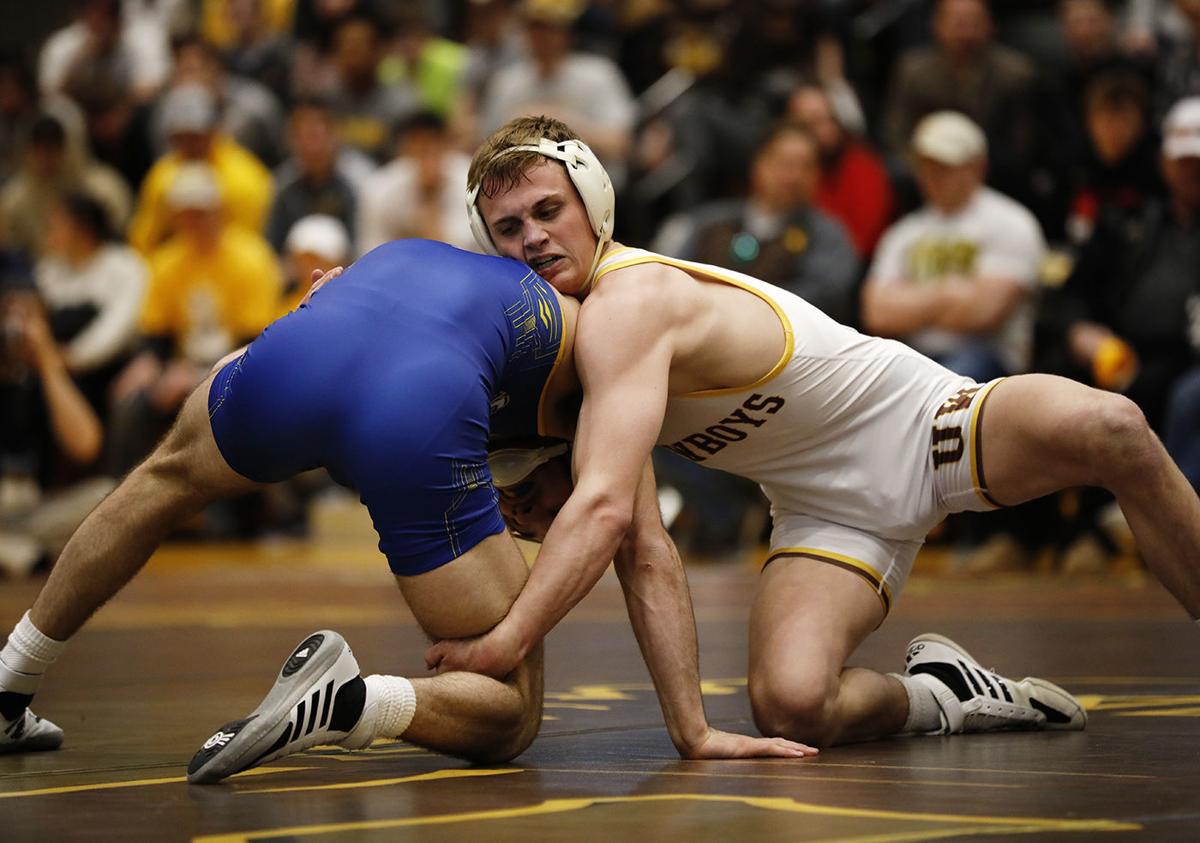 LARAMIE — Wyoming continues to make cuts in response to the financial impact the coronavirus outbreak has had on athletic departments nationwide, but sports aren't among them.
UW athletic director Tom Burman said the university doesn't currently plan to eliminate any of its sponsored sports, a money-saving move that's being made almost exclusively at Group of Five schools that typically operate on smaller budgets and rely more on state funding than athletic departments at the Power Five level. Cincinnati, Akron, East Carolina and Old Dominion are just some of the Division I schools that have combined to cut 30 athletic teams so far.
"If this was ongoing and this lasted for a number of years and we got to a point where the budget reduction was in that 20- to 30-percent range, then we might have to," Burman said. "But our goal is to not touch sports."
The uncertainty of how much longer the novel coronavirus will linger makes it difficult to know exactly how much of a financial hit UW's athletic department will take, Burman said, though the cancellation of the NCAA men's basketball tournament has already cost the school more than $1 million it usually receives from the association's media rights payout. That's the only direct revenue stream that's declined during the current fiscal year, but Burman said the reduction in revenue will be "fairly significant" for the department during the next fiscal year, which begins July 1.
One of the primary budget cuts will be travel expenses. Burman said he's asked UW's coaches to schedule more regional opponents in the coming years to cut down on flight costs, and travel parties could shrink. The Mountain West Conference, of which UW is a member, also recently announced an 18-percent reduction to its operating budget as well as the consolidation of some postseason tournaments and the elimination of others (baseball, men's and women's tennis, women's soccer) for the 2020-21 academic year, all of which Burman said will save UW "in the neighborhood" of $200,000 during the next fiscal year.
Burman, who's taken a 10-percent pay cut, said there are also staff positions within the department that won't be filled during the next fiscal year to cut back on salaries. Coaches haven't offered to take pay cuts, but Burman said some have joined football coach Craig Bohl in making donations.
One of the main reasons UW isn't considering trimming sports at the moment is that it doesn't have much wiggle room. UW has eight men's sports and nine women's sports for 17 total, which is just one more than the minimum number of varsity sports that Football Bowl Subdivision programs like UW are required to sponsor to maintain that status.
"So there's not a lot of flexibility there," Burman said.
Continued testing for student-athletes
"You read what most schools are saying, it looks like it's anywhere from 3- to 5-percent positive," Burman said. "But we could have nine in the next wave, and we might end up in the 3 to 5 percent. I was happy, but I didn't really know what to expect."
Student-athletes in the second phase are scheduled to return to campus this week. All athletes will be tested upon returning to campus before starting a 14-day quarantine. Burman said the school will likely continue to test athletes once their quarantine period is over, though exactly what that will look like for football players during the upcoming season has yet to be decided, he added.
"I would say right now, the plan would be to continue testing throughout the year based on our ability to get tests, get results quickly and the cost," Burman said.
Men's hoops seeking buy games
Another way UW is trying to mitigate the financial hit is by seeking out buy games to help fill out its non-conference schedule for the upcoming men's basketball season.
UW has already landed one against Pac-12 foe Arizona, which Burman confirmed will pay UW $90,000 to make the trip to Tuscon, Arizona. Burman said first-year UW coach Jeff Linder is looking to add another one to the Cowboys' schedule, but there's more competition than usual to land buy games given the current financial climate.
Buy games are where major-conference teams pay teams from smaller conferences to come play at their arena, essentially "buying" games against teams they're heavily favored to beat.
"(Linder) has been trying to get a second one," Burman said. "Many schools have flipped from not playing buy games to wanting buy games with these budget situations. It's more competitive, and right now he hasn't been able to find a second one. But he's still looking."
Follow UW athletics beat writer Davis Potter on Twitter at @DavisEPotter.
Concerned about COVID-19?
Sign up now to get the most recent coronavirus headlines and other important local and national news sent to your email inbox daily.