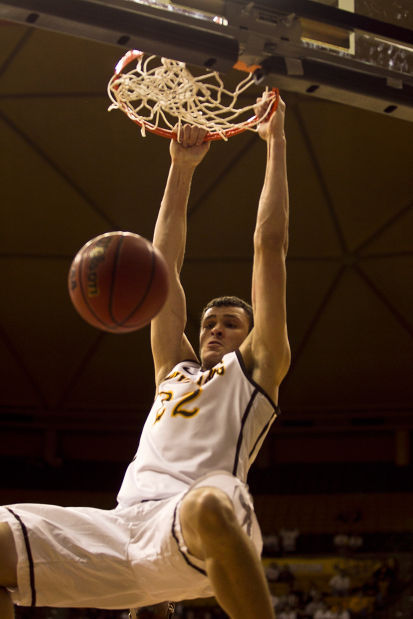 Riley Grabau scored 17 points, Larry Nance Jr. added 14, and shortly after the final buzzer rang, you couldn't see the court underneath a sea of celebrating bodies. Wyoming knocked off No. 5 San Diego State inside the Arena-Auditorium on Tuesday night, 68-62.
Wyoming reeled off two separate 12-3 runs in the first half, using three 3-pointers from Grabau to keep momentum on its side. After each triple, Grabau immediately turned, located the player that passed it to him and pointed appreciatively his way.
It was as if as long as the pass got there, the end result was already determined.
The Cowboys were out-rebounded 22-11 in the first half, as the bigger, taller Aztecs crashed the glass and relentlessly ripped the ball away from undersized Pokes. But the turnover battle seemed to balance the scales, as a ferocious Wyoming 2-3 zone defense batted away passes and forced 10 San Diego State first-half turnovers.
"We knew we were going to experiment with some zone coming into the game, because we knew Xavier [Thames] and [Dwayne] Polee, those are really their only two pure shooters," Nance said. "It's kind of tough to attack a zone with only two shooters.
"That was kind of our mindset going into the game, but we had no idea it was going to work out this well."
The student section, dressed entirely in white, was unfazed by the late 9 p.m. tip-off. Some wore capes. Others donned fake beards. A few went formal with shirts and ties, as if they were prepping for a job interview instead of a basketball game.
Regardless of attire, though, the noise was constant and unyielding -- a hoard of supporters willing Wyoming toward its biggest upset in 16 years.
"They came out. The fans were great," Grabau said. "It was a great atmosphere, fun to play in. They won us the game."
The Cowboys' momentum carried into the second half, as Larry Shyatt's team forced stops on one end and piled up highlight-reel scores on the other. First, Adams drove to the basket, had the ball knocked away, re-gathered it in mid air while defying gravity and tossed a reverse layup off the glass.
Then, Nance lobbed a ball toward the right side of the basket, where 6-foot-8 forward Derek Cooke Jr. leaped for it and hammered it home with his right hand. The crowd roared, but no one was louder than Nance, who yelled wildly as he backpedaled from the scene.
You have free articles remaining.
"When DC [Cooke] dunked that lob, the energy in the building went through the roof. I mean, we couldn't hear a thing," Nance said. "Coach Shyatt was trying to call timeout. The refs didn't hear him for 10-15 seconds.
"It was chaos, but that's basketball. We loved every second of it."
At one point, four consecutive Wyoming baskets came off dunks, as Cooke perfected the one-handed tomahawk and Nathan Sobey drove to his left and stuffed one in with two hands.
The Cowboys kept dunking, and the crowd kept buzzing. The upset was becoming real.
Unsurprisingly, San Diego State -- winners of 20 consecutive games -- wouldn't go away. The Aztecs ripped off an 8-0 run to pull within 52-44, as senior point guard Xavier Thames came to life.
San Diego State's defense continued to press out, attempting to trap each Wyoming guard as he passed the mid-court stripe. But as the clock bled down, the Cowboys managed to hold on, and Grabau, Sobey and Nance all calmly knocked down pressure free throws.
With a few solitary seconds left and the score out of reach, Nance smiled and pointed to the student section. A sea of white roared back at him, abandoning their seats to gather on the steps  that lead onto the court.
And when the game ended, the party began.
As the fans streamed in all around them, the Cowboys hugged and soaked up the surreal celebration surrounding them. Shyatt hugged whoever he could find, yelling, "Larry!" until he was finally reunited with his 6-foot-8 big man.
Wyoming's head coach was not new to this situation, as his Cowboys upset No. 5 Utah in Laramie on Feb. 12, 1998.
But though the victories were similar on paper, this one was different.
"It's like a good bottle of wine," Shyatt said with a smile. "It gets better with age, so this one's better than the one 17 years ago, just because we've been around. But this is a special team."