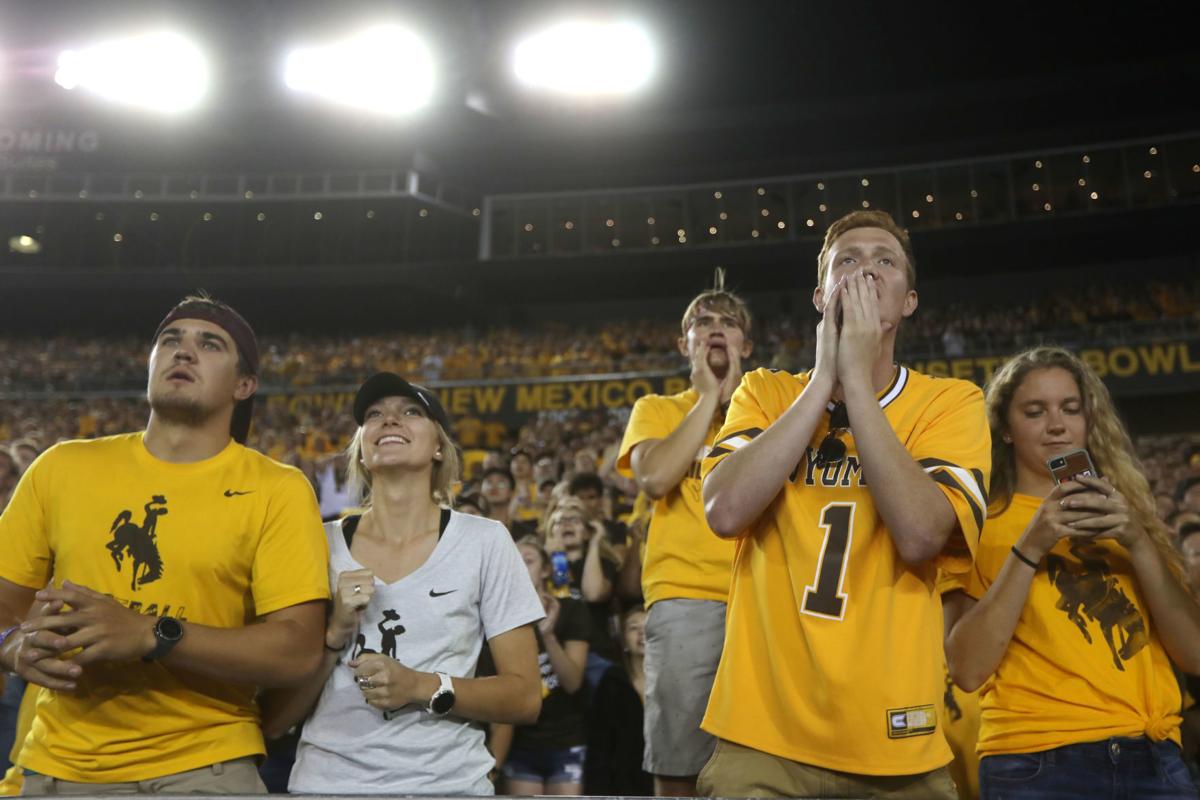 LARAMIE — There's still time before final decisions have to be made about the college football season, but the calendar is shrinking.
Meanwhile, programs nationwide continue to wrestle with what attendance may look like inside their stadiums this fall should a season happen. The University of Wyoming is planning for just about every scenario amid the coronavirus outbreak, so it was only fitting that UW athletic director Tom Burman used a football term to describe how the school is trying to prepare for whatever the pandemic may throw at the Cowboys between now and Sept. 5.
That's when UW is scheduled to open its season at home against Weber State.
"We have kind of a playbook I guess is how I would describe it with all kinds of different options," Burman said. "The good, the bad and the ugly."
The best-case scenario for every program would be to fill its respective stadium to full capacity in order to maximize revenue, but with most states still reporting new cases of the novel coronavirus almost daily, Burman acknowledged that's far-fetched, at least to start the season. Burman said the athletic department is looking at models that would allow capacity ranging anywhere from 20 percent to 75 percent at War Memorial Stadium, which seats 29,181 fans.
The low end of that spectrum, Burman said, would be the capacity if the school ends up following social distancing guidelines recommended by the Centers for Disease Control and Prevention, which would require people (per household) to be separated by 6 feet throughout the stadium. If UW is only allowed to fill its stadium to 20-percent capacity, admittance would start and likely be limited to season ticket holders.
Burman didn't rule out the possibility of capacity increasing as the season goes on, but "one of the plans I have on the table right now," he said, is to operate anywhere between 40- and 50-percent capacity for UW's first two home games, which includes Utah — the only Power Five opponent on the Cowboys' schedule — on Sept. 19. That would allow season ticket holders, approximately 1,500 students and roughly 1,000 single-game ticket buyers to attend, but Burman said it would still leave UW approximately $1 million short of what it has budgeted in revenue for those games.
The lower the capacity, the more money UW would lose from ticket sales, concessions and other revenue streams, which is why Burman said the school isn't entertaining the idea of playing games with no fans.
"If we could get this thing on the whole at 50 percent, it's a no-brainer. It's worth doing," Burman said. "If we're in the 25-percent range, we would have to go to the board of trustees and say, 'All right, these are the millions of dollars we're going to lose.' At 25 percent, I'm guessing it would be $3 million in revenue from all sources. It would be $3 to $5 million all together, so it's real."
UW is one of many schools that has started bringing its student-athletes back to campus to begin voluntary workouts later this month. On Wednesday, the athletic department announced that none of the 166 COVID-19 test results it's received from student-athletes and select staffers so far were positive.
Burman said the athletic department continues to have conversations with the Wyoming Department of Health as well as Wyoming Gov. Mark Gordon's office, incoming UW President Ed Seidel and the Mountain West Conference, the league in which UW competes. Burman said the department will likely finalize an attendance plan and submit its recommendation for approval in mid-July.
The proposal may not require fans to wear masks, but "we will make them feel like we would seriously like them to wear a mask under that plan," Burman added.
Of course, it would be difficult for schools to justify playing any football games this fall if their campuses aren't open to the rest of their students for in-person course instruction. Mountain West commissioner Craig Thompson recently said that the league's member institutions would not host athletic competitions unless their campuses are open.
Earlier this week, UW's Board of Trustees approved a plan to reopen the school's Laramie campus to students and faculty for the fall semester, though it's contingent on the university receiving roughly $25 million in federal funds to cover COVID-19 testing and other expenses that require safe operation.
The money must be approved by Gordon. Burman said he doesn't think a football season at UW will happen if the campus doesn't reopen this fall, but he also believes the school receiving the money needed for that to happen is a formality.
"The reason that doesn't worry me is I believe the state will find a way with the CARES Act money to support the university," Burman said. "That's kind of what the CARES Act money was for is to try to get businesses back operating and get us back to a normal, functioning world. Opening higher education should play a role in that, I think."
While UW is fully expecting to be operating normally this fall, whether competing schools will be able to do the same will depend on how prevalent the coronavirus outbreak is in other states. For example, Louisiana, where UW is scheduled to travel for a Sept. 12 non-conference matchup with Louisiana, has reported nearly 45,000 cases, according to NOLA.com. Wyoming, by comparison, has just 1,009 cases (793 confirmed, 216 probable) as of Thursday.
"If there's a spike in Louisiana, are we going? I don't know. We may not," Burman said. "We're going to at some point sit down with all of our non-conference opponents and make sure we know exactly what they're doing to make sure their kids are healthy when they come here and when we play there so that we're minimizing risk.
"There's no way to eliminate any risk. I get frustrated when I hear people say, 'Well you've got to make sure it's safe.' I can't guarantee it's going to be safe, but I can do everything within my power to minimize risk. There's always going to be risk. You can get into lots of issues when you're playing sports, so this is just going to be added to the list. But we're going to do our absolute best to minimize it."
As for the 12-member conference UW competes in, Burman said schools that are able to reopen their campuses will play a season even if others can't.
"We've had those discussions," Burman said. "If one or two schools decided they could not compete in sports this fall or this academic year, we would just continue on. It's possible we would reschedule (another game for that week), but it's also possible you just have a bye week."
Follow UW athletics beat writer Davis Potter on Twitter at @DavisEPotter.
Concerned about COVID-19?
Sign up now to get the most recent coronavirus headlines and other important local and national news sent to your email inbox daily.