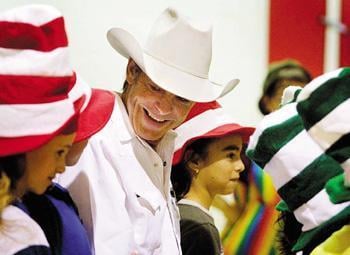 Dona Vold Larsen and her family have produced numerous rodeos over the years, but the one they're putting on today holds a special meaning to the longtime stock contractor.
"A Tribute to Chris LeDoux Rodeo," which honors the Kaycee cowboy who died of cancer in March of 2005 at age 56, takes place at The Arena at the Central Wyoming Fairgrounds beginning at 7 p.m.
"It's an honor to put this rodeo on," Vold Larsen said. "We raised our families together.
"And Chris was more than a cowboy, he was a humanitarian. He set the bar as a father and as a friend."
LeDoux also enjoyed success on the rodeo circuit and as a country singer and artist.
He won the Professional Rodeo Cowboys Association bareback bronc riding title in 1976 and was a five-time qualifier to the National Finals Rodeo. LeDoux was inducted into the ProRodeo Hall of Fame in 2005.
The rodeo, now in its sixth year, offers cowboys and cowgirls from around the region the opportunity to celebrate LeDoux.
"This is a good way for cowboys to gather and remember him," Vold Larsen said. "We get together and toast his life."
This year's rodeo features past world champions as well as current NFR qualifiers.
Mills cowboy and former world champion bareback bronc rider Kelly Timberman as well as Rock Springs' bull rider Seth Glause and 2008 ProRodeo Hall of Fame inductee Paul Tierney are all scheduled to compete tonight.
TODAY: A Tribute to Chris LeDoux Rodeo.
WHEN/WHERE: The Arena at Central Wyoming Fairgrounds, 7 p.m.
WHO'S HERE: Seven 2010 National Finals Rodeo qualifiers.
2009 CHAMPS: Bareback -- Heath Ford; Saddle Bronc -- Townsend Prince; Bull Riding -- Will Farrell; Steer Wrestling -- Dustin Bennett; Tie-Down Roping -- Riley Pruitt; Team Roping -- Britt Williams/Doug Kroeplin; Barrel Racing -- Lisa Lockhart, Trula Churchill.
TICKET INFO: Tickets are available beginning at 5 p.m. at The Arena box office; $20 for upper level seats, $30 for lower level seats (limited availability).