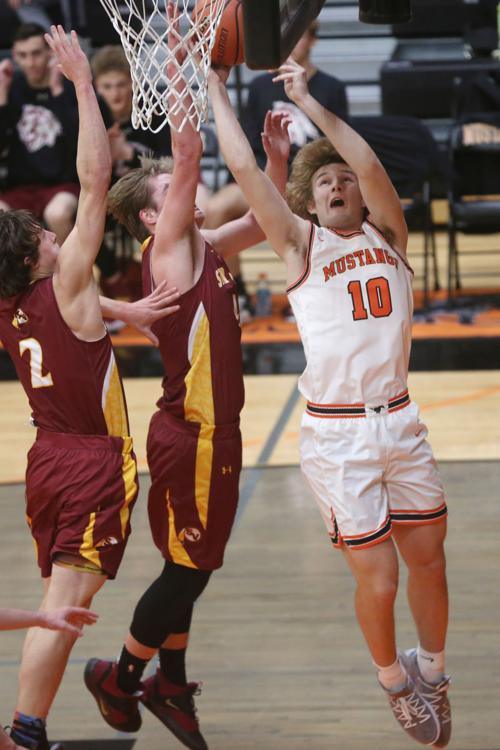 Once again, the Natrona County boys basketball team entered the final minutes of a game with a chance at victory. Once again, the Mustangs came up on the short end, suffering a 43-41 setback to Star Valley on Friday at Jerry Dalton Gym.
The Mustangs (3-10) had battled back in the fourth quarter to tie the game at 41-all on Koby Kelly's 3-pointer with 36.8 seconds remaining. Two free throws from Kortlen Hilton with 19.9 ticks on the clock put the Braves back in front.
Natrona County pushed the ball down the court and worked it around the perimeter to Kelly. His shot from the top of the key was on target, but went halfway down before bouncing out. Star Valley had a chance to seal the game at the line, but Brant Nelson missed two free throws with 8.3 seconds left to play. Nelson made up for the misses by stealing the Mustangs' final pass and sending them to their eighth consecutive loss.
"We're right there," Natrona County head coach Phil Choler said. "We just have to do one more thing right, whether it's getting that one box-out or making that extra pass, but we're definitely headed in the right direction.
"We just have to figure out how to win."
It's not like the Mustangs haven't been close. Five of their losses have been by single digits, with Friday's defeat the third that was decided by one possession.
Friday's game was close throughout. The score was tied seven times and there were seven lead changes.
And when Star Valley (8-6) opened up a 35-27 lead -- the largest of the game by either team -- on Dylan Johnson's three-point play to start the fourth quarter the Mustangs responded with a 10-1 run to take the lead on Ryan Swan's drive to the rim and subsequent free throw. Both teams made 1 of 2 from the line before Tristen Kleeman, who finished with a game-high 17 points, knocked down a corner 3 with 1:17 remaining. He later made 1 of 2 free throws to make it 41-38 before Kelly knotted the score.
Swan scored all 11 of his points in the second half to pace Natrona County, which also got nine points from Kelly and eight from Jace George.
"This was probably the most complete game we've played as a team," Choler said. "Our effort was great and we had great ball movement ... We just need to keep working and get a win. I really think that would push us over the top."
The Mustangs will try to snap the losing skid when they host Jackson on Saturday. The Broncs are 1-12 after a 64-34 loss to Rock Springs on Friday.
Follow sports editor Jack Nowlin on Twitter @wyovarsity