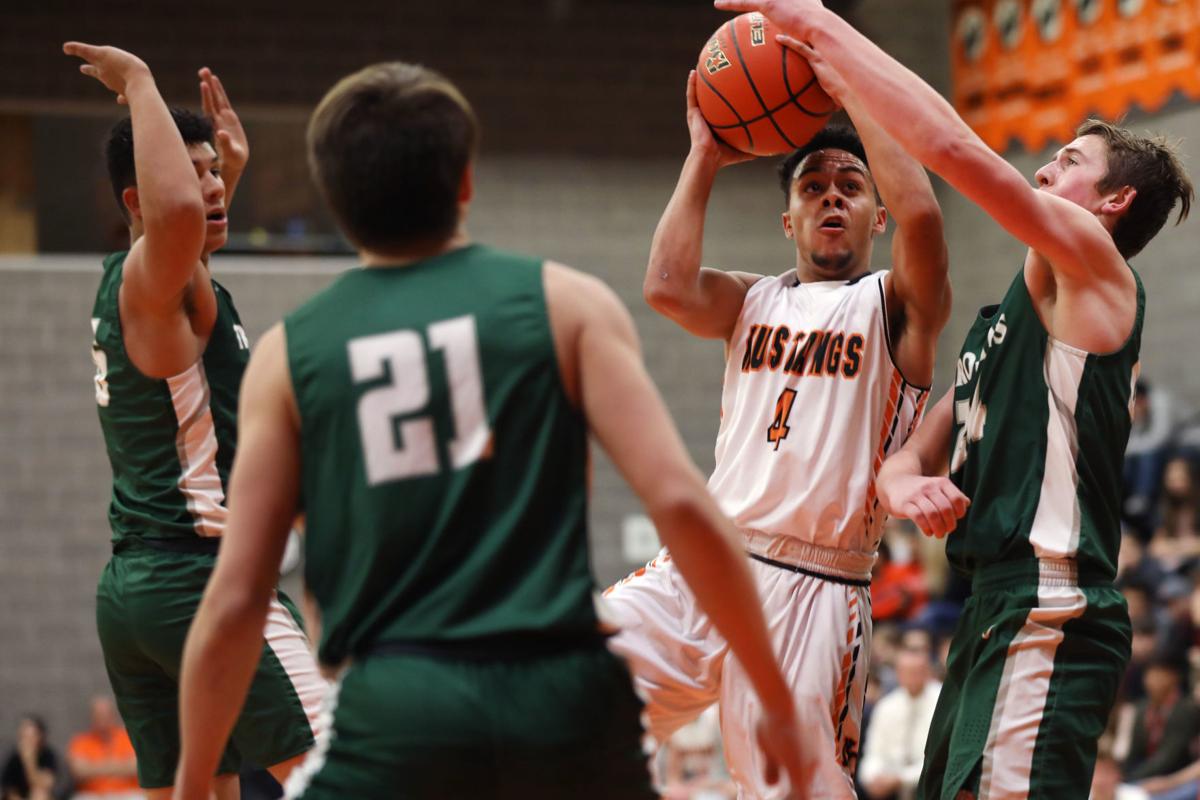 The past week wasn't as kind to the Natrona County Mustangs as the season's first. Instead of cruising to three wins by an average margin of nearly 23 points, the Mustangs fizzled out in the fourth quarter against rival Kelly Walsh on Thursday and struggled through long stretches in Saturday's 54-45 loss to Scottsbluff, Nebraska, at Jerry Dalton Gym. That closed a week of frustrations and short-comings.
And now the Mustangs have to let the most recent 7 days resonate for two weeks before returning in 2020 on the other side of the winter break.
"It motivates us but these games don't matter, we're not going to win a state championship right now," senior Cooper Quig said. "So we're going to keep building off it. It does leave a sour taste but we're not butt-hurt about it."
Aside from just the results of three straight wins in three days to open the season was the way the Mustangs handled themselves. They dictated tempo, ran an efficient offense and physically out-worked their opponents on both ends of the court. Senior Ryan Swan told the Star-Tribune at the end of the season-opening weekend that they wanted to establish a new basketball culture at Natrona County. The season's start was the physical manifestation of first-year head coach Phil Choler's vision and the players' belief in that vision.
Then rival Kelly Walsh came into Jerry Dalton Gym and Natrona County let a long-established lead get away. Thankfully for the Mustangs, they had one more opportunity to set things right going into the New Year. They had a good Friday practice and reunited with that previous energy on Saturday afternoon.
You have free articles remaining.
"Our effort was incredible tonight," Choler said. "We played really, really hard. We defended. We did a lot of good things tonight, our effort was incredible and that's what we're looking for from these guys."
While both offenses struggled for all four quarters of Saturday's contest, the defensive physicality and frantic pace suited a few Mustang cornerstones. They forced stops, stretched the court and crashed the boards. But they couldn't pull away, partly due to missed free throws and missed put-backs. And then deja vu — a fourth-quarter lead vanished and the Mustangs couldn't regroup in time to capture the win.
Natrona County (3-2) led by 3 after a transition layup from junior Ben Hoppens midway through the fourth only for Scottsbluff to go on an 11-3 run and pull away. Attempts to draw level from a 3-point deficit bounced off iron and out. Scottsbluff senior Jasiya DeOllos led the undefeated Bearcats with 21 points.
The Mustangs' offensive distribution, while not bountiful, stayed on par with its multi-point approach. Quig led NC with 13 while Isaac Spear and Wilsk Jackson added seven apiece and Ryan Swan had six. They started the season with three different leading scorers and entered this week with all three of them averaging at least 13 points. Junior Koby Kelly led the Mustangs with 11 points against Kelly Walsh on Thursday night, but had only two on Saturday.
"We're too good of a shooting team to shoot 19 percent from 3," Choler said. "We're too good of a shooting team to shoot 52 percent from the stripe. We've got good shooters in position and they're going to start making shots. We're too good of shooters to not."
The past two results sting regardless of circumstances. Making them the final two games before a two-week winter break means the Mustangs should return on the other side driven enough to overcome the recurring hurdle that haunted them throughout the week.
"We just got to play 32 minutes of basketball," Quig said. "Right now we're playing about 28 and we've got to finish with all 32."
Follow sports reporter Brady Oltmans on Twitter @BradyOltmans