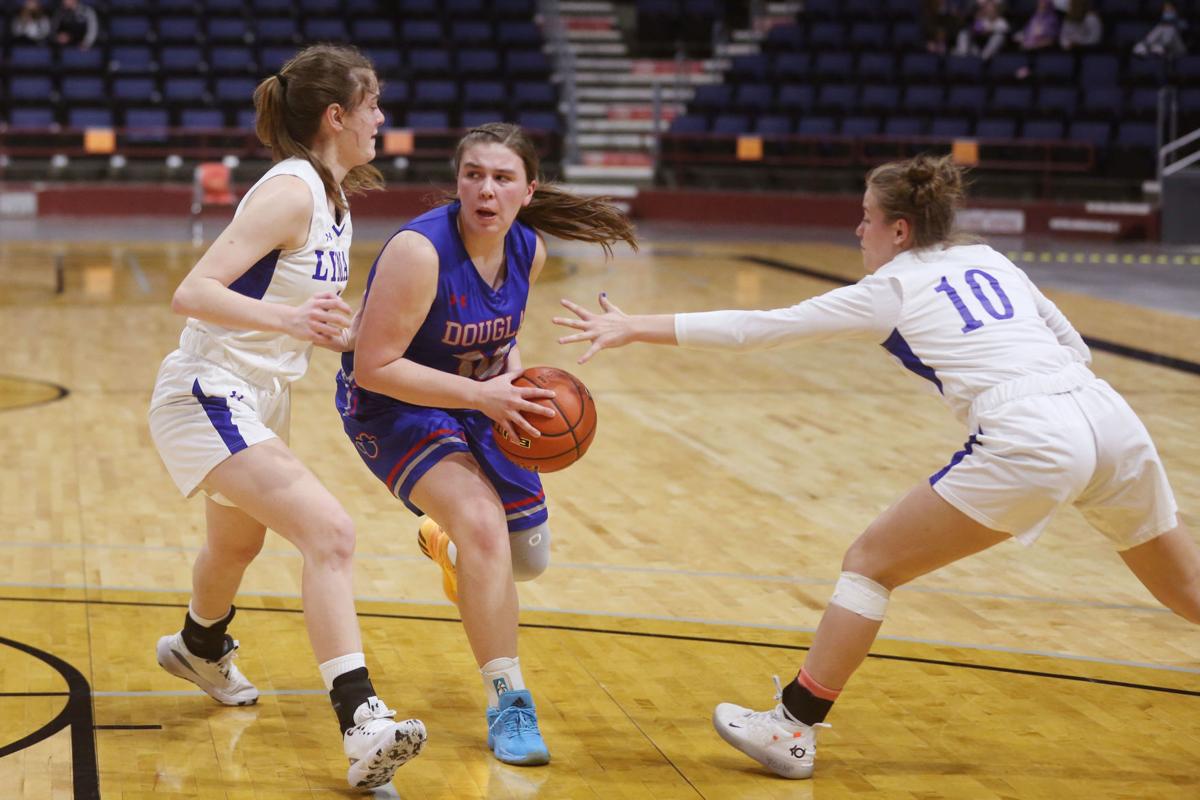 The Douglas trio of Allyson Fertig, Joslin Igo and Kamdynn Townsend are getting one more game together on the hardwood. The recently graduated Bearcats will play for the South girls basketball team during the Wyoming Coaches Foundation All-Star weekend at Casper College's Swede Erickson Thunderbird Gym on July 24.
Fertig, Igo and Townsend helped lead Douglas to three Class 3A state championships (the 2020 3A/4A state tournament was canceled because of the coronavirus pandemic) and a record of 100-2 during their four-year prep careers.
The 6-foot-4 Fertig, who will play at the University of Wyoming, averaged 22.6 points, 13.3 rebounds and 4.5 blocks per game while shooting 71.0% from the field this past season for the Bearcats. The Casper College-bound Igo averaged a state-best 8.3 assists per game this season and finished her career with state records for assists in a single game (18 vs Buffalo on Jan. 22, 2021), a season (200 in 2020-21) and in a career (599). For Townsend, the WCF All-Star contest will be her final competitive game as she decided to focus on academics at UW.
The three will be joined on the South squad by two other players from state championship teams in Cheyenna Alvarado from Cheyenne East and Sandie Friday from Wyoming Indian.
The North team includes three-time all-state selection Tinley Pierson from Kaycee, who is headed to Dickinson State for basketball, and Thunder Basin grad Gabby Drube, who will run track at Wyoming.
Head coaches for the girls basketball game are Douglas' Cody Helenbolt (South) and Lovell's Chris Edwards (North).
The boys basketball game features state champions Brady Storebo (Cheyenne Central), Mack Page and Rudy Sanford (Worland), Taylor Winland (Rocky Mountain) and Jess Claycomb (Upton). Sanford, Winland and Encampment grad Dalton Peterson were three-time all-state selections.
Head coaches for the boys game are Encampment's Jake Johnson (South) and Riverton's Beau Sheets (North).
The volleyball match includes three state champions from this past season: Mountain View's Alli Rinker, Sundance's Sherry Negaard and Cokeville's Cydney Brown. All three were 2020 all-state selections, along with 10 other players on the two rosters. Rawlins' McKenzie Earl, who will continue her volleyball career at Laramie County Community College, was a four-time all-state honoree.
Pinedale's Tamara Currah (South) and Meeteetse's Kelsey Scolari (North) will be the head coaches.
The WCF All-Star weekend concludes with the all-star games on Saturday, July 24. The volleyball match gets things started at 1 p.m., followed by the girls basketball game at 3 p.m. and the boys basketball game at 5 p.m.
Follow sports editor Jack Nowlin on Twitter @wyovarsity