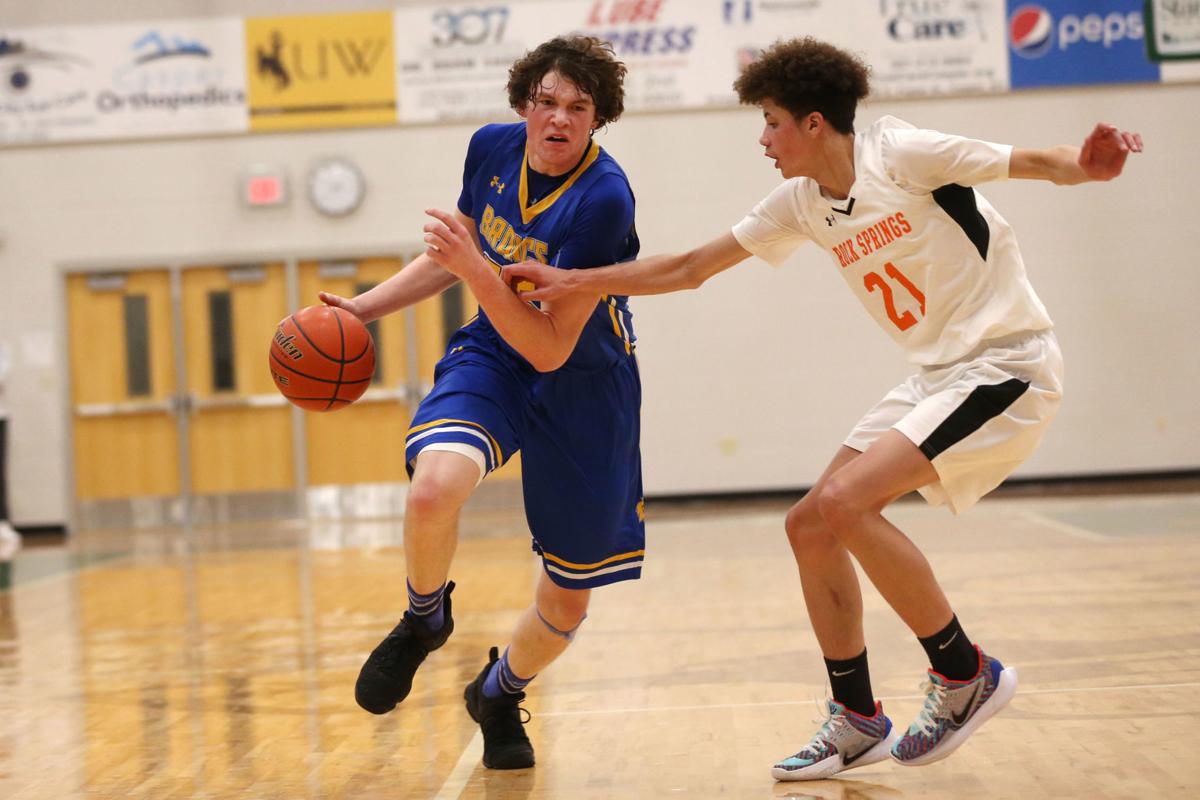 Although the basketball season ended unceremoniously like no tournament before it, Sam Lecholat's latest news came as a sort of consolation prize.
The Sheridan junior joined Devin Royer (2003) on Thursday as the only Broncs in program history to be named Wyoming Gatorade Boys Basketball Player of the Year. It's an honor that follows an unconventional junior year of on-the-court highs and the lows of a canceled state tournament.
"It's really good for Sam because he could honestly care less about it," Sheridan head coach Jeff Martini said. "He wants to win and compete. It wasn't something that was on his mind at all."
Lecholat finished his junior season with averages of 18.4 points and 11.3 rebounds per game. On two occasions this year (Cheyenne East on Feb. 8, Cheyenne South on Feb. 14) he pulled down 20 or more rebounds. In that game against East he also went 13-of-13 from the free-throw line, where he shot 82 percent for the season.
Lecholat and his Broncs teammates almost boarded the bus bound for Casper and their quarterfinal state tournament game when they received word that it had been canceled. He practiced every day staring at the championship banners hanging in the gym and wanted to add another. Getting that opportunity taken away left his junior year incomplete.
"This is pretty cool, though," he admitted. "Almost makes up for it."
Lecholat started playing varsity off the bench as a freshman and then started every game for the Broncs the last two seasons. Martini noticed how Lecholat has improved his perimeter game in order to become a more complete player. Not only did the junior handle the ball more this season but he shot 40 percent from distance. That's a testament to his work ethic.
"The amount of work that he puts in, it's every single day," Martini said. "He wants to win every drill and he just battles. He goes to the gym and battles every day by himself."
In addition to individual success, Lecholat saw an opportunity to lay the groundwork for the future. He had role models within the program when he arrived as a freshman and played alongside a few of them last year. Through his off-season workouts he hoped to contribute to the bigger picture.
"I just wanted to be a role model for the younger kids and be someone for kids to look up to," Lecholat said. "For me, leaving after next year, I just want to leave the basketball program as a place that's really good to play. I want the young people to look up to Broncs players."
Part of that also comes with behavior. Faced with unprecedented circumstances in a canceled state tournament and in a situation where a teenager could understandably consider himself a victim of a pandemic, he instead kept his head down and let his disappointment run its course. Months of working toward a championship fizzled out with no closure. That pain ran its course and, together with his teammates, they took their collective next step.
With empathy for this year's seniors acknowledged, Lecholat talked about building into next year. At least he has a next season. And maybe then he can find closure alongside the teammates he's so values and appreciates.
"While it's an individual award it also goes to the whole team," Martini said. "They pushed Sam in practice and got him the ball in games. They deserve just as much credit."
Follow sports reporter Brady Oltmans on Twitter @BradyOltmans
Get in the game with our Prep Sports Newsletter
Sent weekly directly to your inbox!