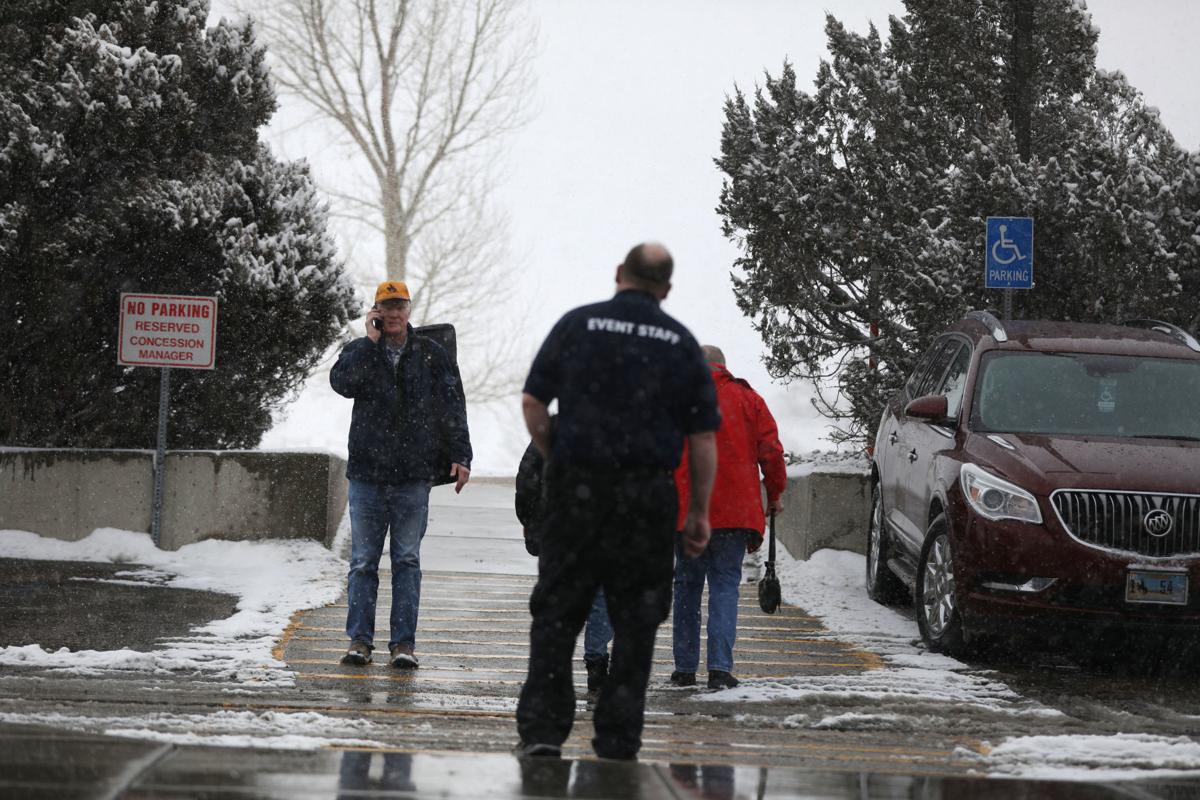 For the first time in 84 years, Wyoming's culminating state basketball tournament is in serious jeopardy of not being played.
"I think it's going to be difficult, to be honest with you," Laird admitted following a press conference Thursday morning at the Casper Events Center. "Realistically, with our schedules and with the facilities we have, unless we decide to split it up all over the place and send 3A girls here and 3A boys there it is going to be tough, although we have gyms that could handle it to try and reduce the crowd, so to speak."
However, with spring track and soccer having already started practice and with their first competition dates tentatively scheduled for next weekend, Laird admitted that it's doubtful if the state basketball tournaments will take place this spring.
He planned on setting up a video conference call with the WHSAA Board of Directors later Thursday if possible to get a feel of how they wanted to proceed. He added that in the end, though, the board would defer to health officials.
"The hard part is that I don't know what the directive is going to be from the health department," Laird said. "Is this going to be a ban on indoor facilities? Is it going to be a 60-day thing? A 30-day thing? Two weeks? My head's swimming right now."
Obviously, the spring sports seasons now come into question. The Glen Legler Memorial Earlybird track meet is scheduled for March 21 at Natrona County High School while soccer games across the state are scheduled to begin next weekend.
Laird was asked if the WHSAA currently had a plan in place for those events.
"Not at this point," he said. "With those being outdoor sports … everything to this point has taken place indoors. Obviously, now that we're in contact with the health department we'll certainly be asking for those recommendations as early as possible."
Laird became aware Wednesday evening that the state's first positive case of COVID-19 had been confirmed in a woman in Sheridan. At the time, he was attending the State Spirit Competition at the Events Center.
"I couldn't get a hold of anyone (at the Natrona County Health Department) last night, that's why I made the call this morning," Laird offered. "I called the health department this morning at 8 (o'clock) and everything was go, go, go. And then at 9 we weren't good to go, we were going to limit fans. And then we got the call that it was canceled."
The only other time the state tournament was canceled, according to wyoming-basketball.com (a website managed by former Star-Tribune sports reporter Patrick Schmiedt) was in 1936. That year a scarlet fever outbreak (along with outbreaks of measles, mumps and small pox) resulted in numerous deaths in children and forced the closure of schools throughout the state, according to the website.
And while this year's expected cancellation of the state basketball championships is no doubt a cause for concern, Laird tried to keep things in perspective.
"No one feels worse about this than me," he said. "I know what it means to the kids and what it means to the communities, but in the big picture it is just a basketball game."
Follow sports editor Jack Nowlin on Twitter @CASJackN
Concerned about COVID-19?
Sign up now to get the most recent coronavirus headlines and other important local and national news sent to your email inbox daily.