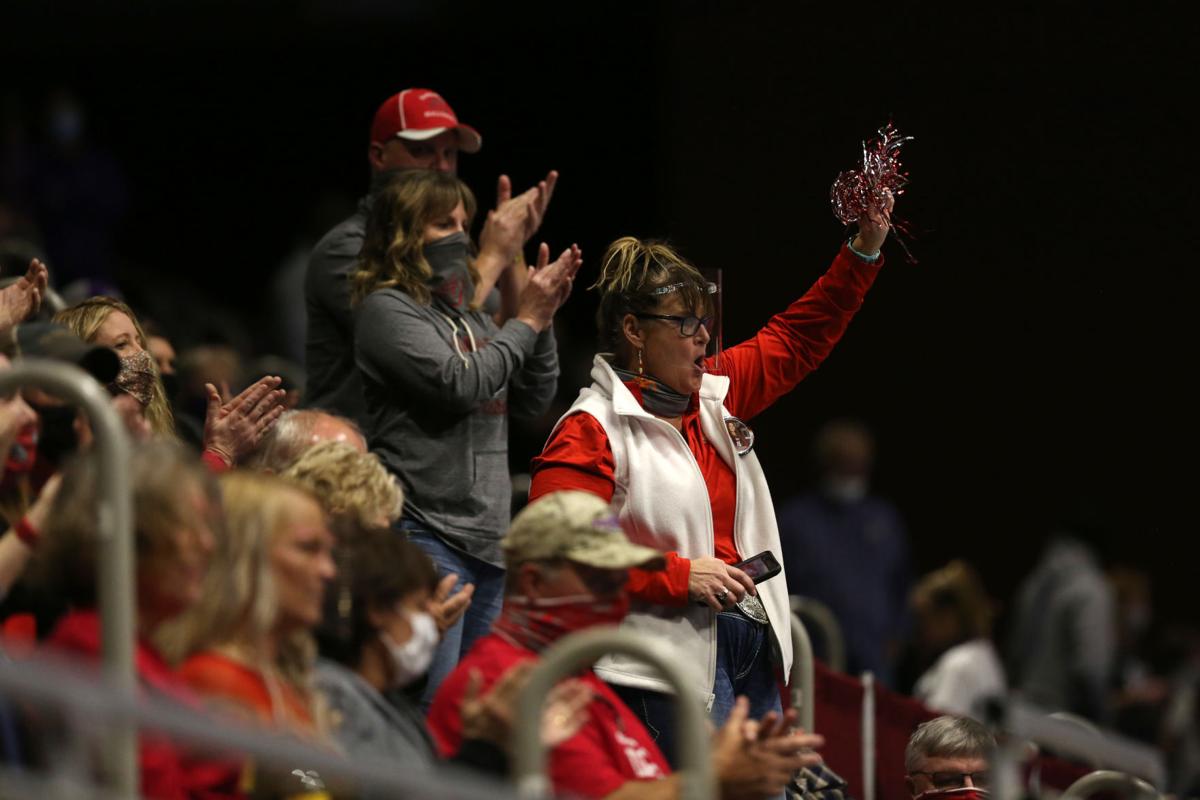 This past weekend marked the end of the fall high school sports season in Wyoming, with state football championships held in five sites – Cheyenne, Cody, Torrington, Yoder and Farson. Football was the final piece of the fall puzzle, following golf, tennis, cross country, girls swimming and volleyball, to successfully hold a state-culminating event.
Next on the schedule for high school student-athletes across the state are the winter sports seasons, which consist of basketball, wrestling, alpine and Nordic skiing, boys swimming, and indoor track. With COVID-19 cases continuing to surge throughout Wyoming — there were more than 1,200 new coronavirus cases reported in the state Tuesday — and the nation, however, the Wyoming High School Activities Association on Monday issued a mask mandate for all winter sports.
"We're in such a different place with the virus right now than we were in August," WHSAA commissioner Ron Laird said. "We were strongly encouraging face masks, but we weren't requiring them. And then at our (recent) culminating events we did require them."
Fans attending state championships in girls swimming Nov. 5-7 in Laramie, state volleyball Nov. 4-7 at the Casper Events Center and all five state football contests were required to wear masks. Although there were some instances at state volleyball where fans had to be reminded to wear face masks by officials, Laird believes the mandate was adhered to.
"The teams were really good and we had no real issues with fans that we were aware of," he said. "Of course, you're always going to get some people that pull their face mask up when asked to, and then pull it down when they think nobody is looking, but overall we were pleased."
But with the continued surge in coronavirus cases and the desire to give student-athletes in winter sports their own state-culminating events, the mask mandate will be in effect for everyone who attends a game. The only time athletes won't be required to wear them is when they are competing.
"Just to make it cleaner, everybody has to have a mask on," Laird said. "We just think it will be safer, and that's our main goal. We know it's going to be more of a challenge to complete the season, but that's our goal.
"People don't have to come to our activities, so that's the stance we're going to take."
As the fall season progressed, one thing that concerned Laird and other officials was the change in attitude from a growing number of fans.
"At first, everybody was just thankful that the kids got to play," he said. "But as the year went on that attitude changed where winning became more important and the officials weren't as good anymore.
"The thankfulness kind of left and it was back to the way things were in previous seasons. So we needed to refocus that and realize how fortunate we were to even be playing any sports."
Wyoming was one of just 26 states across the country to play high school football this fall. And some states like California, Oregon and Washington haven't played any high school sports since the pandemic began back in March.
Of course, whether or not Wyoming is able to complete its winter sports seasons remains to be seen. Practices have already begun for Nordic skiing, with alpine skiing, basketball and wrestling scheduled to begin official practices next week. The first Nordic skiing meet is scheduled for Dec. 4; alpine skiing, basketball and wrestling will hold their first competitions the following week.
As was the case with state volleyball, which took place over four days with each classification playing all its matches in one day, state basketball and state wrestling also will have a different format than in years past. State wrestling will be a three-day event at the Events Center, with Class 2A taking to the mats Thursday, Feb. 25, followed by 3A on Feb. 26 and 4A on Feb. 27. State basketball, which will be at the Events Center and Casper College, will have Class 1A in town March 3-4, followed by 2A on March 5-6. The following week it will be Class 3A on March 10-11 and 4A on March 12-13.
The solution is not ideal. Given the way COVID-19 continues to spike across the state, though, limiting the number of fans gathered in one location, combined with the mask mandate, increases the likelihood there will be state-culminating events later in the season.
"We do feel like the protocols that the schools are using and we put in place for our activities were effective," Laird said. "What we kept hearing from county and state officials is that our events were not the reason for the number increases. They felt like the protocols we were using were effective.
"We're hoping the mask mandate will help us be even more effective."
Follow sports editor Jack Nowlin on Twitter @wyovarsity
Get in the game with our Prep Sports Newsletter
Sent weekly directly to your inbox!