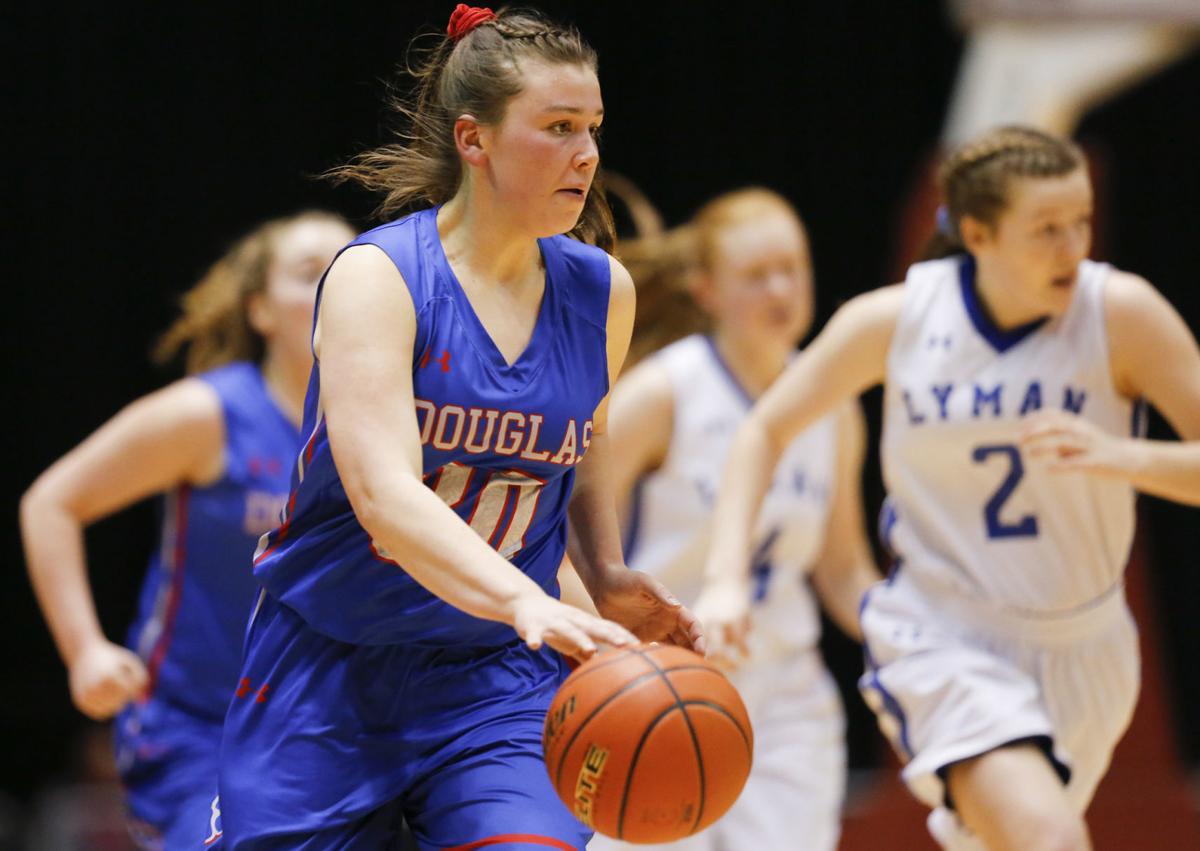 At the risk of stating the obvious: the Douglas girls basketball team is still good — really good.
With less than month remaining in the regular season the Bearcats stand at 14-1 and undefeated against Wyoming competition. Their only loss of the season came in the Energy Classic to Lynwood, California, which was ranked No. 29 in the nation at the time. For a team that hasn't been dealt much adversity, that game reminded the Bearcats that they can't be complacent because there's always someone out there better than you.
"It's crazy because of how much talent, speed and athleticism they had," Douglas head coach Cody Helenbolt said. "We're usually more athletic than the other team. That was good for our kids to figure out what to do when they don't have that instinctual advantage."
Douglas lost 51-45. The Bearcats shot just 1 of 12 from distance and committed an uncharacteristic 27 turnovers while remaining one run away from pulling out a victory against a nationally ranked opponent. No wonder no Class 3A opponent has been able to dethrone the Bearcats since March 10, 2017. Scarier yet, it could be even longer before the Bearcats are the underdog.
Garnering most of the spotlight have been juniors Allyson Fertig, Joslin Igo and Kamdynn Townsend.
Fertig, who has already committed to the University of Wyoming, is averaging 21.6 points and 13.1 rebounds per game. She's had three games this year of 30 points or more. She had 18 points and tied a season-high with 21 rebounds against Lynwood. "Her jump from last year to this year has been huge," Helenbolt said. "She's kind of a different player than last year and she was really, really good last year."
Igo broke a school record with 14 assists against Lovell in the second game of the season only to break that record with 15 the following night against Pinedale. Going into the weekend she needs just 51 assists to tie the school record for assists in a season (Molly Kreyick had 145 in 2011). "She's kind of embraced that and that's kind of been her deal that she's done extremely well at," Helenbolt described. She can score too, averaging 11.3 points to go with her 6.3 assists.
Townsend's been the distance threat, hitting a team-leading 17 3s so far. That's helped her average 10.7 points per contest. She's also provided the defensive pressure by averaging nearly 4.0 steals per game.
Perhaps left out of the spotlight has been the team's premier senior, Riley Seeds. She's tallied a respectable stat line of 9.8 points and 4.5 rebounds, but where she's really emerged is growing into that valued senior leadership role that the Bearcats have come to expect in their program.
"She's having a phenomenal year," Helenbolt said. "Those kids are just invaluable because they keep the tradition of your program going. When their time comes they know what's expected and that's what keeps a program from rebuilding."
Of course, there are also role players like Alli Olsen, Chloe Collins, Brynn Zwetzig and Andi Hunsicker to bring the Bearcats' rotation to its fullest potential. They're deep and they're just as talented as they ever were. So the main battle going forward is against complacency as much as anything.
Douglas' conference game against Rawlins, originally scheduled for Friday, got postponed due to weather. They hope that Burns is able to make it up for their scheduled Saturday game. After that, just five games remain until the East Regional tournament. Helenbolt said that complacency is a worry but he's confident in this veteran lineup to continue strong going forward. The state's record books will need more pages if they do.
Follow sports reporter Brady Oltmans on Twitter @BradyOltmans
Get in the game with our Prep Sports Newsletter
Sent weekly directly to your inbox!