For one final time, the Lyman Eagles' girls basketball team huddled together in front of a raucous home crowd. It was Feb. 8, 2019 and Eagles fans knew this would be the last chance to see cousins McKinley and McKailey Bradshaw play together on the same court.
Lyman led rival Mountain View by 7 points in the waning moments of overtime. A successful play meant the Eagles could put the game away for a seventh straight victory in the middle of the 2018-19 season. A turnover, however, would allow Mountain View back into contention, just like in the final possession of regulation.
Head coach Jason Hansen concocted a play on his whiteboard and instructed each player what to do. The team felt confident they could pull it off. The players brought their hands together and broke the huddle. Senior McKinley Bradshaw headed for the baseline to make the in-bounds pass. Hansen brought McKailey Bradshaw closer before the senior moved to her assigned position.
At one time, the Bradshaws envisioned this game would be one more on the road to scholarships, college sports and further accolades. Instead, only one would go on. For the other, this would be the final moment of her athletic career.
"Now, McKailey," Hansen told her. "You're going to forget you're hurt."
***
The family business brought the Bradshaws home.
Clinton Bradshaw came back to Lyman first, along with his wife, Kristin, and younger daughter, McKinley. Brad Bradshaw returned nearly a year later, coming from Utah with his wife, Jolene, and their baby daughter, McKailey.
The brothers' reunion also meant the merger of McKinley and McKailey in the minds of the townsfolk. They were just 3 years old at the time, born three weeks apart, and destined to grow up together.
They were born into athletic families in a small town that revered athletic achievement. The two girls created scenarios with toys and games to entertain themselves when visiting their grandparents. That led to them eventually playing sports 1-on-1 against each other. When they joined the organized teams that Lyman offered, the girls were teammates.
"They loved to play together, loved to compete together and they were competitive against each other, too," Brad said.
"I think they made each other better," Jolene added. "And they play really well together."
Town residents began asking how that young group of girls did at the local basketball tournament over the weekend. Friends of players' parents started to attend games just to catch a glimpse of the duo. No one had seen elementary-aged girls that athletic and talented.
The girls couldn't help but notice the increasing attention. What started as the two of them passing time started morphing into something they couldn't control.
"A lot of times," McKailey said, "growing up there was a lot of pressure on me and sometimes I wasn't able to fully enjoy it."
Pressures didn't subside in middle school. More parents and community members filled gyms to watch the cousins in volleyball and basketball.
"Those two girls were looked at by the whole town for their whole lives, growing up," Brad said.
Game-by-game the two Bradshaws stood out on the court. Much of the attention and admiration fell upon then-towering 5-foot, 6-inch McKinley, whose size and skill couldn't be matched by opponents.
McKinley put her energy into athletics with college in mind. And when faced with adversity on the court, she knew where to turn. The cousins developed a signature play: McKinley would one-arm throw a full-court pass that only McKailey could get to. McKailey almost always finished the play with a layup. It was largely unstoppable.
"With her, I always had someone in middle school sports," McKinley said. "I knew she'd always be there."
Added Brad: "McKinley knew that she could make any kind of pass to McKailey and she was going to get it."
They started high school athletics with volleyball. Lyman, then in Class 2A, won its regional tournament and held out hope for its first state volleyball championship in over 20 years before getting beat in a dramatic fifth set in the semifinals. The cousins worked side-by-side, McKinley the natural athlete and McKailey the developing volleyball standout.
Curious eyes followed the two to basketball season to see if the duo could replicate their prior success in high school. The Bradshaws played for Jason Hansen in the summer, giving them a chance to familiarize themselves with his system. They were already athletic enough to play — those games simply bridged the gap between potential and certainty.
"Coach Hansen did a great job of simplifying things for us and in that summer is where we made our transition," McKinley said. "Going into the season we knew what kind of speed and style the game was and that's why we were able to play right away."
They both played their entire freshman season where the Eagles scored more than any other team in the state. McKinley led the team in points (14.4) and rebounds (10.0), absurd averages for anyone, let alone a freshman. McKailey was the only one on the team with a better shooting percentage. Visions of an immediate state championship, a repeat from the year before, ended with a loss in the semifinals.
But the real heartache didn't come until months later.
***
At a summer basketball tournament in Manila, Utah, before their sophomore seasons, McKinley ran the transition offense and passed ahead to McKailey, who abruptly jump-stopped near the basket. McKailey's knee gave way on impact and she heard an audible pop. She fell to the court clutching her knee.
"I always expect her to get back up and she didn't," McKinley remembered. "I felt a weight crashing down."
McKailey had torn her ACL and meniscus. She needed surgery to repair both injuries. That involved taking part of her hamstring tendon to repair the ACL and grafting the remaining parts of the meniscus back together. It also meant sitting out the following volleyball and basketball seasons.
"Without McKailey," McKinley said, "I felt like I needed to step up."
McKinley dreaded going back to basketball at first. She didn't know how to go on without her cousin.
But her on-the-court performance didn't show any signs of diminishing. She averaged 23.2 points, 13.7 rebounds, 5.2 steals and 2.2 blocks per game during basketball season. No one else in the state, regardless of classification, came close to matching her. College scouts started watching from the stands to catch a glimpse of what the people of Lyman had known for years.
McKailey, meanwhile, was changing during her months away from athletics. While she used to feel pressured on the court, she discovered how quickly it can all go away. Concentrate on the fun parts, she told herself. That realization came to define her outlook to many around her.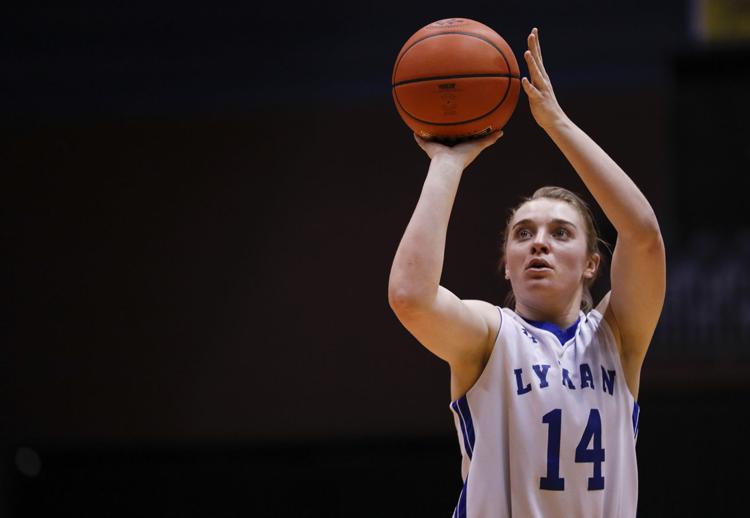 "Missing out on that helped me figure out how much sports meant to me and how much fun I was having," she said. "I was taking things for granted."
McKailey took her rehab in stride by heeding doctors' advice and warmly assuring those offering sympathies. McKinley's hardened desire meant no opponent alone, in her eyes, could defeat her. They returned to the court as the dynamic duo once again in the summer of 2017.
And yet, volleyball season brought more of the same. McKailey showed her prowess on the court with technique-textbook kills and passes while McKinley's raw athleticism intimidated nearly every opponent. An upset in the regional final gave Lyman a bad seeding going into the state tournament, where the Eagles couldn't advance out of the first round for the second straight year.
Then came the reprieve of basketball season, where they'd be reunited on the court for their junior seasons. Those aspirations took a blow in the first week of the season.
McKailey received a pass during a standard transition drill in just the second practice of the season. She planted on her right leg and heard an ominous "pop."
"I tried to run off but I couldn't so I just limped off," she remembered. "I couldn't straighten my knee at all."
An MRI later revealed she tore her meniscus in the same spot she did a year prior. While surgery was once again needed, this time her recovery period was much shorter. She took the news in stride and less afraid than before, instead focusing on her rehabilitation. Surgeons merged over that torn part of the meniscus, leaving only a fraction of the cartilage remaining. McKailey returned to the court a month later, having missed just seven games.
McKinley continued to impress throughout the season, gaining scholarship offers from a dozen area colleges, and McKailey rejoined her in time for the conference season, where Lyman went undefeated.
"She struggled a little bit because she was tentative on that knee," McKinley reflected. "But other than that, it was like we were playing together again."
It still wasn't enough to win a championship. Lyman was upset at both regionals and state.
"I almost think this is the unluckiest group I've ever coached," Hansen chuckled. "Most talented, but unluckiest."
McKailey minded her knee's recovery in the spring while McKinley won state championships in high jump, shot put and discus. Then came another summer of basketball and volleyball that brought out the desire to win in both.
All that remained was their senior season. A final, definitive chapter to the first 18 years of their lives.
"Everybody's been looking forward to this year for a long, long time," Brad said.
***
Daylight narrowed and the Lyman volleyball team marched through its 2018 season as uninterrupted as the falling temperatures. It wasn't until early October, over halfway through the season, that the Eagles realized they were undefeated. In fact, through the first 25 games the Eagles had only lost four sets.
The team remained perfect going into the regional championship against Mountain View. With a fiery squad ready to sink its rival, Mountain View led through three sets. Lyman needed to win two straight sets in order to preserve its unblemished record. Point by point, the Eagles answered the call. McKinley Bradshaw, now an imposing all-around athlete, continued to send clubbing kills over the net. McKailey Bradshaw, refined into a college volleyball recruit, found opportunity in the defense and pulled the Eagles ahead.
The home fans slumped their heads. There was no stopping Lyman's march toward destiny.
Lyman advanced to state, still undefeated, and swept both Torrington and defending state champion Douglas to get to the championship match. There they saw their largest obstacle, losing the first two sets. In order to win the Eagles needed to win three straight sets against Rawlins.
A gutsy third set kept the Eagles alive. Then came more pivotal swings from McKailey or McKinley to force a decisive fifth set. Neither team held a lead of more than two points in the back-and-forth set until the final moment, when setter Kylie Walker threw a pass up for McKailey. She planted with her braced knee and jumped.
"As soon as McKailey went up I knew we had it," head coach Brecia Hansen said. "Because McKailey goes out swinging and I knew she was going to thump that thing."
McKailey connected and ended the match, giving Lyman its first state volleyball championship since 1994. McKailey let out a victorious scream before the weight of the moment overwhelmed her. She dropped to her knees in tears.
Her parents, having helplessly endured the same match from the stands, were overtaken with emotion as well.
You have free articles remaining.
"I can't describe how wonderful and amazing that was," Jolene remembered. "We were crying, I think everyone else was crying, too."
The Bradshaw cousins proudly accepted their championship medals and posed for pictures.
"That's the best season anyone in Lyman has ever had," McKailey said after the match. "Thirty-six wins, zero losses, I don't know. It's going to be something that people are going to remember forever."
A few yards away, holding the championship trophy, stood McKinley with her eyes upon the future.
"It's one of my goals, to win a state championship," she said. "I've got it in track, now I've got it in volleyball. And now I'm going for it in basketball."
***
The Bradshaws stepped onto the court for their first basketball practice two weeks later. McKinley was ready to make a final imprint into her hometown legacy. McKailey, likewise, was excited for another basketball season, having tweaked her shooting motion slightly.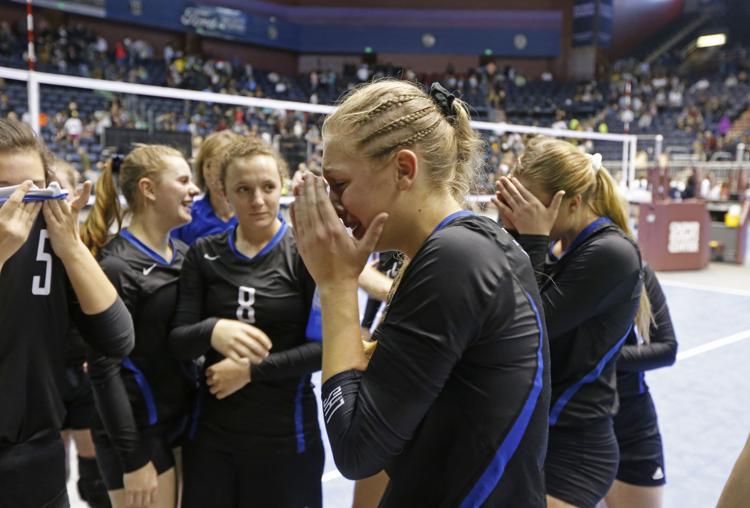 Excitement built as the Eagles cruised to a season-opening tournament victory. The next morning brought their second game of that tournament. The Eagles led late in the first quarter when fate intervened.
An opposing player ran for a layup as McKailey made chase. Having caught up to her opponent, McKailey slowed to avoid the foul. Her knee, having been surgically repaired twice already, twisted and buckled under pressure. She immediately knew something was wrong. It felt similar to her first knee injury, which was also accompanied by radiating pain.
McKailey was carried off the court. Her parents ran from the stands to help. Her teammates stood helplessly along their bench.
"We were still in shock," McKinley said. "I didn't want to be on the court again that night."
None of them did. Lyman lost to rival Mountain View hours later.
McKailey worried she had torn her ACL again. The attending athletic trainer seconded her fears — "he felt my knee and it moved quite a bit more than it should" — but recommended an immediate MRI, having witnessed the senior's crushed reaction to the initial evaluation. Her parents, Brad and Jolene, scheduled an MRI for the next day. On the way home, McKailey called coach Jason Hansen about the news. Word quickly spread around the community.
"It seemed like every person in the (Bridger) Valley knew she got injured right away," Hansen said. "You'd be at the post office and someone would say, 'I heard McKailey got hurt.' Then you'd be out of town and someone asked which Bradshaw got hurt. Everyone knew."
The injury turned out to be far worse than expected. In addition to a torn MCL, McKailey re-tore her medial meniscus and suffered small tears in her lateral meniscus. She also had low-grade tears in her MCL and LCL, and suffered bone fractures in her femur from when it slipped out of place.
The LCL, MCL and lateral meniscus weren't severe enough to require surgery and they'd heal on their own. Doctors wanted to take part of her patellar tendon to replace the torn section of her ACL. Since it was her third time tearing her meniscus in the same knee, there was nothing left to sew together, which complicated things. A donor cadaver meniscus was needed for a transplant, which subsequently meant taking bone plugs and grafting bone to bone.
McKailey matter-of-factly recited those injuries and procedures like a grocery list. Her father, Brad, concentrated on naming each phase of the operation while wiping tears away.
Doctors then broke even worse news to the 17-year old.
"I was going to play volleyball somewhere in college, I had some offers that weren't finalized because I couldn't decide," McKailey explained. "Then I hurt my knee and doctors strongly advised me that if I wanted a knee for the rest of my life then I would not play sports in college."
Doctors stressed the replaced knee could withstand the labor of college athletics. They never outright told her she couldn't play, but if she wanted to walk at age 40 or be able to play with children one day, she'd need to walk away from competitive athletics. McKailey was crushed by the news.
A week after McKailey's injury, the Mountain View girls came to Lyman and visited her at school with balloons and well wishes. Any rivalry between the two schools was set aside in a flurry of prayers and Get-Well cards.
"That helped me get through," McKailey said. "Going to all those doctors' appointments is scary, it's nerve-wracking."
She waited nearly a month for a meniscus donor to arrive. Bob and Jolene scheduled her surgery for Feb. 19 as McKailey took the wait in stride, making a commitment to sit on the Lyman bench and attend every practice for the rest of the season. She wanted to remain part of the team.
Meanwhile, the Lyman girls still had games to play. And they were not the same team since hearing McKailey's diagnosis.
"There were a lot of people devastated about it," Hansen said. "People were excited after volleyball. Then they were excited about basketball, then track. They thought we could maybe run the table. Then that injury happened and kind of made it tough on us."
The remaining basketball players adopted the motto, "Play for Mak." Hansen told them that no matter what the situation, there was someone who would have given everything she could to be back on the court with her teammates.
"That hit home for a lot of us because we were on that state championship volleyball team," McKinley said. "We know what it's like playing for something and to get that taken away from you, I can't imagine what I'd be doing."
McKinley's heart sank watching her longtime partner-in-sports' ambitions abruptly end. So she ensured her cousin was never too far away.
For the first few games McKinley came over and carried McKailey to the huddle and then back to the bench. She typically relied on her cousin while on the court and, once again, she rediscovered the reliance off the court.
"I made it a goal that she's going to be captain because she's still part of our team," McKinley said. "She's always yelling at us to do our jobs. And she's pretty loud so she gets after us for sure."
Then McKailey got the chance to coach. A sudden appendectomy forced Hansen off the sidelines for Lyman's game against Evanston. Together, they worked out a system where the junior varsity assistant coached defense and McKailey coached offense. Hansen listened to the radio broadcast from the hospital and texted McKailey throughout the game. Lyman won by 17.
"That was great," Jolene said. "She just had a great attitude and been so positive about it and stuck by her team's side, which is amazing to me. Right afterwards she told me, 'Mom, they scored on every play I told them to run!'"
***
With a resurgent motivation, Lyman went on an eight-game winning streak going into the annual rivalry game against Mountain View. It was senior night, the last home game for the Lyman seniors. Coach Hansen reached out to coaches at Mountain View in the lead-up to the game, trying to arrange the chance for McKailey to start and score one final time. Mountain View didn't agree; they said their team would be competitive from start to finish.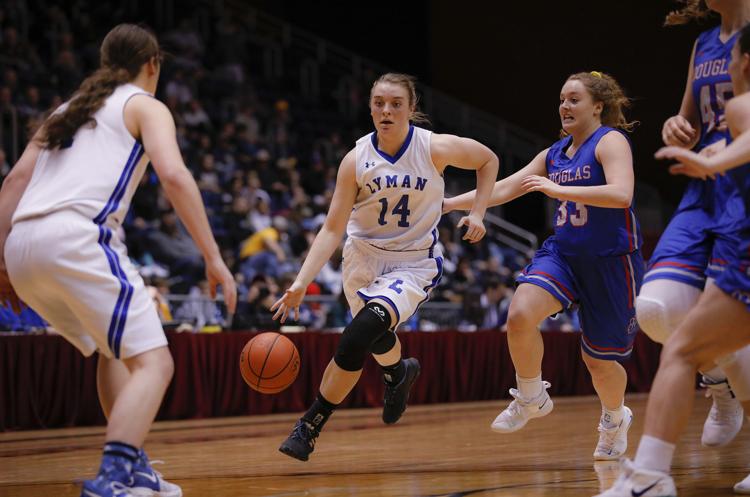 Fans excitedly filled Lyman High School's gym for the night. Not only was it a Bridger Valley rivalry game but it was the last time NCAA Division I-signee McKinley Bradshaw would play in front of her hometown crowd. Fans also rose to give McKailey a standing ovation as she made the final start of her career. Most in attendance weren't aware of the deal Hansen proposed or that it had been denied.
Hansen had a play drawn up for McKailey to score on the opening possession, but a turnover ended that opportunity before it began. On the verge of tears, McKailey subbed out, to another ovation. The game remained close and Hansen anxiously awaited another opportunity to put her in.
Lyman led by 3 with 10 seconds left when Hansen found the opportunity. Mountain View would foul, he thought, and if he could get McKailey the ball then she could score from the free-throw line. Except when McKailey received the pass her instincts took over. She headed for the basket, where an opponent stood firm. McKailey knew she couldn't jump-stop — that's how she hurt her knee before — so she ran directly into the opponent and an offensive foul was called.
"She just barreled that girl over," Brad chuckled.
Mountain View then took possession and hit a 30-foot jumper to force overtime. Hansen, however, wasn't thinking about the game.
"Oh my gosh," Hansen caught himself thinking, "I get another chance to get her to score."
He admitted to forgetting about coaching as McKailey's points took precedent. She subbed out of the game until her third and final opportunity came with a seven-point lead in overtime. Hansen called timeout and drew the Bradshaw's go-to play for years: McKinley full-court pass to McKailey for the layup.
McKailey's parents were terrified. She was scheduled for knee surgery with Dr. Travis Maak at the University of Utah in less than two weeks. Another injury to the knee and they'd have to cancel the surgery until the swelling and bruising subsided. Doctors advised against her playing at all because of possible complications. But there was no stopping McKailey's moment.
Mountain View saw the play coming and double-teamed McKailey. An oncoming screen came late, which left McKailey surrounded by two defenders. McKinley threw the ball nearly 70 feet anyway, knowing her cousin's history of always coming up with those passes. Hansen didn't think she had a chance at it. The senior and her two defenders reached for the ball. They tipped it straight up. McKailey, on a makeshift knee, jumped up again to tip the ball to herself. She boxed out her opponents to catch the ball, leaving nothing between her and the basket. She drove and scored the layup, just like she always did.
"People were crying," Jolene said. "It was the most amazing thing I'd ever seen."
Lyman not only won that game but also five of its next six, including the regional championship. The Eagles accepted their regional championship medals, one for each player on the roster. That, however, did not include McKailey, who was officially off the 12-person roster.
Instead, McKinley took her medal and gave it to McKailey.
"I don't deserve it," McKailey protested. "I didn't do anything."
The team knew better. McKailey had been as vital a part of that the team as any. Lyman eventually played for the state championship against Douglas. None of them believed they'd have been in that position without McKailey.
"She was so great down the stretch that she'd get a little fired up if the girls weren't running as hard as she would have been," Hansen said. "We were definitely trying to play for her and kind of played through her."
McKailey's parents call it a blessing that she's gone without pain since her successful surgery. Since then McKailey has indulged her love for singing, which started in sixth-grade choir.
"If sports isn't what I can do now," McKailey said, "it's going to be music."
Both happily walked at their high school graduation, headed into separate destinations for the first time. The two had been together so long that many outsiders looked at them as sisters. They'd been, essentially, tied at the hip since both sets of parents decided to move back to Lyman.
"Their impact is going to last for a long time," Hansen said.
Now, one gets to live her dream while the other's athletic desires were dramatically derailed. They've both learned to smile about that.
"When I was a little kid I dreamed we'd go play together in college," McKinley said. "Now we're just going our own ways and support each other wherever we go."