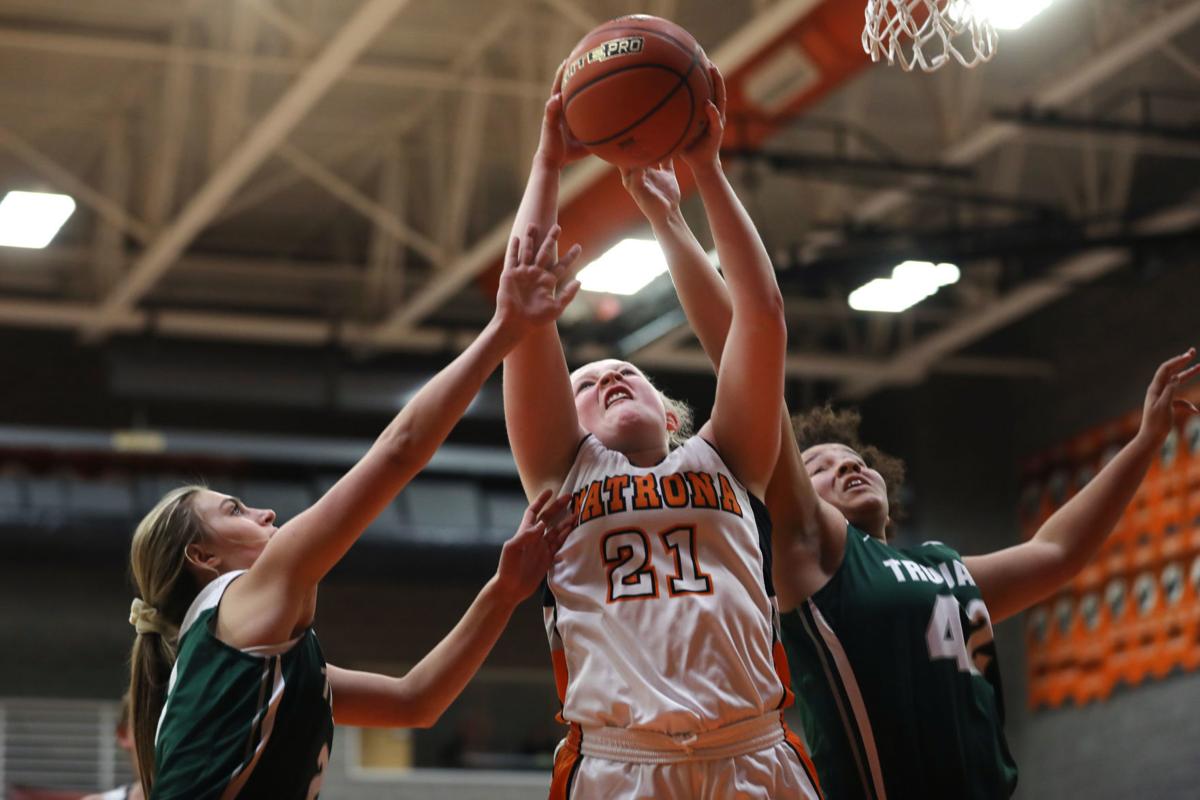 A quality 59-52 win over Scottsbluff, Nebraska, at Jerry Dalton Gym on Saturday brought a banner week to a close for the Natrona County Fillies. First they returned to Casper from an encouraging season-opening performance in the Strannigan Classic, then they successfully defended their home court against rival Kelly Walsh on Thursday before the weekend one-off.
While the Fillies won't return to the hardwood until 2020, they already seem a decade ahead of last year's trying season.
Natrona County won just one game in the 2018-19 campaign. That's a third of the players they lost to torn ACL injuries. That doesn't even include the lingering ankle injury that Alesha Lane finished the season with. So to describe the first two weeks of Brian Costello's second season in his second stint as Fillies head coach as an encouraging step forward would be an understatement.
"With last year being hard and with all the losses, I think that just motivates all of us girls," senior Kate Robertson said. "We don't want to be that again, we want to get back to being a winning program. And I think that motivates us to come out every game, every practice and work as hard as possible."
The Fillies go into the winter break 4-1 and excruciatingly close to 5-0. If not for a monster game from returning all-stater Ashelynn Birch (30 points, seven rebounds), the Fillies may not have lost, 53-50 to Green River. Outside of that, the Fillies cruised through Jackson and fought through tough contests against Rock Springs, Kelly Walsh and now Scottsbluff. Games like Saturday's showed their growth.
You have free articles remaining.
Having jumped out to a 12-0 lead and then leading 25-11 in the second quarter, the Fillies saw that lead completely fall away late in the third quarter. Three consecutive 3's and a stray jumper helped the Bearcats pull level at 36-all. A layup from Tessa Coughenour gave the Fillies another lead going into the final quarter. Having learned from their mistakes, they didn't let that lead get away. Brooklyn Hytrek, Kylie Hilderbrand and Coughenour all hit key free throws down the stretch to seal the win.
"We started getting the stops and letting the 3's go," senior Haley Gibson said. "We needed to get that a little earlier than we did. Then we let our bigs (Lane and Robertson) inside score since they didn't have anyone that could match-up with our bigs."
Lane led the Fillies with a career-high 21, just two days after dropping 20 against Kelly Walsh. Now a healthy, mature sophomore, Lane's proven herself as the Fillies' top offensive threat. Robertson contributed a double-double with 16 points and 11 rebounds. She's been reliable for that pace through the first two weeks of the season. Then there's the group of guards and a bench that goes 10-deep. All of them handle full-court presses and push the tempo with comfort.
"In different games it will be like, 'that was Kate and Alesha's game.' Then when we play more size that gives us more opportunity to play outside," Gibson said. "It's just about rhythm."
And they've got competitive fire. Gibson, who checks in at 5-foot-3, stood in her blocks for a free throw on Saturday and fought through the taller opposition to seize the rebound. Despite her size disadvantage and the brace on her left knee left from last season's knee injury, she wouldn't be denied.
Natrona County now must regain its momentum on the other side of a two-week winter break. The Fillies next play on Jan. 9 in the Taco John's Invitational against Alliance, Nebraska.
"I think all of us are excited to play and come back and see what else we can do," Robertson said.
Follow sports reporter Brady Oltmans on Twitter @BradyOltmans