The foundation was in place for the Casper Oilers.
With eight returning seniors, including 2018 all-state selections Corbin Kirk and Brooks Browning and junior Carter Young, the Oilers began the 2019 American Legion baseball season with hopes of capturing the program's first state title since 1996. The Oilers knew, however, they had to take it one step at a time.
"I think this year we came in with a goal of winning our conference championship because we needed to compartmentalize this season a little bit," Oilers manager Josh Simms said after batting practice Monday. "We didn't want to have just the one ultimate goal of winning state, we knew it was going to take a lot of steps to get there."
The Oilers took care of the first step with a doubleheader sweep of Jackson on July 9 at Mike Lansing Field to win the AA West Division.
"This team is a veteran team so they understood that process," Simms added. "We didn't want to play 70 meaningless games over three months. They understood that we had to break the season into different parts and have goals for each section and play to those goals."
As the season progressed, the Oilers continued checking off boxes. They were 3-2 against defending state champ and perennial power Cheyenne Post 6, were undefeated in conference play and went 3-1 at the Rocky Mountain Showcase in Colorado in late July leading up to the state tournament.
"It's been a good year," Oilers senior Lane Fanto said. "I knew we had the talent on this team to go out and make it happen. With eight seniors we have chemistry and we knew we had a chance to do it this year.
"We had a lot of confidence going into state."
Casper opened the state tournament in Gillette with a 10-0 shutout of Cody, followed by a 9-4 victory over Sheridan. That set the stage for a semifinal showdown against the host Roughriders, who won the East after Cheyenne pulled out of the state tournament to play in another tournament.
Trailing 3-1 entering the top of the seventh inning, the Oilers remained calm.
"Even down two in the seventh at Gillette in the state tournament, they came into that huddle and they went to the plate with a calm," Simms said. "They understood what was at stake and they knew what they needed to do to get it done. We never lost belief the whole year."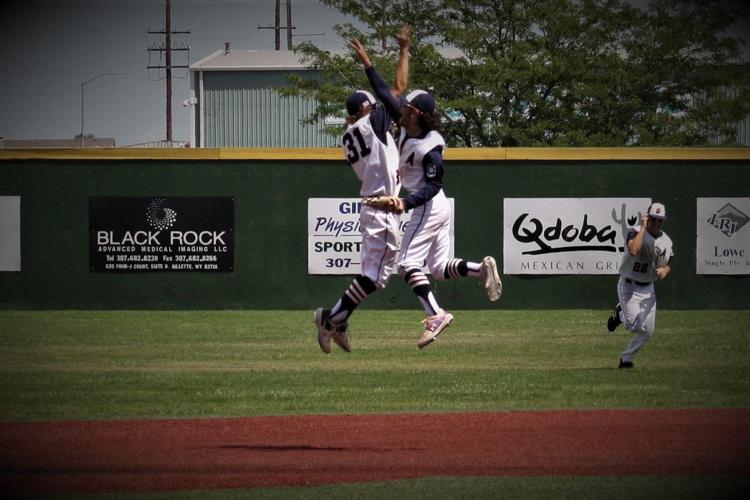 Adam Julian drove in a run with a single to cut Gillette's lead to 3-2. After Dylan Johnson's fielder's choice, Harrison Taubert followed with a single to right field to put runners on the corner with two outs. Garrett Clasen then tied the game with an RBI single. Then, after Young was hit by a pitch, Kirk cleared the bases with a three-run double for a 6-3 lead. Kirk then struck out the side in the bottom of the frame to preserve the win.
"(Against Gillette) we were just calm with our bats and we let the bats do the talking," Clasen said. "That game was definitely the most fun game I've ever been a part of in my Legion career. It was such an amazing feeling."
The Oilers then routed Laramie 16-0 to earn a berth in last Tuesday's championship game. They faced a familiar foe in Jackson, which knocked off Gillette to advance to the title game for the first time in program history. Simms had no doubt who was going to take the mound for the Oilers.
"Corbin threw a phenomenal game against Jackson at Lansing to win the conference just a couple weeks prior," he said. "And that was the one guy that Jackson did not want to see in the championship game."
For good reason. Kirk struck out 11 and took a no-hitter into the sixth before allowing two hits in the seventh and giving way to Will Clair, who got the final two outs in the Oilers' 5-0 championship-game shutout.
"It was a humbling experience," said Kirk, who was named the tournament MVP. "I knew my team trusted me, so I just had to go out there and do my best."
The Oilers were at their best all week, outscoring five opponents 36-7 with three shutouts.
"Those game were pretty much a culmination of everything that we've been working on for four years," Browning said. "It all came together at the right time.
"We believed in ourselves and we knew that we were good. I think the difference between this year and the previous years was that everybody bought into the process and we wanted the guy next to us to succeed as much as we did. There were different moments throughout the season where you saw guys sacrificing themselves for the team."
So for the first time in 23 years, the Oilers' season continues into August. They'll face Idaho Falls, Idaho, in the first round of the American Legion AA Northwest Regional on Wednesday in Lewiston, Idaho.
"These kids are going to be overlooked, and that's OK," Simms said. "We like being the underdogs. We have the talent here to scare people. If we go out there and take care of us we could still be standing at the end of this tournament.
"There's no pressure on us, we just get to go out there and play."
As expected, Simms will turn to his big left-hander to try and shut down Idaho Falls.
"I never would have thought I would be pitching on this stage," Kirk said, "but pitching in a game like this is going to be nice. We've been doubted so long, but we knew this was the year we could get it done. Right now is the greatest time of my life."
Not surprisingly, those sentiments are shared by his teammates.
"I think we have as good a chance as anybody at winning it if we give it our best," Browning said.
Added Johnson: "I feel like we can beat anybody that steps on the field with us."