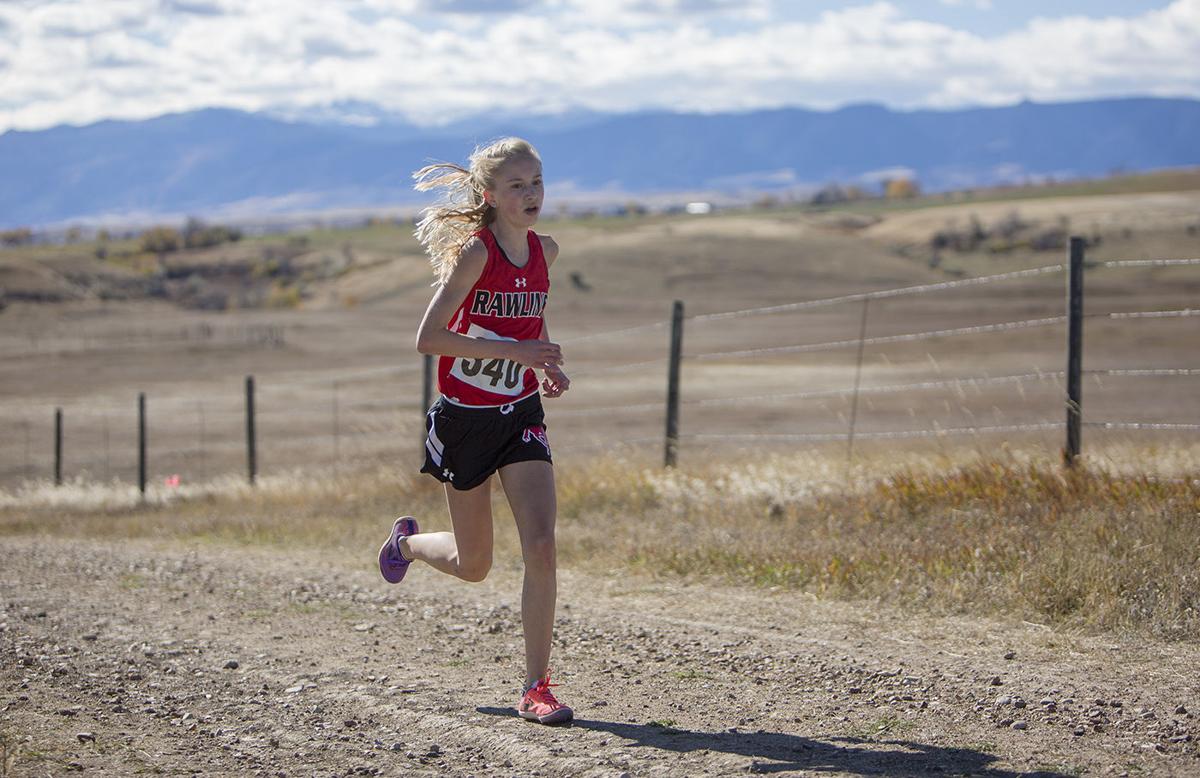 Stationed at the end of the starting line, Rawlins freshman Sydney Thorvaldson was poised to take a shot at history.
She had spent every weekend since mid-August turning heads on golf courses and running grounds across the Front Range and her high school work was about to culminate.
The gun sounded and she took off from the starting line at the VA Hospital grounds in Sheridan. Within the first 100 meters she had pulled away from the pack. Thorvaldson led as soon as she could from her starting position and never looked back. She didn't need to.
The Rawlins phenom won the Class 3A Wyoming State High School Cross-Country Championship on Saturday in 17 minutes, 49.31 seconds, more than 2 minutes faster than runner-up Riley Smith, a fellow freshman from Cody.
"I really wanted a fast start and get myself out there to see how I feel with the wind and everything," Thorvaldson said. "I felt really good so I thought I'd just keep this pace and see what happens."
From previous races this season she knew Smith was the only real competition she had in 3A. Sophomore Baylee Stafford, also from Cody, finished third. But Thorvaldson knew most of her competition was in 4A.
It started with the Beartrap Invite in Casper back in August. Running in her first varsity race, Thorvaldson was nervous at the starting line but remembered the simplicity of running around Rawlins.
Thorvaldson won that race with a time of 18:18.37, a full 108 seconds faster than anyone else. She immediately drew attention from other racers. Second-place Laramie sophomore Abigail Whitman found her after the race to introduce herself and offer congratulations.
Just like that, Thorvaldson was on the scene. She wouldn't finish a notch below first the rest of the season. Not bad for a runner who had an exploratory mentality going into the year.
"I had my pace in mind and I just kind of rolled with it to see if I could go a little bit faster one day or the last few weekends we had some really tough courses with hills and everything," she said, "so it was kind of just seeing what it was like out there."
Breaking the state record was a real possibility until the wind pushed back the young runner on the last uphill. A brutal whipping wind was there to greet the runners as they ran across the water tower at the beginning of the final mile.
Her time was 14 seconds behind the record, set by former Jackson standout Anna Gibson at last season's state meet.
"Not very fun," she said of running into the wind. "It was really windy and you kind of had to keep your head down. My spit was flying all over and there was tears."
Still, she was a state champion as a freshman with an impressive time. She will now have three seasons to improve her time and defend her championship.
The outcome was inevitable after just 10 seconds. Over the next 17:39, Wyoming's best young runner put on a showcase that distanced her from her 3A competition. Thorvaldson's time at state this year would have placed her second in Class 4A last year by a full 13 seconds.
Thorvaldson plans to run in the Nike Regionals in Boise, Idaho, in mid-November to see how she stacks up against the competition. She plans to play basketball in the winter so she can take a break from pure running before track season in the spring.
She may have made it look easy in her first varsity season, but that doesn't mean she wasn't excited to win a gold medal.
"It feels great," she said, "really great."
Follow sports reporter Brady Oltmans on Twitter @Brady_CST