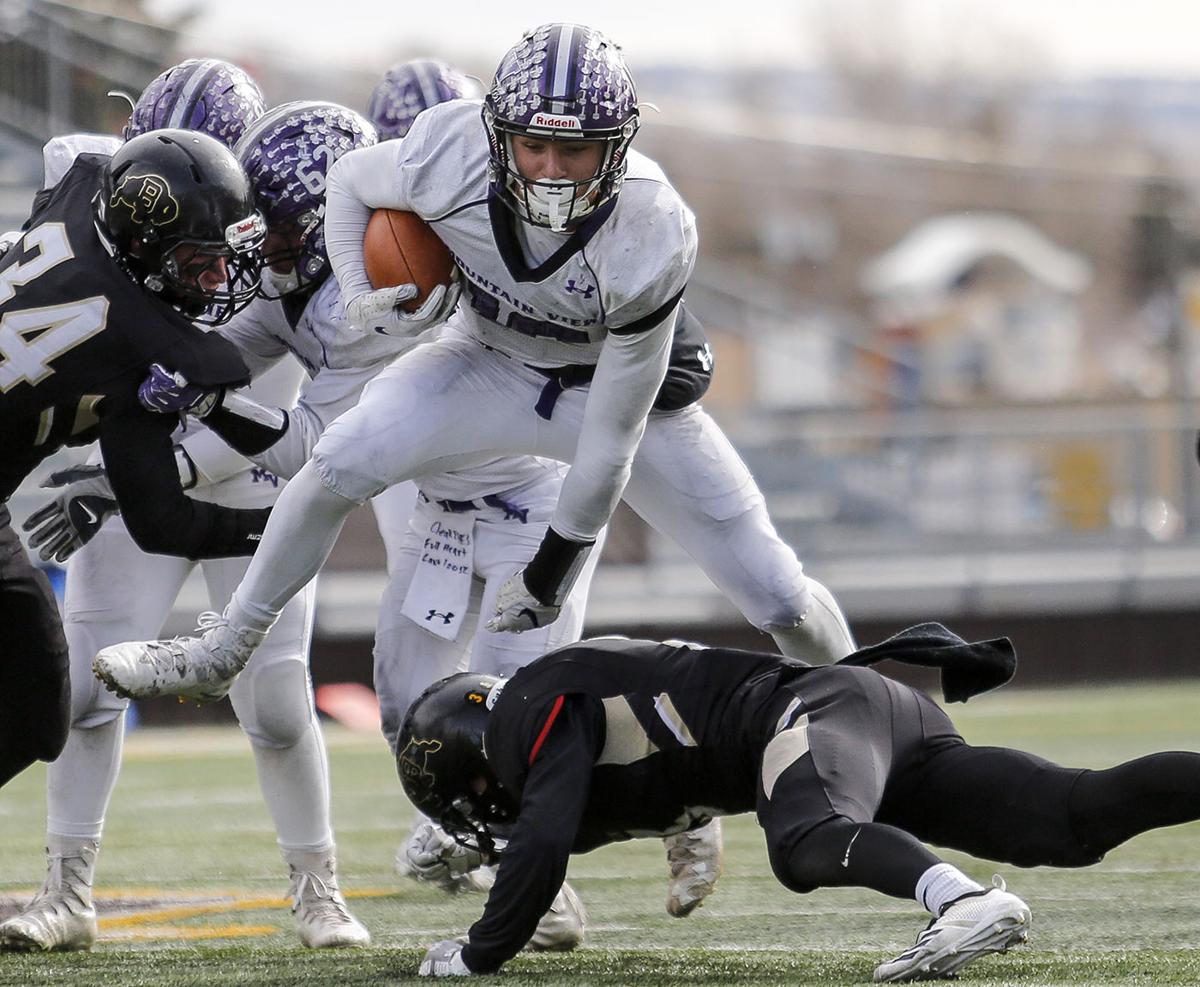 Mountain View's steamroller momentum took over in the third quarter to help the Buffalos advance to their third consecutive state championship game with a 45-22 semifinal win over Burns on Friday.
Burns trailed just 21-6 at halftime before the wheels came off. Braeden Walk scored on 27- and 26-yard runs, Kimball Madsen scored from 40, Briggin Bluemel scored from the 1 after Hunter Gross hopped on a fumble, and then Bluemel returned an interception 39 yards to pay dirt.
"I've grown up with these seniors. I've been doing everything with them since the third grade," junior lineman Hunter Meeks told MyLocalRadio.com's Jake Hibbard after the game. "As long as I'm out here I'm going to make sure that their last game is done best."
Walk led the Mountain View offense with 107 yards and four touchdowns while Madsen added 105 yards and a score. Walk also threw a 41-yard touchdown to Ashton Schofield.
More impressive was the Buffalos' defense. Outside of Boe Clayson's 47-yard touchdown run to end the first quarter, Burns' longest run was 10 yards until the final drive of the game. Burns finished with 144 total yards.
"They got a good play and we knew they were capable of that," Meeks said. "We had a mental breakdown but after that we were breakdown-less the rest of the game."
Hours before the other semifinal kicked off, Meeks also let it slip that Mountain View would begin preparations on Saturday for Buffalo. He didn't know the outcome, it's just what Mountain View hoped for all year.
The Bison trailed Thermopolis 14-0 before scoring 45 consecutive points to pull away for the 45-22 victory.
Buffalo struggled on the edges initially as the Bobcats found success on the play-action pass. Once head coach Rob Hammond and his staff made the suitable adjustments, the Bison took a lead into the break before expanding in the third quarter.
That win secured the rematch both teams hoped for.
"Our guys have been looking forward to this game all year," Hammond said afterwards.
Get in the game with our Prep Sports Newsletter
Sent weekly directly to your inbox!