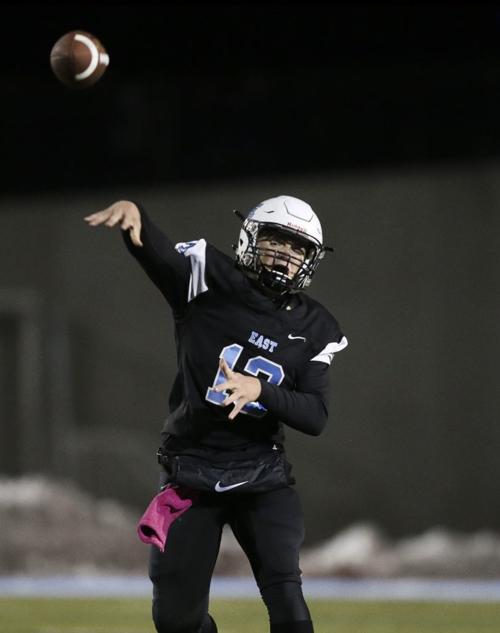 In a frigid state grounded by elements and obstacles, Graedyn Buell went to the air. When the temperatures dropped below freezing the junior confidently stood on the sidelines with his patient digits in the hand warmer around his waist. When the Cheyenne East offense came on, so too came a possible 70-yard touchdown pass without a moment's notice.
Buell's attempted game-winning 2-minute drill fell short to Class 4A's top defense in Thunder Basin during their semifinal game, but by that point he and the East offense had already made their impact.
Buell and teammate Chance Aumiller were both selected to the Star-Tribune's Super 25. (Three of their teammates — Christian Anderton, Jackson Hesford and Aiden Montoya — made the Super 25 third team.) They both had historic 2019 seasons. And at the end of Thursday night's Super 25 banquet Buell added another honor by earning the annual Offensive Player of the Year award.
"I had so much fun playing with all my teammates, playing with Chance, it was such a good way to end the year," Buell said. "This is a great banquet, Super 25. I'm so blessed."
Buell led Wyoming in average passing yards (270.5 per game), completion percentage (62 percent), touchdown-to-interception ratio (35-to-7) and quarterback efficiency (169.8). He threw at least three touchdowns in nine of the T-Birds' 11 games. His 2,975 passing yards were the second-most in Wyoming's history. He was 215 yards short of Dalton Holst's record set in 2015 while playing in one less game than the Camel great. Holst earned Super 25 Offensive Player of the Year honors that season as well.
The junior quarterback's favorite target, Aumiller, led the state with 99.9 receiving yards per game and 18 touchdowns. His 1,099 receiving yards were the third-most in state history and 17 yards shy of tying Christian Mayer's (Big Horn) record from 2014. (Mayer won Super 25 Offensive Player of the Year that season.)
You have free articles remaining.
After suffering a season-ending ankle injury at the end of last year's regular season, Buell returned better than ever. His latest honor helped he and his teammates reflect on what they accomplished this fall.
"It shows that all of my hard work, my teammates' hard work, my parents' hard work, my coaches' hard work to get me in this position all pays off," he said. "It shows all that. And it is nice. Even though we didn't win the state championship like we wanted to, it is nice to get these awards."
In one of the season's most dramatic games, East fell to Natrona County in double-overtime at Cheney Alumni Field on Sept. 27. In that game Buell threw for 376 yards with five touchdowns, all of them to Aumiller. When they met again in the quarterfinals Buell threw for 285 yards with four touchdowns — three of them going for 32 yards or more — in the Thunderbirds' 35-14 victory.
There were many admirable offensive performances this fall. There were fine individual standouts, performances and bodies of work. But no one player was as important of a catalyst for a historic offensive season than East's junior quarterback.
A state championship would have certainly put a bow on the season and his comeback from injury, but it wasn't necessary to legitimize his — and his teammates' — potency.
Coming up short again did add kindling to Buell's internal flame. As if he needed any additional motivation.
"Oh, I'm always driven," Buell said. "I can't wait to get back on the field next year. We'll be all right."
Buell said that after basketball season he plans to once again run track. That's partly to build his speed for his senior football season. The upcoming summer and fall will be dedicated to improving on East's successes this past season and helping the T-Birds get back to the state championship for the first time since their 2013 championship season.
Follow sports reporter Brady Oltmans on Twitter @BradyOltmans