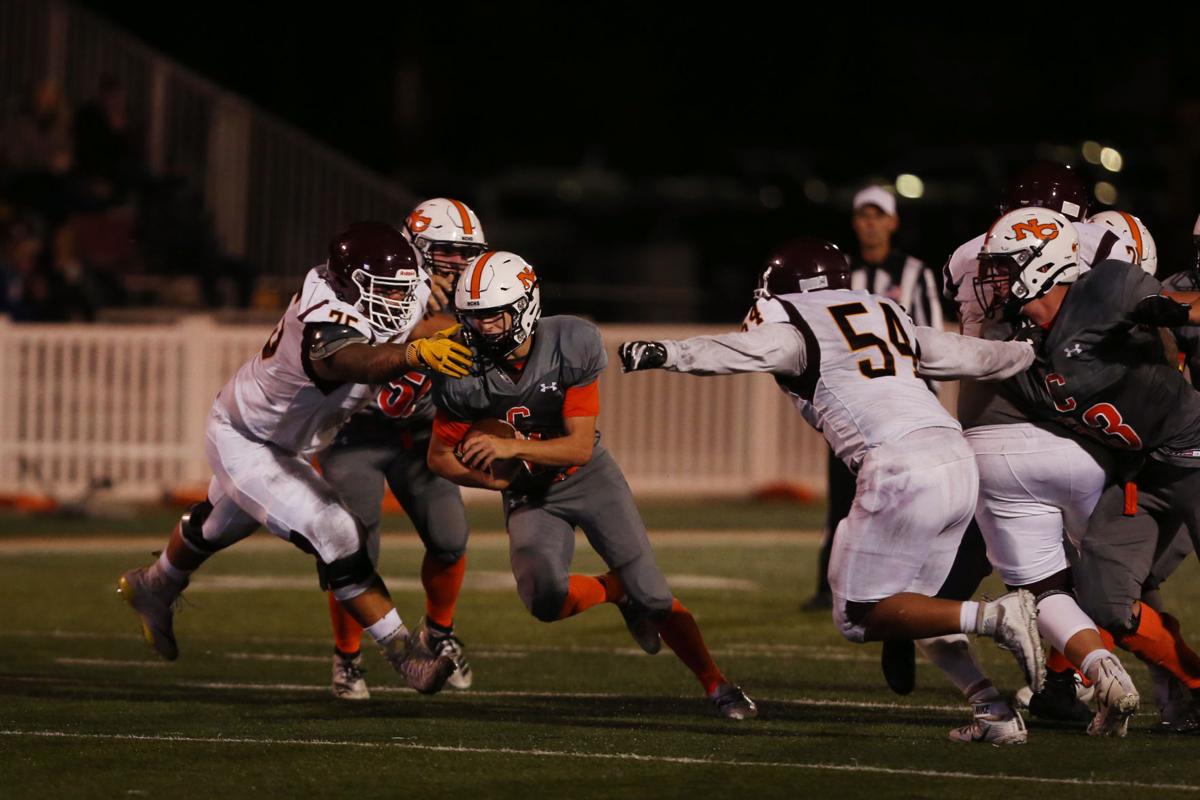 Harrison Taubert and the rest of Natrona County's upperclassmen had a Senior Night to remember.
The Mustangs' senior quarterback accounted for five first-half touchdowns, and Natrona County made easy work of Laramie in a 48-21 win Friday night at Cheney Alumni Field. Natrona County led 21-0 after the first quarter and rarely let up in its first victory of the season, which came on the Mustangs' Senior Night.
"It was great," Taubert said. "We came out firing from the beginning and really just came together."
Taubert, one of 25 Natrona County seniors recognized before the game, ran for three touchdowns, threw two more and accounted for 246 yards in the first two quarters before watching the rest of the game from the Mustangs' sideline. Fellow senior Avery Cox caught a pair of touchdown passes while senior running back Braxton Bundy added a 14-yard scoring run for the Mustangs, who scored on each of their first six possessions en route to their 16th straight win over the Plainsmen.
"I think we executed well and threw the short stuff," Natrona County coach Steve Harshman said. "(Taubert) was reading all of that stuff and did a great job. And we had a good week of practice, and I just think we're getting better. That's part of this thing. Just keep getting better every day."
Laramie gained less than 300 yards against the Mustangs, who also forced four turnovers. Isaac Sell had touchdown runs of 5 and 1 yards for the Plainsmen, and Gavin Kopp hauled in Jake Vigen's 15-yard touchdown pass early in the fourth quarter.
But the Mustangs had things well in hand by then.
Unlike its losses to Cheyenne Central and Cheyenne East the previous two weeks, Natrona County jumped out to an early lead to build momentum that it rarely lost. The Mustangs wasted no time with an 11-play, 80-yard opening scoring drive capped by an 8-yard run from Taubert, who was just getting started.
Taubert threw for two touchdowns and ran for two more in the first two quarters. His 25-yard scoring toss to Cox after Laramie's Travis Judd muffed a kickoff made it 21-0 with 1 minute, 24 seconds left in the opening quarter, and his 13-yard strike to a wide-open Cox in the end zone with just 14 seconds left in the second quarter gave Natrona County a 41-0 lead.
"We struggled the first couple of weeks, but this week was different," said Taubert, who ran for 98 yards and threw for 148 more on 8 of 11 passing. "We just came out with energy.
"We did a great job with the pass and the run, so it opened up a lot of stuff."
That touchdown was set up by senior defensive back Koby Kelly, who intercepted Vigen in LHS territory. After committing six turnovers in its first two games, Natrona County coughed up possession just once and finished plus-3 in turnover margin.
Natrona County didn't punt until 4:12 left in the third quarter, which came at the end of the first possession led by backup quarterback Tyler Hill. The junior led the Mustangs' final scoring drive capped by senior Matthew Barrett's 5-yard touchdown run with 2:33 left.
"We were fortunate with really a nice (first) half," Harshman said. "We've got 25 seniors, and we want to make sure since it's Senior Night ... you just don't know how many times you're going to get to play at home in this stadium. We wanted to make sure all of our seniors played a ton."
The Mustangs did most of their damage on the ground, churning out 195 of their 343 first-half yards on the legs of Taubert and Bundy.
Natrona County 48, Laramie 21
Natrona County 21 20 0 7 48
NC: Harrison Taubert 8 run (Ben Hoppens kick), 6:49.
NC: Taubert 5 run (Hoppens kick), 1:37.
NC: Avery Cox 25 pass from Taubert (Hoppens kick), 1:24.
NC: Taubert 10 run (Hoppens kick), 8:33.
NC: Braxton Bundy 14 run, 2:47
NC: Cox 13 pass from Taubert (Hoppens kick), 0:14
Laramie: Isaac Sell 1 run (David Tangeman kick), 8:09
Laramie: Gavin Kopp 15 pass from Jake Vigen (Tangeman kick), 11:10.
NC: Matthew Barrett 5 run (Hoppens kick), 2:33.
Laramie: Sell 5 run (Tangeman kick), 1:19
Follow UW athletics beat writer Davis Potter on Twitter at @DavisEPotter.
Get in the game with our Prep Sports Newsletter
Sent weekly directly to your inbox!