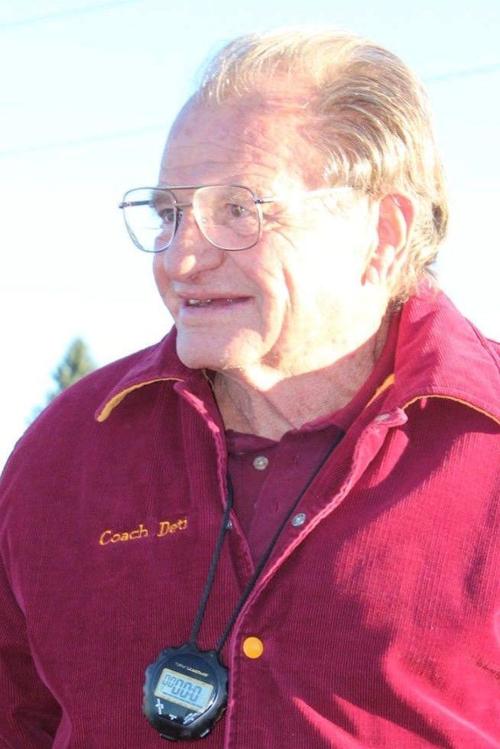 John Deti Jr. was a walking contradiction. He was a humble man and a living legacy. He was both quirky and routine. He was gritty and compassionate. His reputation cast a large, broad-shouldered shadow while the man himself stood at eye-level with everyone he met.
He was tender and kind with no negative word to say about a soul — except maybe a referee. He held a law degree and taught driver's education. He was a coach, a deacon, a soldier, a pianist, pilot, father, husband, son and pretty decent fisherman. He was loving and beloved. And for those fortunate enough to know him, he was all that and more.
"I like to think of him as he was always my hero, still is," Travis Deti, his son, told the Star-Tribune. "He was kind of a philosopher, too. He always said if you do the little things right the bigger things will fall into place by themselves."
The man, the human vessel, died on Thursday in Cheyenne at 80 years old while still in remarkable physical condition. The memories he created found permanence in the hearts of those he met along the way.
Deti was raised a coach's son and, in some respects, was a mirror image of his father. John Deti Sr. coached at Laramie from 1944-1976 and then John Deti Jr. coached from 1977-2002 after multiple stops around the state. He carried some of his father's competitive fire, old-school hard-nosed football, while also showing tenderness and compassion.
"What I got to see was this inquisitive, insightful man," long-time football coach John Scott said. "I got to see the fierce competitor but the rest of the time was the uniqueness of a man interested in what you were doing."
You have free articles remaining.
Deti took his two sons, Travis and Cody, to football camps at Centennial and then Camp Guernsey for two-a-days. Both played football for their father. Cody followed the family by becoming a coach. He's currently an assistant football coach at Illinois State. Travis didn't go into coaching. He instead went to the Marine Corps. He remembered that football camps under his father were more demanding than boot camp.
But John Deti Jr. was also compassionate. He built a relationship with his players by sharing wisdom that surpassed football. He loved visiting patients at the Shriner's Hospital in each Shrine Bowl trip. There he shared his compassion with children and adults alike.
"John would go right in and interact with the patients there," Gary Johnson, former director of the Shrine Bowl, said. "After we made the hospital visit those kids served a bigger purpose than themselves. He led the kids to believe it was about more than them."
Deti prayed his rosary multiple times a day. There was a bead for his mother and father. As well as one for his family members, his wife and each son. He had a bead for old players of his who passed on or who were having troubles. He had a bead for former players who went to prison. He prayed for them all.
So it seemed only natural when Deti left coaching to become a full-time deacon at St. Laurence O'Toole Catholic Church. He'd already visited the elder care facilities to sit with residents. He went to the jail and comforted the inmates. He went into care centers and hospitals to care for patients.
"It was part of his nature," Travis said. "He's compassionate and humble."
He's also missed. And will continue to be for as long as his memory lasts.
Follow sports reporter Brady Oltmans on Twitter @BradyOltmans