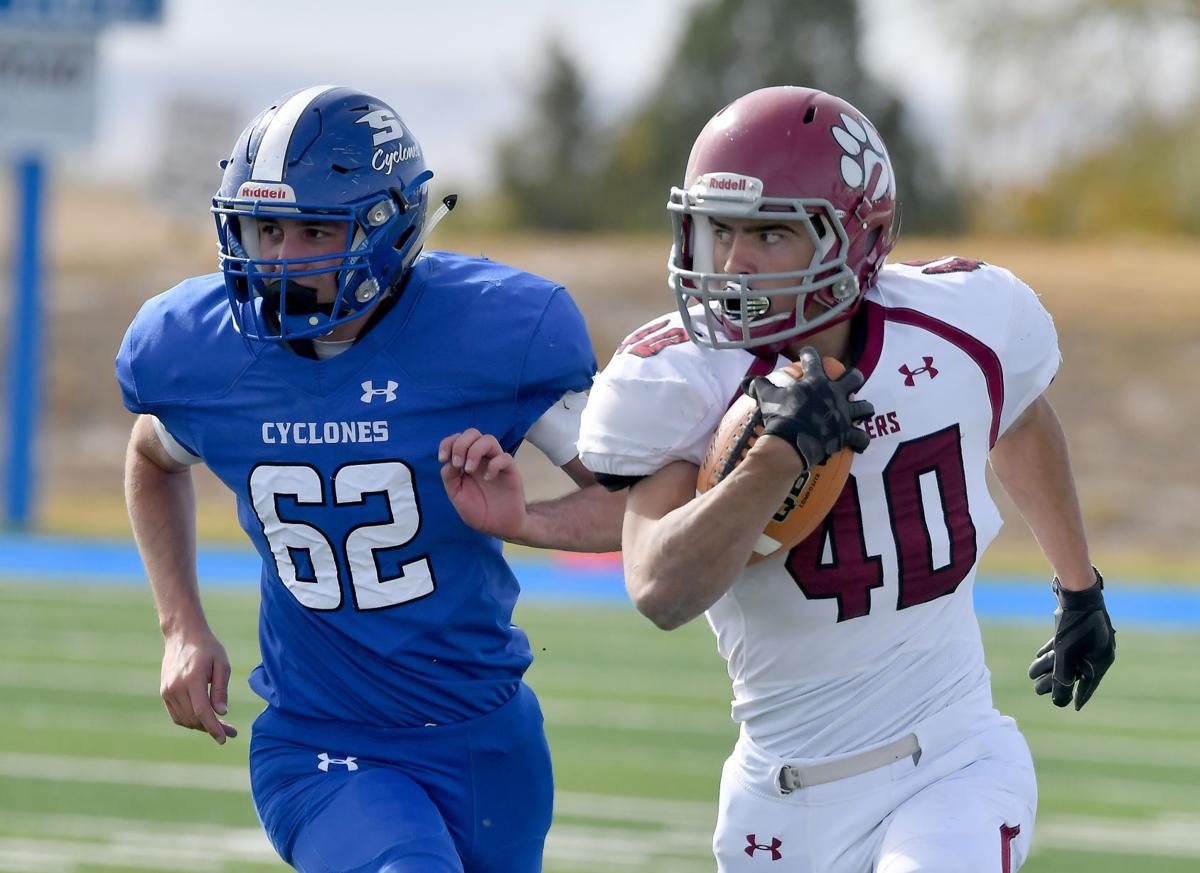 The last time Lusk and Southeast met it was for the No. 1 seed in the East Conference. When the longtime rivals face off Friday there will be even more at stake – the Wyoming State High School Class 1A/9-man Championship.
Southeast defeated Lusk 35-16 back on Oct. 16 to win the conference and the right to host the state championship game. Because of the ongoing coronavirus pandemic, this will be the first time in 11 years all state championship games won't be played at the University of Wyoming's War Memorial Stadium.
"It will be nice to be at home with our fans and on our field," Southeast head coach Mark Bullington said, "but I had no problem playing in Laramie."
The top-ranked Cyclones (10-0) have been 9-man's best team all season thanks to a balanced offense and a shut-down defense.
Offensively, senior quarterback Hayden Anderson has been efficient (45-of-88 for 811 yards) while throwing 11 touchdown passes and just three interceptions. And the three-pronged running attack of senior Brant Fullmer and juniors Ryan Clapper and Cord Herring has combined for nearly 2,400 yards and 43 touchdowns.
"One's kind of a speed guy (Clapper) and one's a shifty guy (Fullmer) and one's a pound-it guy (Herring)," Bullington stated. "We can keep fresh legs in there, which is a nice thing.
"We're just going to take what they give us," he added. "If we can throw the ball then we're going to throw the ball. If we can run the ball then we're going to run the ball."
As impressive as the Cyclones are offensively, it's on the other side of the ball where they really shine. Opponents averaged just 9.4 points per game against Southeast, which never allowed more than 22 points in a game.
"I give credit to our defensive coordinator Shawn Burkhart," Bullington admitted. "I don't deal with the defense, I just stand there and watch him do his work."
Burkhart and the Cyclones once again have a tall order in trying to slow down the Tigers, who average a class-best 479.4 rushing yards per game. Senior Drake Lamp has rushed for more than 2,800 yards and 39 scores while classmate Jasper Caldera and junior Dylan Molzahn have added nearly 1,400 yards and 15 TDs on the ground.
In the teams' earlier meeting, the Tigers were held to a season-low 265 rushing yards. Lusk was within 21-16 in the third quarter, but Clapper had touchdown runs of 30 and 5 yards to seal the victory for Southeast.
"We have to do a better job of stopping big plays," Lusk head coach Ryan Nelson said. "We had some guys out of position defensively, so our focus this week is making sure guys are in the right spot."
Both Lusk (8-2) and Southeast are playing in the state championship game for the first time since 2012, when the Cyclones topped the Tigers to win the 1A/11-man title. Southeast also defeated Lusk to win the 2001 Class 2A title in the last state championship game played in Yoder.
This year marked Lusk's first postseason appearance since losing to Cokeville in the 2014 state championship game. After routing Greybull in the quarterfinals, the Tigers avenged an earlier loss to West Conference champion Rocky Mountain in the semifinals last week.
"We had a few lucky bounces in the first quarter," Nelson admitted. "We got a couple of onside kicks so we were able to keep our offense out there almost the entire first quarter. That's what we need to do again."
It's no secret that if Lusk can do that it will almost certainly be a result of its running game. Junior quarterback Walker Kupke has thrown only 33 passes this season, completing 16 of them, for 249 yards and five TDs.
"We have to shut the Lamp and Caldera kids down and take away those long drives that they have," Bullington said. "It becomes a track meet sometimes if you can't tackle in the open field."
Follow sports editor Jack Nowlin on Twitter @wyovarsity
Get in the game with our Prep Sports Newsletter
Sent weekly directly to your inbox!